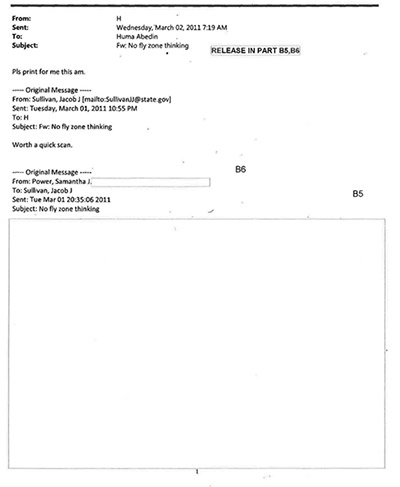 Earlier today, Judicial Watch released 70 pages of Hillary Clinton emails that reiterate the former secretary of state's disregard for national security.
These emails came from former Clinton aide Huma Abedin's account on Clinton's non-secured email system: clintonemail.com. Judicial Watch requested this release via the Freedom of Information Act (FOIA) on March 5, 2015.
The first email to highlight Clinton's indifference for national security came in the form of a request she sent to Abedin. Clinton asked her former aide to print out two March 2011 correspondences between Jake Sullivan - her former chief of staff - and former British Prime Minister Tony Blair. Sullivan had also used a non-state.gov account at the time. The State Department redacted a good portion of information from these particular messages because they contained "classified information," reported Judicial Watch.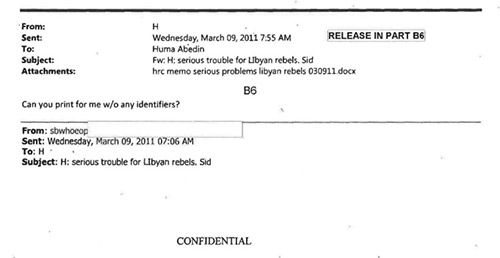 Another email released today revealed that Clinton wanted to know how her meeting schedule in Washington, D.C. - including a four-hour conference concerning the situation in Libya - would impact her vacation in the Hamptons. In response to Abedin's Aug. 26, 2011, rough estimate of what her day would look like, Clinton asked, "Ok. What time would I get back to Hamptons?"
"These emails show that Hillary Clinton isn't the only Obama official who should be worried about being prosecuted for mishandling classified information. Her former top State aides (and current campaign advisers) Huma Abedin and Jake Sullivan should be in the dock, as well," said Judicial Watch President Tom Fitton. "The Obama State Department has now confirmed that Clinton, Abedin, and Sullivan used unsecured, non-government email accounts to communicate information that should now be withheld from the American people 'in the interest of national defense or foreign policy, and properly classified.' When can we expect the indictments?"
Do you think these Hillary Clinton emails qualify as evidence of a crime? Tell us your thoughts below!
Follow us on Twitter @moneymorning, or like us on Facebook.
The Essential Guide to Buying Gold and Silver: Precious metal investing is widely regarded as the best "crisis insurance" for your portfolio. This guide gives you everything you need to know about the best stores of value in history, gold and silver. Read more...
Related Articles: