Today's market volatility isn't holding back the Amazon stock price, as AMZN stock is up 2.5% in intraday trading.
Yesterday (Wednesday), the board for the e-commerce giant approved a $5 billion Amazon stock buyback program. That's driving the Amazon stock price higher today despite the Nasdaq's 1.5% intraday drop.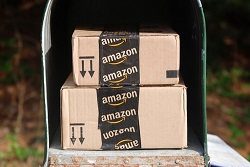 Amazon.com Inc. (Nasdaq: AMZN) is down 25.9% in 2016 - which is one reason the company is buying back its stock.
You see, companies buy back their stock to make it seem like a safe investment.
"So, by reducing shares through buybacks, earnings per share can rise even if actual earnings are flat or falling," Money Morning Capital Wave Strategist Shah Gilani stated on Feb. 10. "And that's a source of positive sentiment for those holding those stocks."
Stock buyback programs can be controversial. The company could use that money to create or increase a dividend, or to invest in new technology.
Amazon's stock buyback isn't a bad thing, though, which I'll explain later. First, it's important to look at Amazon's recent performance and what the results from its recent Q4 2015 earnings report mean for investors.
Even in today's bear market, Wall Street had high expectations for Amazon. Analysts expected Amazon to report earnings per share (EPS) of $1.58 on $35.9 billion in revenue. Amazon only slightly missed on revenue, reporting $35.75 billion.
But it fell very short on EPS, reporting just $1.
Operating costs also scared investors, as Amazon reported a 20.5% increase. Operating costs totaled $35.6 billion, which was a 24% increase from the same time a year ago. Shipping costs also jumped to 12.5%, a 2.5% increase from the same time a year ago.
The Amazon stock price opened at $608.37 the day of earnings. It fell to $570 the next morning, a 6% loss.
Fear in the global markets and Amazon's missed earnings are the reasons the AMZN stock price has been volatile in 2016. But Amazon stock is still a good long-term investment - especially for this one big reason...
Why Amazon Stock Will Climb Over the Long Term
Amazon stock may be down in 2016, but it's important to look at the bigger picture. Over the last 12 months, AMZN stock is up 33.04%. In comparison, the Dow Jones Industrial Average is down 12.32%, and the Nasdaq is down 11.58%.
Because of the earnings miss and investors fleeing the market, Amazon is taking advantage of its share-price fall and buying back at a good price.
Money Morning Defense & Tech Specialist Michael A. Robinson has been bullish on the long-term potential of AMZN because of its foothold in this emerging industry.
"Today Amazon dominates a segment of the cloud-computing market known as Infrastructure-as-a-Service (IaaS)," Robinson said. "In fact, AWS is now the first choice of 57% of all IT professionals that use cloud-based services, according to Rightscale.com."
Revenue for IaaS was $15.1 billion in 2014, according to statistics provider Statista. And the growth of this sector is why owning AMZN stock is great for long-term investors. By 2026, Statista projects that IaaS revenue will reach $126.2 billion. That's a 735% increase in just 10 years.
Robinson stated that CEO Jeff Bezos identified that creating this type of infrastructure would costs companies hundreds of millions of dollars. Bezos believed that companies would rather rent infrastructure than build it from scratch. His bet will pay off.
There are risks in owning Amazon stock for the short term because of global fear of the markets right now. But because of Amazon's strong fundamentals and visionary leadership from Bezos, there is huge potential in Amazon stock for long-term investors.
The Bottom Line: The Amazon stock price is climbing today because of its $5 billion stock buyback plan. While that news will drive the stock in the short term, the company's fundamentals will drive it the long term. It has a foothold in the growing sector of Infrastructure-as-a-Service, and that sector is a $100 billion catalyst for Amazon over the next 10 years.
Jack Delaney is an associate editor for Money Morning. You can follow him on Twitter and follow Money Morning on Facebook.
 The Gold Mining Revolution: Technological advancements in gold mining have been stagnant, but one tiny Canadian company is about to change that. Its special extraction method will slash production costs and send gold prices soaring. In fact, this nano cap could disrupt the entire industry...