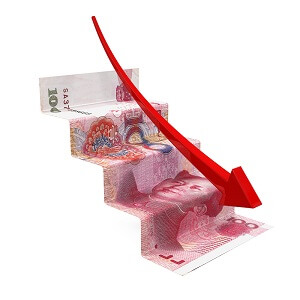 What kind of damage would a Chinese credit crisis cause?
According to Hayman Capital hedge fund manager J. Kyle Bass – who predicted and profited from the mortgage crisis in 2008 – the resulting loss would be four times worse than what U.S. banks suffered after the subprime mortgage crisis.
In 2008, the U.S. banking system had about $16.5 trillion in assets. This was equivalent to 100% of U.S. GDP heading into the mortgage meltdown eight years ago.
China has $34.5 trillion in assets – but Bass sees them as very vulnerable, and here's why…
Kyle Bass' Letter Explains Why the China Meltdown Will Happen
In a letter to global Hayman investors marked Feb. 10, Bass wrote:
"We have been vigorously studying China over the last year, with the view that the rapid credit expansion in the Chinese banking system will result in significant credit losses that will require the recapitalization of Chinese banks and materially pressure the Chinese currency."
Bass went on to warn that China's banking system expansion to $34.5 trillion in assets over the past 10 years, from a base of $3 trillion, is precarious. This growth, he wrote, was fueled largely by rapid credit expansion that helped fund the huge infrastructure spending program. But the loans were not based on the borrowers' ability to pay them back. Instead, Bass claimed, they were simple political decisions made by the state.
"This outcome will have many near-term and long-term effects on countries and markets around the world. In other words, what happens in China will not stay in China."
Bass highlighted a specific kind of wealth product as the chief culprit behind the looming crisis…
…Trust Beneficiary Rights (TBRs).
"While the most publicized workaround has been the use of Wealth Management Products (WMPs) – devised to circumvent deposit rate caps and loan-to-deposit ratio restrictions – the most insidious is the use of Trust Beneficiary Rights (TBRs)," wrote Bass.
TBRs, reported Business Insider yesterday, are specifically being utilized in China to hide losses from the government's regulators. They're essentially off-balance-sheet vehicles put back into the balances when delivery on returns isn't promising.
In short, they prop up the numbers.
Bass also wrote about how the Wall Street firms, consultants, and China economic experts he'd met with all disregarded his warning. "What we have come to realize through these discussions is that many have come to their conclusion without fully appreciating the size of the Chinese banking system and the composition of assets at individual banks," he wrote. "More importantly, banking system losses – which could exceed 400% of the U.S. banking losses incurred during the subprime crisis – are starting to accelerate."
Bass is among a handful of hedge fund managers betting against the yuan, reported Yahoo! News yesterday. Much of Hayman Capital's fund right now is devoted to shorting the Chinese currency.
Follow us on Twitter @moneymorning, or like us on Facebook.
The Essential Guide to Buying Gold and Silver: Precious metal investing is widely regarded as the best "crisis insurance" for your portfolio. This guide gives you everything you need to know about the best stores of value in history, gold and silver. Read more…
Related Articles:
Business Insider: Kyle Bass: There's a "Ticking Time Bomb" in China