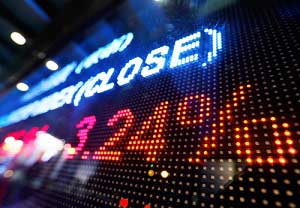 U.S. stocks had their worst 10-day calendar start in history this year. Many investors were tempted to sell during the panic... and many did.
Investors pulled $24 billion from U.S. stocks in the first three weeks of January, according to MarketWatch.
But markets staged a three-day market rally from Feb. 12 through Feb. 17. The Dow Jones Industrial Average jumped 789 points to 16,453 from 15,664.
Despite this recent rally, we're still in a bear market. Brief reversals are common during times like these.
For investors, the markets are still full of profit opportunities.
"In the low-rate regime the Fed continues to inflict on us, the markets remain the single most powerful wealth-creation tool at your disposal," said Money Morning Chief Investment Strategist Keith Fitz-Gerald. "And that means you can't ignore them in any mission to protect and grow your retirement."
But chasing certain stocks during these upswings can be dangerous, and selling certain stocks because of volatility can also be a mistake.
That's why our Money Morning experts have updated our list of the best stocks to buy now in 2016.
Here's what they're saying now:
Fitz-Gerald has two stock picks that will take advantage of a warning detailed in an exclusive Goldman Sachs report.
Defense & Tech Specialist Michael A. Robinson is excited about a stock that's dominating the cloud-based computing space.
It's all here - and more - in our latest list of the best stocks to buy now...
Money Morning's Best Stocks to Buy Now
The profit margins for companies in the United States and elsewhere have been historically high and will remain so for a long time, according to a new research report from Goldman Sachs. That may sound like a good thing, but it's not. These historically high numbers have been artificially inflated by the Fed's intrusive monetary policies. And the law of gravity applies to this scenario: What goes up must come down. Money Morning Chief Investment Strategist Keith Fitz-Gerald has been talking about this coming crisis for a long time. He's found two stocks that could lead to triple-digit gains when this debt-infused system implodes...
The tech-laden Nasdaq Composite climbed 6% by the end of 2015, while the Dow Jones Industrial Average and the S&P 500 both finished in the red. And there are huge bargains for investors right now. Money Morning Defense & Tech Specialist Michael A. Robinson is paying special attention to one cloud-computing company with a stock that's greatly undervalued right now. Robinson believes this "crown jewel" of Silicon Valley is poised to double your money...
Penny stocks are notorious for being one of the most speculative bets out there. That's true... if you don't know where or how to look for hidden quality. Finding the right penny stocks can be difficult, but our team of researchers has done the hard work for you. And choosing the right penny stock can land you huge returns. Take the tiny web-hosting company Cloudweb Inc. (OTCMKTS: CLOW) for example, which catapulted more than 8,000% this month. We've picked three other winners like Cloudweb this year that are set to deliver triple-digit returns...
Follow me on Twitter @cgsaucier or like us on Facebook.