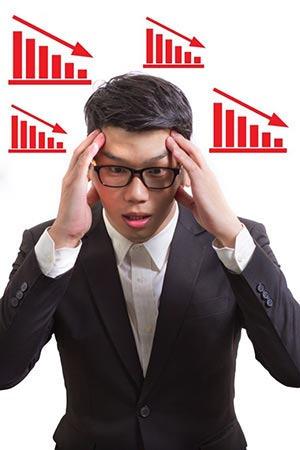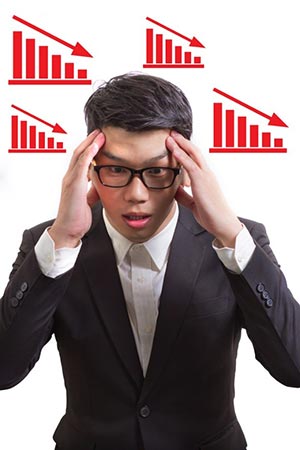 Chinese officials have tried their best to quell skeptics over a looming China stock market crash…
But the G20 Summit last weekend left investors none the wiser about the specific measures China intends to take to bolster its economy — the second-largest in the world.
"Investors feel disappointed over the lack of good news from the G20, while the yuan has started to weaken again," said Steve Wang, a chief Chinese economist at Reorient Financial Markets Ltd., according to Bloomberg on Sunday. "There are signs of panic buying in China's property market as prices in large cities continue to rise. A hazy economic outlook prompted some people to sell shares and buy homes, while many stocks remain overvalued."
Indeed, there are signs of panic in the Chinese market right now. Shanghai residents flocked to government property trading centers on Tuesday to process deals, reported the South China Morning Post that morning. Agents and sellers said that the higher prices go, the more urgent buyers become not to miss the rising tide.
Meanwhile the West looks on, inextricably linked to the Red Dragon's precarious market amidst yuan devaluation, bubbling equities, a slowdown in the Chinese manufacturing sector — the list goes on.
We remember exactly what panic in the Chinese stock market looks like — and its rippling effects…
2 Recent China Stock Market Crashes and the Panic That Ensued
"Black Monday," Aug. 24, 2015: The roots of Black Monday lay in the Chinese central bank's surprise decision to devalue its currency for two days straight earlier in the month (Aug. 11 and 12). This decision set off a wave of panic selling in emerging market currencies that spread to global indices.
Black Monday affected China's benchmark Shanghai Composite Index the most, which dropped 8.5% that day, the biggest sell-off since 2007.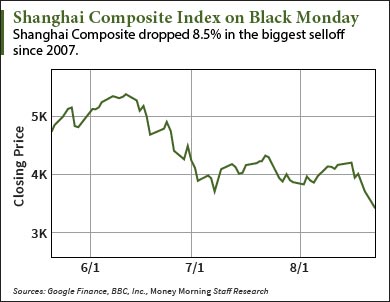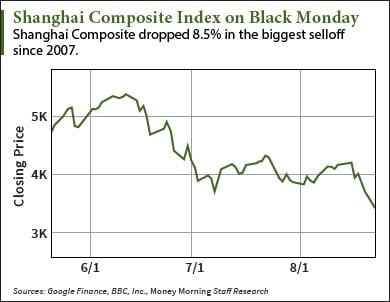 The U.S. stock market followed suit on fears that China's explosive growth in the past two decades was finally halting right before its eyes. The Dow shed more than 1,000 points in early trading that day before suffering its biggest sell-off in four years. It ended Black Monday down 588 points to close at 15,871.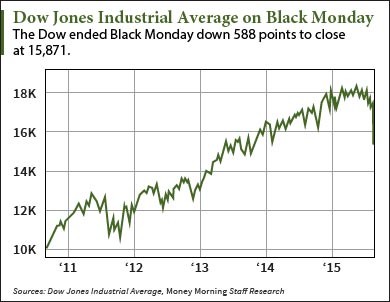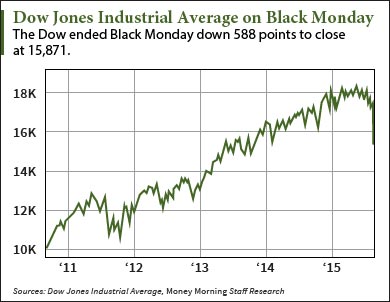 That same day, the Chicago Board Option Exchange's Volatility Index (VIX) – a measure of market volatility and sentiment – rocketed to its highest level since 2009.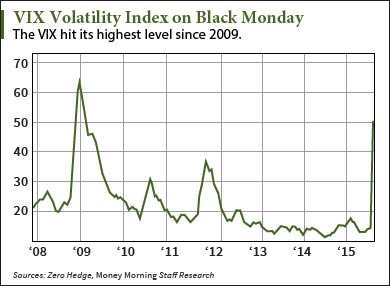 Jan. 7, 2016: Just two months ago, Chinese stocks in Hong Kong fell 7% in a day to their lowest level in four years. The plummet forced an early halt to trading via the use of circuit breakers, which were essentially "panic buttons" that stopped all trading in China.
This market crash was again provoked by China's central bank, which lowered the yuan's so-called reference rate — its trading peg to the U.S. dollar — by 0.6% that day. This marked the largest margin drop since August 2015.
"The yuan's depreciation has exceeded investors' expectations," Wang Zheng, Shanghai-based chief investment officer at Jingxi Investment Management Co., told Bloomberg that day. "Investors are getting spooked by the declines, which will spur capital outflows."
Capital outflow issues spawned by panic in the Chinese market have been an ongoing side effect. China has seen over $1 trillion in reserve selling since the summer of 2014. China's stock market has likewise seen a virtually identical amount in capital outflows leave the country. Deutsche Bank AG's (NYSE: DB) chief China economist, Zhiwei Zhang, told Financial Times on Monday that "capital outflows through the import channel alone can explain over 70% of the decline in China's FX reserves between August 2015 and January 2016."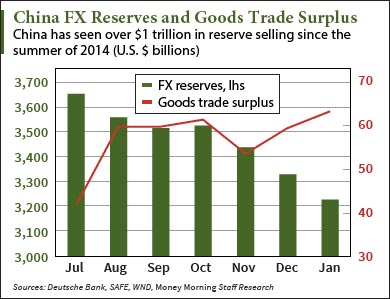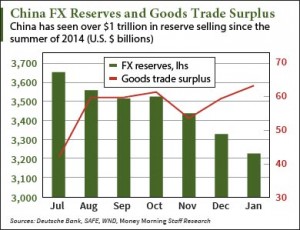 So you see how the panic can spread like wildfire – from the People's Bank of China to China's own markets (which then scares the U.S. markets into a frenzying sell-off) to capital outflow and back to the Red Dragon's diminishing reserves.
While January's market crash wasn't as jolting in its onslaught as Black Monday's, it still shook investor confidence in the West.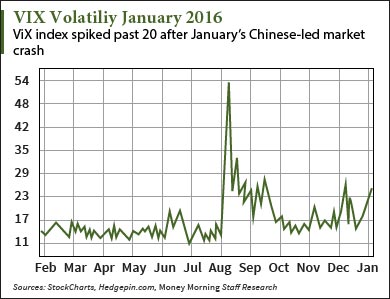 This slow incline in the VIX may be evidence of increasing investor suspicion in China's economic (in)stability – something that was not, again, properly addressed in this past weekend's G20 Summit.
Are you prepared for a possible China stock market crash? Stay informed by following us on Twitter @moneymorning or liking us on Facebook.
Could China Cause the Next Global Crash? One of the biggest stock market crash warning signs we've seen in 2016 has just come out of China. And now the Asian nation's banking sector looks like a disaster waiting to happen. Here's exactly what that means and how you can be prepared…
Related Articles: