A history of Supreme Court nominations reveals it's quite rare for a president's pick to be flat-out rejected by the Senate -- but it does happen...
Earlier today, President Obama announced Merrick Garland as his selection to replace deceased conservative justice Antonin Scalia on the SCOTUS.
Garland, 63, is the chief judge of the D.C. Circuit Court. He was appointed to the position by former President Bill Clinton in 1997 with backing from a majority in both parties, including seven current Republican senators.
Interestingly, Garland is widely considered a "moderate" judge. In other words, similar to sitting Justice Anthony Kennedy, his case votes could be either liberal- or conservative-leaning, depending on which argument he believes won the day. That means, like Kennedy, Garland would be in the position of issuing crucial "swing votes" to decide cases.
Even though Garland's not a staunch leftist, President Obama's nomination flies in the face of national Republican leadership, which has demanded the president leave the seat vacant until the next presidency in January 2017.
The conservative Judicial Crisis Network has already announced it plans to spend $2 million on an ad campaign to oppose Garland's nomination, chiefly because he has a "very liberal view on gun rights," reported The Washington Examiner earlier today.
In the meantime, here's a look at the history of Supreme Court nominations, by president and year, since 1900, including the few instances where nominations were flat-out denied -- a position Merrick Garland may find himself in very shortly...
A History of Supreme Court Nominations, Including Four Rejections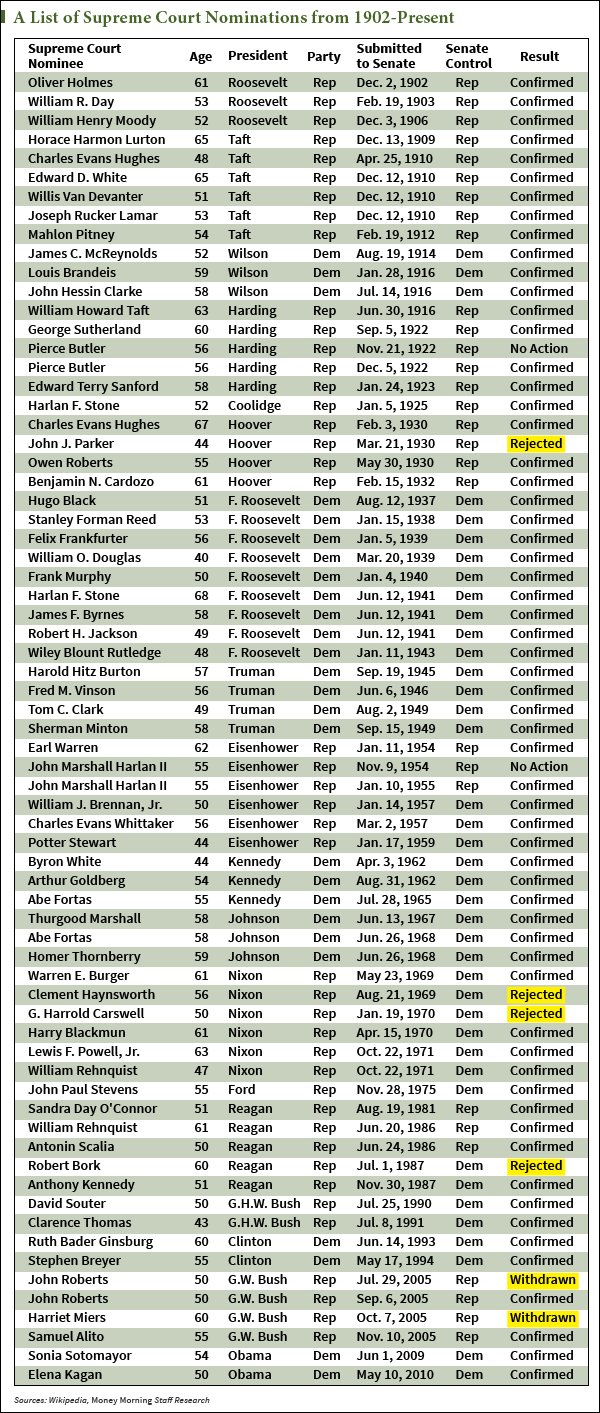 For more details on the history of Supreme Court nominations, follow us on Twitter @moneymorning, or like us on Facebook.
What Is a Brokered Convention? Controversial moves by GOP party leaders to halt front-runner Donald Trump's momentum have led to talks about a potential "brokered convention" come July 18, when Republican delegates meet in Cleveland, Ohio, to crown a party nominee. But what is a brokered convention anyway? Here's what you need to know...
Related Articles: