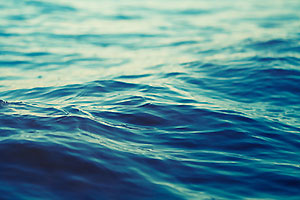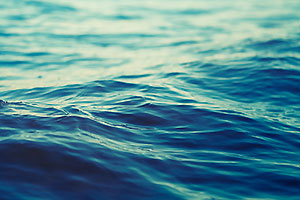 When you think of "must-have" investments, what stocks typically come to mind? Maybe a tech powerhouse like Apple Inc. (Nasdaq: AAPL), a defense giant like Lockheed Martin Corp. (NYSE: LMT), or a big oil company like Exxon Mobil Corp. (NYSE: XOM)...
It's time to add our best water stock to buy to your list.
Sure, water isn't the sexiest investment. But this water stock has the potential to become one of the most valuable long-term investments of all time.
We'll get to this water stock pick in just a bit. First, let's look at why water utility companies are smart investments right now...
It's easy to forget, but freshwater is a scarce resource. It makes up less than 1% of all water on Earth - and most of it is inaccessible. And our freshwater supply is getting more scarce and vulnerable every year.
The U.S. Environmental Protection Agency estimates that our decrepit water and wastewater systems require an investment of at least $384 billion within the next 20 years alone.
Money Morning Chief Investment Strategist Keith Fitz-Gerald estimates that number is much closer to $500 billion, considering population growth, climate change, and slowing conservation efforts.
He sees water stocks as "must-have" investments for three simple reasons:
We need water to survive.
Governments, business, and individuals will spend lots of money to have water investments, no matter what economic conditions exist.
Central bankers cannot derail water companies. Wall Street can't hijack them, either. Politicians also can't vote them out of existence.
"People think water is all about demand but, in reality, it's all about supply," Fitz-Gerald said. "...either you have it or you don't."
Some savvy investors have already noticed that water utility companies will profit from the EPA's daunting investment challenge. We first told you about this country's top water stock in 2011 - and it has since produced returns of 148%.
Now we're recommending it to you again because it has room for another triple-digit gain...
The Best Water Stock to Buy Now
[mmpazkzone name="in-story" network="9794" site="307044" id="137008" type="4"]
American Water Works Co. Inc. (NYSE: AWK) is one of the best-performing water stocks out there. We managed to catch it in 2011 before its triple-digit rise. That could easily happen again.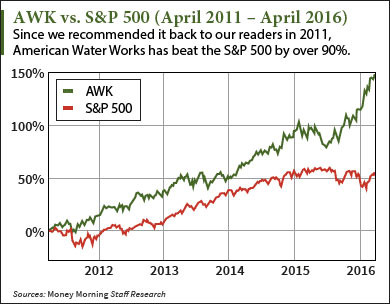 Founded in 1886, American Water has a long history. It's gone through three name changes in its years, but the nature of its business has stayed the same. The company owns locally managed utility subsidiaries that manage municipal drinking and wastewater systems. It provides services to more than 15 million people in the United States in more than 45 U.S. states.
One thing working in American Water's favor is that it's a utility regulated by the government. Cash-strapped local governments will be looking to public water utilities like American Water to swoop in and make repairs - and there are a staggering number of repairs to be made. In 2013, the American Society of Civil Engineers reported the United States' drinking water infrastructure is nearing the end of its life.
While that spells disaster for local governments, it's also an incredible opportunity for American Water. American Water is constantly looking to add to its nearly 370 wastewater and freshwater systems across the United States. It has a big opportunity to capture a large share of the roughly 84% of water systems and 98% of wastewater systems owned by municipalities. In fact, American Water plans to invest $6.4 billion between 2016 and 2020 to expand its operations...
American Water had its IPO in April 2008. Since then, it's gained over 220% in share value. The average earnings per share estimate of 14 analysts for December 2017 is $3.04, up 15% from this year. Based on a price/earnings ratio of 26.14, American Water could reach nearly $80 per share by December 2017, a 17% gain from its current price.
Another perk of American Water stock is its dividend growth rate of 8% - one of the highest in its industry. Its $0.34 quarterly cash dividend has an annual yield of 1.97%.
As of its March 31 closing price, American Water is trading at nearly $69 per share, up 15% this year.
Tweet the author @cgsaucier, or leave a comment on Money Morning's Facebook page.
The Ultimate "Must-Have" Investment for the Water Utilities Industry: Is American Water Works appealing to you? What if I told you there's a way to get a piece of the entire water utilities industry? This is the same industry that will require billions of dollars in investments by 2020. This water industry play will put you at the forefront of the tidal wave of profits to come...