The JPM Stock price climbed 3% in intraday trading today (Wednesday) after the bank reported better than expected results for Q1 2016. The JPMorgan stock price is now up 6.9% in the last three months.
While profit in Q1 fell by 6.7%, it wasn't as bad as Wall Street expected. JPMorgan Chase & Co. (NYSE: JPM) reported earnings per share (EPS) of $1.35 on profit of $5.52 billion. Analysts polled at Thomson Reuters expected EPS of $1.26.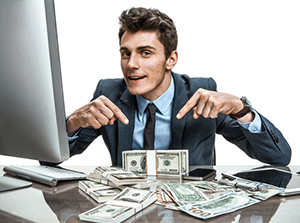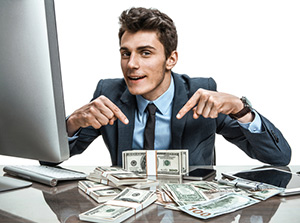 JPMorgan also surpassed expectations in revenue. The megabank reported Q1 2016 revenue of $24.08 billion, which is 1.17% higher than the expected $23.8 billion.
The U.S. Federal Reserve interest rate hike in December also helped the bank's results marginally. JPMorgan's yield on interest-earning assets was 2.3%. The yield for those assets was 2.23% in Q4 2015 and 2.07% in Q1 2015.
CEO Jamie Dimon was pleased with the results, noting that the banking markets are challenging, but the results from Q1 reflected the strength of his company's platform.
But it wasn't all good news for the banking giant...
Profit at JPMorgan's corporate and investment bank was $1.98 billion. That's a 22% decrease from the $2.54 billion the company reported in the same period last year. JPMorgan's commercial bank earned $496 million, which is a 17% decrease from the $598 million earned in the same period last year.
Shareholders should also be concerned over the amount of money it set aside to cover loans that could go bad in the future. For Q1 2016, JPMorgan set aside $1.82 billion. That's an increase of nearly 90% from the $959 million it set aside in Q1 2015 to cover such loans.
The increase is to help protect the downgrades to loans in the bank's gas, oil, metals, and mining portfolios, according to The Wall Street Journal.
JPMorgan's Q1 results were mixed, but the JPM stock price today is still climbing. But does that mean investors should buy into JPM stock now? Here's what you need to know about the JPM stock price moving forward...
The JPM Stock Price Climbs Today - Will the Rally Last?
Because of the volatility in the energy sector, JPM shareholders could face setbacks moving forward...
With low prices and instability, creditors of drillers and investors in the oil and gas sector are exposed to extreme volatility.
JPMorgan reported that provisions for credit losses (an estimation of potential losses a company may experience due to credit risk) was $304 million in Q1 2016 because of its oil and gas portfolio and natural gas pipelines. In the prior-year quarter, it was $61 million. That's a 398% increase in just a year.
And aside from losses in the energy sector, JPMorgan may soon have less money to make investments...
Banking regulators are cracking down on the "living wills" of megabanks that are considered too big to fail. These "living wills" are the plans banks have prepared in case of a potential bankruptcy.
This is to help stop the American taxpayer from providing bailouts.
You see, JPMorgan's profitability could be drastically affected if regulators found its bankruptcy plans inadequate. JPMorgan may have to increase its cash reserves, which would restrict the amount of borrowing and investments the bank can provide.
Regulators could also impose costly sanctions and even force JPMorgan to divest certain assets if it doesn't comply.
Money Morning Capital Wave Strategist Shah Gilani warned investors back in January that banks wouldn't offer much upside.
Gilani said investors will quickly look past short-term revenue bumps and "see a tough year ahead."
While the JPM stock price is climbing today, there is still a lot of underlying risk and volatility in owning JPM stock in 2016.
Jack Delaney is an associate editor for Money Morning. You can follow him on Twitter and follow Money Morning on Facebook. 
Beware the Dark Money: Money has always influenced U.S. politics, but the issue grew much more pronounced after the Citizens United Supreme Court decision opened the floodgates for the wealthiest of donors to contribute almost limitless sums. Here's how this ocean of dark money has drastically changed U.S. politics - and not for the better...