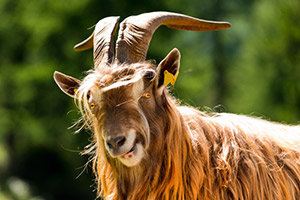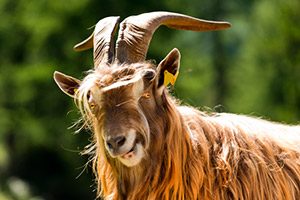 We have long-lamented wasteful government spending — but even we couldn't believe this new data…
It turns out a Pentagon agency called the Task Force for Business Stability Operations (TFBSO) used $6 million in American taxpayer dollars to stabilize the economy of Afghanistan by buying goats from Italy.
Yup, goats…
John Sopko, the Special Inspector General for Afghan Reconstruction (SIGAR), shared his findings at a subcommittee meeting on Jan. 20, 2016. Sopko was appointed by President Barack Obama in 2012 to provide objective oversight of the reconstruction funds used by TFBSO in Afghanistan.
According to Sopko, nine rare blond Italian goats were imported to boost Afghanistan's cashmere industry. The $6 million reportedly covered setting up a farm, lab, hiring staff, and certifying the wool, according to USA Today.
This excessive government funding proved a failure, to boot. Some of the goats suffered from a gastrointestinal infection that can destroy whole herds and weren't able to reproduce. The farms established were also apparently too small to provide adequate grazing, according to The Telegraph.
But it only gets worse…
If you read between the lines of Sopko's report, it sounds like the Task Force may have lost track of what happened to the goats.
Sopko apparently wouldn't be surprised if the goats had actually been eaten. It's not unclear, for instance, if the goats were eaten, according to USA Today. "We don't know," Sopko reported. "This was so poorly managed."
While the goats cost over $6 million, a whopping $800 million of U.S. taxpayer money was used to fund the entire project…
Sen. Claire McCaskill (D-MS) was especially livid at the hearing about the total amount spent on the operation, according to USA Today. "This is a terrible waste of taxpayer money when we have so many other uses for it," McCaskill said.
We delved deeper into the Task Force's spending record, and the disastrous goat project was just the tip of the iceberg of its wasteful government spending. Check out another of its projects that McCaskill flat-out called "dumb on its face"…
Another Task Force Error Rang Up $43 Million in Government Spending
In a previous report from Sopko, he shared that the Task Force spent $43 million on a single natural gas filling station in Afghanistan. McCaskill couldn't identify the goal of this project — considering the cost to convert cars to natural gas would exceed the average income of Afghan citizens.
This is the project she referred to as "dumb on its face."
The Pentagon refuted Sopko's report, stating that the cost was actually closer to $5 million than $43 million. Brian McKeon, a top Pentagon policy official, said the station cost $2.9 million, and a remaining $2.1 million was used for equipment and buildings.
But the glaring issue is what it should have cost to build the gas station…
Sopko believed the project should have cost $500,000. Even if it were closer to $5 million, that's still 900% more expensive than it should have been.
And yet another outrage Sopko identified in his report were costs associated with living accommodations. Here, he criticized the Task Force for spending $150 million on high-end hotels. Those accommodations included flat-screen TVs, extravagant meals, and private body guards.
Former head of the TFBSO Paul Brinkley denied the claims that his crew was living in luxury.
"When this was not possible or practical, the challenge was to find facilities that did not continually smell of raw sewage, and food that did not frequently sicken our personnel or visiting government and business leaders – a challenge we never fully overcame," Brinkley stated.
While there appears to have been excessive government spending, McKeon defended the expenses by pointing out that only time will tell if the Task Force succeeded.
"Reports that the (Pentagon) commissioned to assess the Task Force's work – as well as SIGAR's work – tell us that the Task Force had a mixed record of success, with some successes and some failures," McKeon stated.
Hopefully for the American taxpayer's sake, there will prove to be at least some successes…
Can you believe this outrageous government spending? Tell us what you think on Twitter @moneymorning and on Facebook.
Who's Afraid of Donald Trump? A powerful group of men joined together on Jekyll Island. Their goal was to secretly work their influence over the American people. And to stop the progress of Donald Trump's presidential campaign… at all costs….
Related Articles: