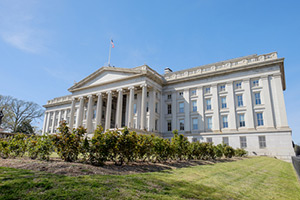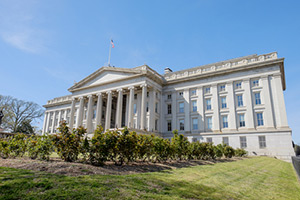 The U.S. Federal Reserve gathers for its two-day meeting this week on Tuesday and Wednesday. Here's what investors can expect at the April FOMC meeting, plus the best investment to make ahead of the meeting.
No change in policy is expected when U.S. policymakers end their two-day meeting on Wednesday, April 27. Future markets show virtually no chance of a Federal Reserve interest rate hike.
But as always, the tone of the meeting will be key.
Minutes from the March FOMC meeting showed the Fed turned categorically dovish last month.
The central bank said last month that "a cautious approach to raising rates would be prudent." Policymakers revealed their main concern was that raising rates could suggest a sense of urgency from the bank that wasn't appropriate.
Last week's lackluster economic data on retail sales, industrial production, and consumer confidence has led many analysts to believe the Fed's dovish tone will continue.
Economic growth in Q1 is expected to show a sharp slowdown. Using its "GDP Now" forecasting tool, the Atlantic Fed estimates Q1 U.S. GDP grew just 0.6%.
And U.S. policymakers aren't just concerned with what's happening at home. Situations around the globe are also influencing their policy attitude and interest rate path.
The increasing use of negative interest rates from global central banks, sputtering economic growth abroad, and a possible UK exit from the European Union are among the Fed's worries.
China is another major concern.
China's National Bureau of Statistics last week released its Q1 economic growth data. The headline number was year-over-year growth of 6.7%, the lowest figure in 25 years. Many economists peg the actual number even lower.
The significant slowdown in the world's No. 2 economy isn't the only fear in China. Its ballooning debt is causing distress as well. Thanks to bank loans, shadow banking, and government bond financing, China's total debt levels rose to a whopping 308% of GDP at the end of 2015.
Those collective worries, which don't appear to be fading, are why many expect the Fed to remain highly accommodative for longer.
This dovish stance is why Money Morning Resource Investing Specialist Peter Krauth is sharing the best investment to buy ahead of the April FOMC meeting this week...
Make This Move Before the April FOMC Meeting
"Virtually everything the Fed has done - all those trillions (dollars) printed, all that market interference with historic levels of easing - has ostensibly been to achieve the central bank's stated goal of pushing inflation back up to 2%," Krauth said.
But all that those ultra-easy monetary measures have accomplished is boosting stocks and buybacks to meteoric levels. They have artificially inflated wealth and encouraged people to take on debt.
Krauth said in this kind of Fed-backstopped environment, investors need to seek out tangible goods - physical goods that serve to preserve your purchasing power.
That's where the PowerShares DB Commodity Index Tracking Fund ETF (NYSE Arca: DBC) comes in.
With a $2.13 billion market cap, this exchange-traded fund (ETF) provides an easy way to invest in commodities futures. Simply put, DBC offers investors access to essential commodities without having to hold them.
The fund has compiled a basket of the most heavily traded and relevant physical commodities. These include aluminum, Brent crude copper, gold, heating oil, light crude, natural gas, and nine other commodities.
The fund is heavily oil-weighted. Crude oil prices are up a healthy 16.58% year to date. Gold and silver, meanwhile, are up 17.8% and 23%, respectively.
"Given the run-up in gold and silver, the inflation thermometer's mercury is on the rise," Krauth added.
DBC peaked at $31.90 in April 2011, then slipped some 60% by last February as loose monetary policies crimped commodities prices.
"But now the markets are realizing the gig is up and NIRP (negative-interest-rate policies) plus helicopter money are bound to bring on the desired inflation, eventually beyond what central planners are planning on," Krauth said.
DBC is up 14.11% over the last three months. Krauth expects more gains as investors lose faith in paper assets and opt instead for real, hard assets.
Stay informed on what's going on in the markets by following us on Twitter @moneymorning or liking us on Facebook.
The Essential Guide to Buying Gold and Silver: Investing in gold and silver is widely regarded as the best "crisis insurance" for your portfolio. This guide gives you everything you need to know about the best stores of value in history, gold and silver. Read more...
Related Articles: