Berkshire Hathaway Inc. (NYSE: BRK.A) held its annual shareholder meeting this past week. As always, investors are looking for updates on the top Warren Buffett stocks and if he's made any changes in his positions.
Before we get in to the top five Warren Buffett stocks to watch in 2016, here's some highlights from Berkshire's annual meeting…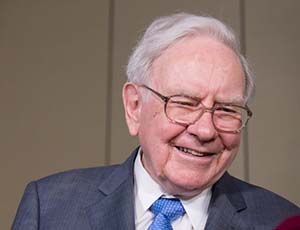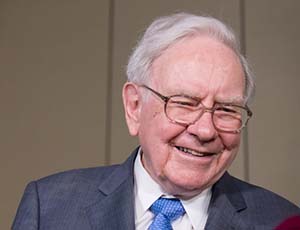 Berkshire reported net income of $5.59 billion, up 8% from $5.16 billion a year earlier.
Insurance underwriting profits declined to $1.13 billion in Q1. That compared with $1.35 billion in Q1 2015.
Berkshire's enormous railroad, utility, and energy segment also saw profits fall. Profits dipped to $1.22 billion versus $1.46 billion a year ago. Lower shipments of coal and material used in shale-gas extraction cut into results.
Warren Buffett's fame isn't the only reason Berkshire Hathaway's results are closely watched. The Omaha-based company's results are telling of the health of the U.S. economy. As one of the largest companies in America, almost all of Berkshire's earnings come from the United States.
Meanwhile, Buffett's top holdings, latest buys, and new sells are all scrutinized by investors and money managers who attempt to mimic the Oracle of Omaha's moves.
Here are the top five Warren Buffett stocks to watch in 2016…
The 5 Must-Watch Warren Buffett Stocks for 2016
Warren Buffett Stocks No. 1: American Express Co. (NYSE: AXP) is a top and long-time Buffett holding. According to its latest quarterly filings, Berkshire holds 151,610,700 AXP shares worth nearly $10 billion. The credit card company recently reported better than expected Q1 2016 results thanks to an uptick in consumer spending. That was welcome news for investors, as American Express has had some issues maintaining partnerships. In early 2016, Fidelity Investments announced it was terminating its partnership with AXP. AXP also recently lost a Costco contract, which will negatively impact AXP's profits for the next two years. American Express shares are down 5.31% year to date and off 15.14% over the last year.
Warren Buffett Stocks No. 2: Coca-Cola Co. (NYSE: KO) is another key Buffett holding. In fact, Berkshire is KO's largest shareholder with a 9% stake valued at roughly $18 billion. KO's share price has suffered over the last several years as soda sale volumes have waned. Overall soda sales dropped for the 11th straight year in the United States in 2015, according to Beverage Digest. The industry tracker also reported that annual per capita consumption of carbonated soft drinks dropped to its lowest amount since 1985 last year at just 650 eight-ounce servings. Still, Buffett remains a fan of the stock and the product. He drinks five 12-ounce cans of Cherry Coke daily and isn't worried about the sugar or calories. "I've not seen evidence to convince me I'll be likely to live to 100 if I suddenly switched to water and broccoli," Buffett said Saturday. However, KO is adapting to changing consumer preferences with an extensive product portfolio that includes waters, juices, energy drinks, and teas. KO shares are up 9.84% over the last year.
Warren Buffett Stocks No. 3: International Business Machines Corp. (NYSE: IBM) remains a top Buffett holding despite its string of disappointing quarterly results. Berkshire maintains an 8.51% stake in IBM valued at just over $81 billion. In a CNBC interview Monday, Buffett said he's "never sold a share of IBM" even though his overall cost of owning the stock is about $25 per share higher than its current level. "We feel fine or we won't own it. We've never sold a share of IBM. Periodically, we buy a little bit more," Buffett told CNBC's "Squawk Box." "We have not been an aggressive buyer, but we've been a buyer. I think I can safely say we would be much more likely to buy more in the next 12 or 24 months than we would be to sell shares." Over the last one and three years, IBM shares are down 16.46% and 29.04%, respectively.
Warren Buffett Stocks No. 4: Wal-Mart Stores Inc. (NYSE: WMT) is a small (Berkshire's stake in the retail behemoth is 1.84% valued at nearly $3.8 billion) but significant position in Buffett's conglomerate. In addressing his WMT holding, Buffett instead gushed over Amazon.com Inc. (Nasdaq: AMZN) founder and CEO Jeff Bezos. "We haven't seen many businessmen like him," Buffett said on CNBC. "Overwhelmingly, he's taken things you and I've been buying and he's figured out a way to make us happier buying those products, either by fast delivery or prices or whatever it may be, and that's remarkable." Since its foundation in 1997, Amazon shares have grown 44,000%. Over the last five years, AMZN is up 237.63%. In comparison, WMT stock is up just 22.53% over the same period.
Warren Buffett Stocks No. 5: Wells Fargo & Co. (NYSE: WFC) is a favorite Buffett holding. Berkshire has a 9.57% stake in the bank worth more than nearly $25 billion. WFC was deemed a Wall Street darling among the big banks for emerging from the 2008 financial crisis in much better shape than its peers. Q1 2016 results comfortably exceeded expectations. The bank credited its diversified business model in the face of a volatile operating environment for the beat. The banking sector, however, remains challenged. Record low interest rates, uneven economic growth, and cautious consumers are a few issues plaguing the space. WFC shares are down 6.88% year to date. However, its performance over the last several years is impressive. Shares are up 33.08% over the last three years and 73.74% over the last five.
Follow Money Morning on Twitter @moneymorning or like us on Facebook.
Silver's 2016 Rally Is Just Starting: Investing in silver is one of the best "insurance policies" you can make for your portfolio. That's why we've created this helpful guide for profiting from any move in silver prices. Here's what you need to know about investing in silver in 2016…
Related Articles: