The Tesla stock price today (Thursday) is down 4% in intraday trading after the automaker reported its Q1 2016 earnings yesterday (Wednesday).
Tesla Motors Inc. (Nasdaq: TSLA) exceeded earnings expectations, but retail investors are selling. That's because famed investment manager James Chanos announced yesterday that he is short Tesla stock because he doubts Tesla's profitability.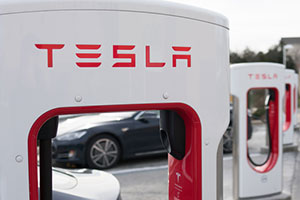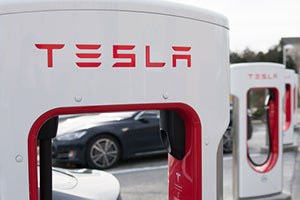 Before we review if TSLA stock is a good investment for 2016, we wanted to make sure you know more about Tesla's Q1 2016 earnings performance.
Tesla reported an earnings per share loss of $0.57, which was 58% higher than the $0.36 EPS loss reported the same time last year. But Tesla still beat Wall Street's EPS loss estimates of $0.58.
Tesla's revenue met analysts' expectations of $1.6 billion.
Wall Street was also focused on Tesla's guidance for vehicle deliveries. Analysts expected deliveries of 19,500 vehicles for Q2, but Tesla stated it will deliver 17,000 vehicles. Despite the lower vehicle guidance, Tesla maintains it will still deliver 80,000 to 90,000 vehicles for the year.
It's true that the Tesla stock price today is falling right now. But investors should be encouraged by the company's newest projection…
CEO Elon Musk stated that Tesla will build 500,000 vehicles by 2018. That's two full years earlier than his original projection. Musk's updated estimate is driven by demand for the Model 3. In the first week of pre-orders, Tesla received over 325,000 reservations.
Musk also stated these reservations suggest $14 billion in future sales.
But since Tesla stock is facing a sell-off today, investors are wondering if they should buy TSLA stock. Before purchasing shares of TSLA, here's what you need to know…
What Investors Must Know About the Tesla Stock Price Today
The Tesla stock price today shows why TSLA is not a good short-term investment. The company is extremely vulnerable to news. Any positive or negative news stories can send the stock price on a wild swing.
But we expect Musk to reward long-term investors who have patience…
You see, Musk correctly identified that electric vehicles will be more than just a trend. In 2015, InsideEVs reported that only 116,099 electric vehicles were sold in the United States. Pike Research projects that by 2020, electric vehicle sales worldwide will reach 3.8 million.
In just five years, that's an increase of 3,173%.
And this surge in electric vehicle sales will be fueled by the Model 3…
Right now, the base MSRP of the new Tesla Model X is $80,000. The average consumer can't afford that, which limits Tesla's sales. But with a $35,000 price tag, the Model 3 will usher in a whole new era of electric vehicle ownership.
Within just 72 hours, the Model 3 had already received 276,000 pre-orders. So this is just a glimpse into how profitable Tesla can become.
Analysts expect that by 2030, the electric vehicle market will be worth roughly $488 billion. So you can see why if you plan to hold TSLA stock for five to 10 years, it will be a solid investment.
Thomson First Call analysts have a one-year price target of $253.47 for Tesla stock. From today's opening price of $228.46, that's a potential profit of 10.94%.
The Bottom Line: The Tesla stock price today is volatile because of investment manager James Chanos announcing he was shorting the stock. Over the long term, however, CEO Elon Musk gave shareholders plenty of good news in Tesla's Q1 2016 earnings report. The company will deliver between 80,000 and 90,000 vehicles in 2016, and Tesla projects future profit of $14 billion from the Model 3.
Jack Delaney is an associate editor for Money Morning. You can follow him on Twitter and follow Money Morning on Facebook.
The 2016 Silver Rally: Investing in silver is one of the best ways to protect your portfolio in volatile markets. If you want to profit from investing in silver, make sure you read this guide…