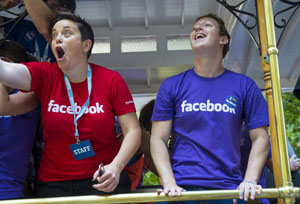 The Facebook stock split criticism went one step further on April 29, after a shareholder filed a lawsuit against the company to stop it from issuing new Class C shares.
CEO Mark Zuckerberg announced during Facebook's Q1 2016 earnings call on April 27 that he planned to create a 3-for-1 stock split. This move creates new shares but also ensures Zuckerberg maintains control of the company.
Shareholders are worried about what this means for Facebook stock moving forward. We'll let you know how to play Facebook shares before the split, but we also want to make sure our readers know more about the lawsuit and the upcoming Facebook stock split.
The Facebook Stock Split
Right now, Facebook only offers two different types of shares.
Class A shares provide shareholders with one vote per share, and Class B shares allow an investor 10 votes per share. As of March 31, there were over 2 billion Class A Facebook shares and 548 million Class B Facebook shares.
According to the Los Angeles Times, Zuckerberg owned 468 million Class B Facebook shares and 4 million Class A Facebook shares.
If the split goes through, Class A and Class B shareholders will get two shares of Class C stock for every one share they hold.
Facebook Class C shares don't have voting power, though, which is the reason for the lawsuit…
The Facebook Stock Split Lawsuit
According to Reuters, the Facebook stock split lawsuit alleges the board committee that approved the deal didn't bargain hard with Zuckerberg.
You see, Zuckerberg plans to donate 99% of his shares to a philanthropy project he started with his wife. That means he would eventually lose control of the company with the current voting rights for shareholders.
The lawsuit says the committee did not obtain any value from Facebook's CEO in exchange for continued control. The shareholder is concerned that Zuckerberg will gain billions of dollars in proceeds while still selling off his Facebook stock.
If Zuckerberg provided poor leadership, this would be a justified concern. But since Facebook's 2004 launch, Zuckerberg's visionary leadership has rewarded shareholders handsomely. In fact, Facebook stock has returned gains of 208% since the Facebook IPO.
So while it's inevitable, Zuckerberg has not listed an official date for the Facebook stock split. And if you're wondering if this is the right time to add FB to your portfolio, make sure you read this…
Is It Time to Buy FB Before the Facebook Stock Split?
The Facebook stock price opened at $117.16 today, which is near its 52-week high of $120.79 per share.
While you would be buying in at a high price, we believe that Facebook will return even more gains in the long term…
Zuckerberg has created several sources for revenue, which include: Messenger, Facebook at Work, WhatsApp, Oculus Rift, and Facebook itself. Some of the platforms, like Messenger and WhatsApp, aren't monetized yet, but analysts from Sterne Agee believe WhatsApp can generate $1 billion in revenue by 2017.
When Zuckerberg first purchased Instagram in 2012, it only had 30 million users. But today, Instagram now has over 400 million monthly active users (MAUs). In comparison, Twitter Inc. (NYSE: TWTR) has just 310 million MAUs since its launch in July 2006.
Facebook's CEO has yet to report exactly how much money Instagram has brought in. Analysts believe that in 2015, the picture app generated ad revenue between $650 million to $750 million.
In Facebook's Q1 earnings report, COO Sheryl Sandberg stated that Instagram now has more than 200,000 businesses that advertise on the platform. Because of Instagram's growing popularity among millennials and younger users, eMarketer projects Instagram could account for 10% of Facebook's global ad revenue for 2017.
It's true that Thomson First Call analysts have a one-year price target of $142.04 per share. That means you could profit 21% from today's opening price of $117.16.
But Money Morning feels that number is too conservative…
Our Director of Technology & Venture Capital, Michael A. Robinson, projects that Facebook stock will trade for $250 per share by 2020. That's a potential gain of 113% in just four years.
The Bottom Line: The Facebook stock split has caused one shareholder to sue the company. Essentially, the shareholder feels CEO Mark Zuckerberg is not returning any value by issuing Class C shares that don't hold voting power. But this should not be a worry for investors.  Because of Zuckerberg's visionary leadership, Facebook stock will continue to be a solid holding for long-term investors.
Jack Delaney is an associate editor for Money Morning. You can follow him on Twitter and follow Money Morning on Facebook.
Uber IPO Update: Uber had to settle a lawsuit that will cost the company $100 million. Before the inevitable Uber IPO date, the lawsuit news is now causing some investors to get cold feet. This is a huge settlement, but Uber may be the long-term winner. Here's everything you need to know…