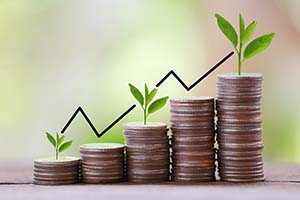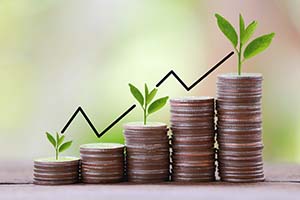 This is turning into a glorious year for gold and silver investors, with silver prices up 31.8% year to date.
So why are silver prices rising?
Today we will look at what is pushing the silver price higher, and if this trend can continue.
Money Morning Resource Specialist Peter Krauth contends that there is a bright outlook for silver both in the short- and long-term due to several factors. Let's take a look at them now…
Why Are Silver Prices Rising? Historical Trends…
While there has been some short-term volatility with respect to silver prices, the commodity continues to have an excellent year and experts believe it is poised for long-term growth. Silver prices gained more than 15% in April alone, the highest monthly increase in three years. Even if there are minor pullbacks in the coming months, Krauth predicts we'll continue to see silver prices rising for several reasons.
"Golden Cross" – The "golden cross" refers to tracking price trends via moving averages. When the 50-day moving average line crosses above the 200-day moving average line, it's called a "golden cross," and this is a good sign. When this happens with gold, which it recently did, the bullish activity is expected to follow with the price of silver.
Gold-to-Silver Ratio – Another gold and silver relationship factor, this one is simply the price of gold divided by the price of silver. When the ratio has traded at extremes, which it is now, there have been tremendous buying opportunities for silver. In fact, Krauth believes that silver is trading at a massive discount right now, with the expectation that prices will surge as more investors jump on board.
Why Are Silver Prices Rising? Economic Indicators
Aside from its relationship to the price of gold, other important economic factors impact whether or not you'll see silver prices rising in the short or long term.
Inflation – Precious metals prices and the demand for silver are certainly affected by both global and domestic inflation. In particular, a weakened U.S. dollar is good news for the price of silver. While some in government will tell you that inflation is under control, Krauth believes the opposite and that matters will only continue to get worse.
Safe-Haven Investment – Investors seeking long-term returns are not satisfied with what the stock market is providing in today's turbulent market. In just the beginning of May, silver is far out-performing the market. In the first week of May, the price of silver was up 4.3%, compared to S&P 500 Index gains of just 1%. Also, bond investors are currently seeing some of the lowest returns in nearly 30 years. These factors tend to remind investors of the long-term reliable value of precious metals. The more money that goes into them, the more prices rise.
Interest Rates – The price of silver has an inverse relationship to interest rate hikes. Historically, as the Fed raises interest rates, silver prices will drop. There has been some slight volatility this spring amid speculation that the Federal Open Market Committee (FOMC) was going to raise rates, but this hasn't happened. In fact, it may not take place in 2016 and, even if rates are bumped slightly, the surge in the demand for silver could be enough to offset those potential price drops.
Why Are Silver Prices Rising? Demand
Unlike some other precious metals, silver is incredibly diverse. Both its increased use in a wide variety of products and other demand factors will have a positive impact on silver prices rising in the future.
Uses for Silver – One of the main factors in the positive short- and long-term outlook for the price of silver is its surge in demand compared to its limited supply. According to the Silver Institute, silver use hit a new record in 2015 at 36.407 tonnes. The supply of the precious metal tanked, however. There was a shortage of 4,040 tonnes in 2015 versus just 2,445 tonnes the year before. This is good news for silver prices rising as it is basic economics. Silver prices are tied to demand from investors, industry, and collectors (jewelry).
Silver Coins and Jewelry – The demand for physical silver as either an investment or as jewelry has skyrocketed in the past year. According to the Silver Institute, the demand for silver bullion and bars was up 24% in 2015, and the demand for silver jewelry was up 1.1%. The U.S. Mint reports that its sales rate of U.S. Silver Eagles could hit a new high in 2016. These silver coins are a popular method of buying silver as they can be purchased in a variety of weights and have a purity of 0.999. Silver bars are another popular choice, which can be purchased in various weights, and are at least 0.995 pure. Silver jewelry is becoming more popular each year. While this bodes well for the price of silver, it's not the best method of investing in the precious metal, as you'd pay a premium over the value of the pure silver.
Silver ETFs – There are many ways to invest in silver that don't involve buying physical silver. While individual stocks and futures have seen plenty of activity in 2016, there are several funds that are performing well and that are good indicators for continued strong silver prices. The Sprott Physical Silver Trust ETF (NYSE Arca: PSLV) is an exchange-traded vehicle (ETV) that is backed by a cache of silver bullion that is kept in a secured facility in Canada. The silver is stored at a neutral locale and is subject to periodic inspections. The other stock is the ProShares Ultra Silver (NYSE Arca: AGQ), which is a leveraged exchanged-traded fund (ETF) that has shown year-to-date gains of 47.37%.
Precious metals markets tend to follow a pattern, and we've put together an encouraging picture that shows silver prices rising over both the current year and long term. Both economic factors and supply/demand for the metal make this an attractive investment. As with any investment, experts recommend that investors maintain diversity in their portfolios and remember that investing can be speculative in nature. To learn more about investing in silver, check out our free, exclusive Members-only guide: The Essential Guide to Buying Gold and Silver.
Follow Money Morning on Facebook and Twitter.