Greg Madison: Keith, you've got a remarkably prescient and very public track record when it comes to helping people make money. Subscribers following along have had the opportunity to capture 31 triple-digit winners and dozens of double-digit wins. Some of your more famous calls include beating legendary trader George Soros to the punch on the Japanese yen by a full eight months while more than doubling the returns he achieved according to The Wall Street Journal. More recently, you went against conventional wisdom and called for investors to short Twitter. That stock is now down 81% and falling, with mainstream investment houses finally latching on to the weakness you pointed out to subscribers in November 2013 when the company IPO'd.
Q: What's next – and how do you do it so consistently?
Keith Fitz-Gerald: Thanks for remembering, Greg. Let's take your last question first.
Most investors are busy following returns when what you've really got to do is follow the money. So they wind up in the unenviable position of trying to catch a train that's already left the station.
I don't ever want our subscribers to be in that position, which is why I work very hard to identify the right train and get on board early, before everybody else. Not only does that help maximize returns, but it goes a long way towards ensuring Money Morning members never miss another major market move again – ever!
It's not as hard as it sounds.
First, you line up with Unstoppable Trends that are backed by trillions of dollars that will get spent no matter what the Fed does next. These are trends that Wall Street cannot hijack in its own interest, and Washington cannot derail.
Second, you confine your money to companies making "must-have products" that the world cannot live without. Usually, these are larger companies with globally recognized brands, growing earnings and rock solid balance sheets. They're also companies with what I call "margin expansion capacity," meaning they've got the power to expand margins even in the face of slowing global growth, out-of-control central bankers, and leaders who lack adult supervision in capitals around the world.
And, third, you watch risk very carefully. Part of that comes from having the right portfolio structure, but a good measure of that comes from protective stops, stable dividends, and specialized inverse funds that appreciate when the markets hiccup.
What most investors who chase returns miss is that the things I've just mentioned are all working together to keep you and your money focused on the upside. That's because missing opportunity is always more expensive than running to the sidelines.
"Every crisis over the past 2,000 years has led to significant profit-creating opportunities. You've just got to be savvy enough to go hunting when the days are darkest…"
This is very counterintuitive to most investors who foolishly try to time the markets despite overwhelming evidence that this never works.
Speaking of which, let's take a look at what's next.
Right now we're seeing stocks do something that we haven't seen in 20 years. Investors who understand will do very well when the situation works itself out. Those who don't risk getting left far behind.
Q: Can you elaborate?
KF: Happy to.
I've talked for some time now about how narrow the markets have become – meaning there's very little price movement from top to bottom at a time when volume has fallen precipitously. You can see that using something called a Bollinger Band that's available in most free online charting packages, especially when you look on a monthly basis that removes most of the daily noise that's so confusing at the moment for most people.
Here's the S&P 500. As you can see, the "width" is falling precipitously even as the S&P 500's range has tightened up since beginning its climb in a Fed-induced haze from the depths of March 2009.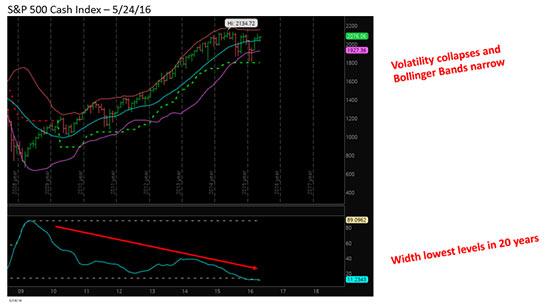 Here's the thing.
Periods of narrow banded behavior like we have now are the financial equivalent of a coiled spring. Effectively, what this means is that prices are storing up energy for a major move just like they did in 1948, 1960, 1977, and 1995 under similar conditions.
Anecdotally, that makes sense when you think about it. Volume has been dropping as traders become increasingly conservative and hedging core holdings has taken on new importance ahead of the Fed's June meeting.
It's only a matter of time before they make their next move.
Q: In which direction?
KF: That's a more nuanced discussion. Bollinger Bands, unfortunately, don't lend themselves to determining the directional bias associated with the spring unloading. So what you want to do is use the current narrowness as "prep time," for lack of a better term.
Q: Which you alluded to earlier?
KF: Precisely. That means a) owning what you want to own in case the markets take off so you don't get left behind, and b) keeping risk to razor-thin levels using a combination of trailing stops like those we review weekly and specialized inverse funds to counter any downdraft if it gets serious. Choices like Apple Inc. (Nasdaq: AAPL), Becton Dickinson and Co. (NYSE: BDX), and American Waterworks Co. Inc. (NYSE: AWK) are particularly appealing at the moment because they offer the unbeatable combination of solid growth and income, for example.
It's important to remember that investing is a process. It may not work all the time, but it sure as heck works over time. Just because today's markets are complicated doesn't mean investing has to be. In fact, the simpler, the better… and the more profitable.
Q: Are you worried about the Fed's next move and rising rates?
KF: Not particularly. I believe the Fed lost control a long time ago; traders who work with trillions of dollars of real money rather than fancy out-of-date academic models are the far more relevant input. That said, I think that Team Yellen is just dumb enough to try raising rates at a time when the rest of the world is easing. The arrogance is surreal. That's why having an appropriate balance between the upside potential associated with the best companies and the downside risk control is essential. It's not a "one or the other" thought process.
Q: Who's better for the markets – Trump or Clinton?
KF: That depends on how you define "better." If you mean who has the clearest policies, that's going to be Trump for the populist vote, even though political insiders cannot stomach the lack of specifics. If you mean who's least likely to interfere with crony capitalism, that's Clinton. But the race is a long way from over, which is, again, why you want to favor the CEOs tasked with navigating this mess rather than the politicians who will perpetuate it.
The markets, interestingly, are very clear about this.
There have been 21 presidential elections since 1928, some 14 of which were preceded by gains in the 90 days leading up to the ballot box. In 85% of the time (12 of 14 occurrences), the incumbent won. Eighty-seven percent of the time when the markets were in negative territory in the 90 days preceding the election, the usurpers won. The exceptions to this were in 1956, 1968, and 1980. Ergo, the markets have an 86% probability of forecasting the election.
Bet accordingly.
Q: Is there anything that keeps you up at night?
KF: [laughs] Not if I'm doing my job properly. I think it's very important for investors to remember that every significant crisis over the past 2,000 years has led to significant profit-creating opportunities. You've just got to be savvy enough to go hunting when the days are darkest just like Sir John Templeton did, and the legendary traders like Jim Rogers, George Soros, and Warren Buffett do.
Q: Anything you'd like to wrap up with?
KF: Yes. Investing in today's markets is a lot like life in that "if you fail to plan, you plan to fail." Most investors fall behind because they cannot stick to a simple set of concepts like those I laid out today when we started our time together. For many, the results are entirely predictable – reckless behavior in the pursuit of profits that ends in a pool of tears and red ink. Constantly jumping from one bad decision to another dooms them to terrible results.
But, if you rely on yourself and a good plan, you can't help but wind up in the winner's circle. So take a deep breath, do your homework and use our advice to craft a winning plan that's both offensive and defensive at the same time. I think you'll be thrilled by the results. No, scratch that… I know you will.
Greg Madison: Thanks very much for your time today, Keith.
KF: My pleasure. Thanks for having me back.
Follow Money Morning on Facebook and Twitter.
Learn more about the protection and profit recommendations Keith makes in The Money Map Report each month right here.
Join the conversation. Click here to jump to comments…
About the Author
Keith is a seasoned market analyst and professional trader with more than 37 years of global experience. He is one of very few experts to correctly see both the dot.bomb crisis and the ongoing financial crisis coming ahead of time - and one of even fewer to help millions of investors around the world successfully navigate them both. Forbes hailed him as a "Market Visionary." He is a regular on FOX Business News and Yahoo! Finance, and his observations have been featured in Bloomberg, The Wall Street Journal, WIRED, and MarketWatch. Keith previously led The Money Map Report, Money Map's flagship newsletter, as Chief Investment Strategist, from 20007 to 2020. Keith holds a BS in management and finance from Skidmore College and an MS in international finance (with a focus on Japanese business science) from Chaminade University. He regularly travels the world in search of investment opportunities others don't yet see or understand.