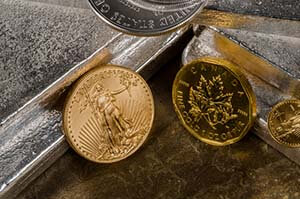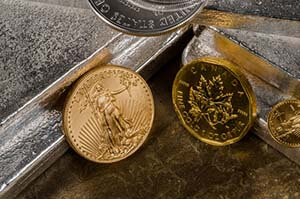 Gold and silver are experiencing a nearly unprecedented bull market in 2016 with the gray metal outpacing expectations of many experts. If you're thinking of investing, understanding what drives silver prices for today is an important part of being successful in this market.
While many factors regulate the price of precious metals, silver prices today are determined by either economic factors or the influence of supply and demand.
Here are how those elements work to move the price of silver up or down.
The Economic Factors Influencing Silver Prices for Today
When an economy is in flux, precious metals tend to thrive. A careful examination of silver's last peak at $51.33 at the height of the great recession is a perfect illustration.
Currently, the country is in fear of another recession, which is serving as one of the catalysts to drive up gold and silver prices for today.
It's not the only economic factor influencing silver prices, however.
Silver prices suffered some short-term pullbacks in April and early May. Much of this can be attributed to investor fears about the state of the economy. Tied to these concerns is the expectation of higher interest rates. The price of silver goes up when interest rates are lower and tends to fall when interest rates rise. The U.S. Federal Reserve's FOMC meeting in April concluded that there would not be an interest rate hike currently but that one could happen later in 2016. When rates are raised, commodities take a hit.
A weakened U.S. dollar is another factor that impacts the price of silver today. Money Morning Global Resource Specialist Peter Krauth says the Federal Reserve is underestimating inflation, which will cause the U.S. dollar to weaken. While this isn't good for the economy, it's a positive sign for the price of silver and gold.
The relationship between the price of gold and silver is also an important influence on silver prices today. Called the gold/silver ratio, the figure depicts the number of ounces of silver that it would require to purchase one ounce of gold. When the ratio is high, it indicates that silver is selling at bargain rates. This year, the ratio hit an extreme high of 74, with the average over the past century being between 47 and 50.
The Supply and Demand Factors Affecting Silver Prices for Today
If you've ever taken a basic economics course, the simple principles of supply and demand are usually explained on day one. When there is less of something that also has a high demand, prices will soar. These are the exact ingredients that are influencing silver prices for today.
According to many industry reports, the global supply of silver is expected to tighten this year. New York-based CPM Group reports that the output from silver mines in 2016 will drop by 2.4% to 784.8 million ounces. This is the first annual decline in output since 2011. The firm also predicts that secondary supply will drop in 2016, which is silver that comes from scrap, melted jewelry, and melted coins. The Silver Institute also recently revised its annual world supply and demand numbers for 2015. It originally predicted 2015's world silver deficit to be 21.3 million ounces (Moz), but has since revised the number to a deficit of 112.5 Moz. Coupled with soaring demand, this is great news for the price of silver.
The demand for silver continues to surge for several reasons. The economic factors that we just discussed are causing investors to flock to the metal as a safe haven and store of value. Aside from this, silver is a base metal that is used as a component in the production of many different products. Silver is used in computers, mirrors, batteries, electrical switches, and medical devices. One of its most widespread uses is in photovoltaic panels for solar energy solutions, with each solar panel holding up to 20g of silver. The demand for these solar panels is expected to increase 12% in 2016 alone. Finally, silver's popularity in jewelry has seen a rebound in recent years. According to reports from the Silver Institute, demand for silver jewelry is up and is expected to remain so in 2016 and beyond.
Buying Gold and Silver in Today's Market
As silver prices today remain positive, there are many ways for investors to buy precious metals. Your choice will depend on your particular investment preferences. Holding physical gold and silver is one of the most popular methods of precious metals investing. In fact, sales of the U.S. Mint's silver American Eagle coins have climbed more than 25% over last year's levels and could break all-time records this year. Silver bars are another option, and these are available in a variety of sizes. According to Richard Hayes, the Chief Executive of Australia's Perth Mint, the sales of silver including cast bars have been incredibly strong this year.
Those investors who don't wish to own physical silver have several alternatives. Investments in silver exchange-traded funds (ETFs) have skyrocketed in the past several months. In March alone new investments in silver funds showed the biggest increase in over two years. The most prevalent fund is the iShares Silver Trust ETF (NYSE Arca: SLV), which has shown an increase of 21.3% so far this year.
Other ways to invest in silver are through certificates and futures contracts. Certificates allow investors to pool resources in a privately owned pool of silver. Some of these investment choices are riskier than others, so it's important to investigate terms thoroughly. Futures contracts promise delivery of the precious metal at a future set price. If an investor has experience with futures and anticipates further silver price increases, this may be an excellent way to gain leverage on the price of silver.
While experts anticipate further bullish activity with respect to silver prices, we want you to be prepared to be invested. Continue here to this free report: The Essential Guide to Gold & Silver Buying.
Follow Money Morning on Facebook and Twitter.