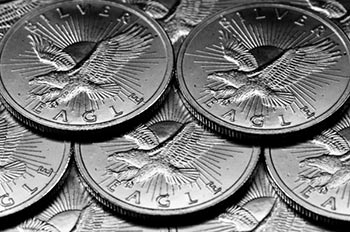 After the silver bull run disruption, it's time to update our silver prices forecast 2016…
Investors in silver who bought in January through April of this year witnessed a nice bull run. Just check out iShares Silver Trust ETF (NYSE Arca: SLV), which went from $13.19 to nearly $17.00 in late April, a rise of more than 28%.
Since then, though, 2016 silver prices have fallen nearly 10% to close at $15.60.
So what's the new outlook for silver prices? Let's take a look now.
Silver Prices Forecast 2016: Bulls vs. Bears
It doesn't take much memory to recall the silver bear that lasted from 2011 to 2015 – it only ended last year. In that four-year span, the price of silver fell from $51.33 (its 2011 high) to $13.76 per ounce in December 2015, a plummet of more than 73%.
Indeed, many older investors might remember the 13-year bear market that lasted from 1980 to 1993, when silver gave up nearly 95% of its price. That silver bear was initiated by two brothers trying to capture the silver market. On one day, "Silver Tuesday," the gray metal lost 64% of its value.
Silver prices started to recover in 2004 and had a steady bull run until 2011, when the last bear began.
But what direction will it be for 2016 silver prices? Will they continue in a bull or was May the first stage of a bear?
Money Morning Resource Specialist Peter Krauth believes that we are in a major bull market. He forecasts that 2016 silver prices will reach more than $20 per ounce, a robust advance from current levels. Krauth cites fundamental trends that we'll go over here…
These Trends Are Bullish for 2016 Silver Prices
Supply for silver is far outstripped by demand. That's generally good news for any commodity, and silver is no exception.
The global silver supply is expected to decline this year. CPM Group estimates a 2.4% fall in the production of silver mines worldwide, to just under 785 million ounces. If its forecasts prove true, 2016 would see the first decrement in production over the past five years.
Earlier this year, the Silver Institute reported that the shortfall between the supply of silver and demand for it was 21.3 million ounces (Moz) for last year. However, it has now revised its estimate of the 2015 shortfall to 112.5 Moz.
It's not just that global silver production has fallen, but that it has done so against a backdrop of very high demand.
Currently, silver is heavily in demand for industrial uses, ranging from batteries to computers to solar panels. Each photovoltaic (PV) cell solar panel uses 20 g of silver. Altogether, solar power demand alone drives demand for 70 million ounces of silver. As the solar power industry is expected to grow 12% this year alone, that demand will only increase, driven by rising demand for energy efficiency in homes and businesses.
The Silver Institute breaks down their reports into uses of jewelry as well as industrial uses. Last year, jewelers raised their silver inventory, and expect to increase their inventories by over 20% in 2016.
The increase in inventories is driven by the popularity of silver jewelry. In 2015, sales of silver jewelry climbed 15% and are expected to rise at least that much in 2016.
In addition, investors are demanding silver coins at record paces: Sales of the U.S. Mint's American Silver Eagles, Canada's Silver Maple Leafs, and Australian Silver Kangaroos at the Perth Mint are all blisteringly high.
Sales of silver coins at the U.S. Mint hit a record last year, at 47 million. That was an impressive 25% over 2014 sales. This year, however, the Mint looks to be selling silver coins at a rate that will lead to yet another 25% year-over-year rise, to 60 million coins.
How the Fed Affects Silver Prices Forecast 2016
The Fed's near-term moves are also bullish for 2016 silver prices. For most of May, the Fed was giving at least some indication that it felt the economy was strengthening – and thus a rise in interest rates was likely, perhaps at the June meeting.
Then came the jobs report on June 3. The report indicated that the number of new jobs created was much less than Wall Street had been expecting: just 38,000 versus the 158,000 forecast. While the unemployment rate fell to 4.7% and some of the shortfall was attributable to a strike by Verizon Communications Inc. (NYSE: VZ) workers, the weak jobs report roiled the broader markets and caused a drop in the number of economists who expected a Fed rate hike in June. Currently, only 4% do.
No rate hikes soon is good news for 2016 silver prices. Silver prices move in the opposite direction of rates, so tend to fall if rates increase. In addition, climbing rates send investors to investments associated with income, not to precious metals.
Wall Street still expects one or more rises in interest rates in 2016. However, Krauth believes that the expectation of rate increases is already largely built into 2016 silver prices.
The final trend that indicates a robust rise in 2016 silver prices is the relationship between gold and silver prices – namely, the gold/silver ratio. To obtain the gold/silver ratio, the price of gold is divided by the price of silver.
The gold/silver ratio is currently a bit less than 80. During the first quarter of 2016, it traded at an average of 83. Both these levels are extremely high vis-à-vis its historical 47 to 50 range over the last century.
If the gold/silver ratio reaches the historical range again, 2016 silver prices would soar to more than $20 an ounce. Krauth projects this level by the end of 2016.
A Stock to Buy to Profit from Silver Prices in 2016
If you want to buy silver given the trends and the forecasts, one of the easiest ways is to buy shares on major exchanges.
Money Morning recommends buying a silver stock that is backed by physical silver as a way to avoid the delivery costs and storage responsibilities that come with buying the gray metal physically. It's the Sprott Physical Silver Trust (NYSE Arca: PSLV). The silver backing PSLV is in Canada and is regularly audited and inspected.
Follow Money Morning on Facebook and Twitter.