My list of stocks to buy for 2016 wasn't very long, as you may remember, and it had a particularly heavy tilt toward the precious metals sector. So far that has proven a much more profitable strategy than the "buy and hope" strategy most analysts were peddling at the start of the year.
My mantra has been "buy gold and save yourself."
Close to six months later, the gold price has gained 15.79%, yet every one of the gold ETFs I recommended to you has outstripped that gain. One has already doubled in price, and one is fast approaching another double.
If you followed along, you're sitting on a very nice profit. Congratulations.
That's worth an update and some new targets…
What's Driving Gold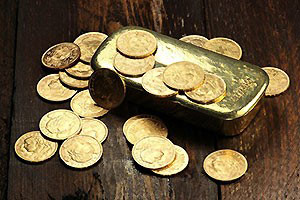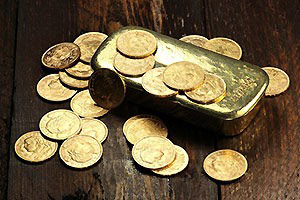 While the U.S. Federal Reserve and mainstream media keep telling us that the U.S. economy is healthy, the facts tell a different story. In the United States, trade and demand are weak while manufacturing is hovering just above recession levels. Globally the story is much worse – global trade is collapsing, global manufacturing is in recession, and global demand for goods and services is falling. In fact, global trade is at its second-lowest level since 1958 and is falling on both dollar and local currency terms. Eight years after the financial crisis, virtually all of the central banks are still engaging in crisis-era policies with little prospect of reviving economic growth.
Of course, when all these factors converge, gold goes up. (In case you missed my profit recommendations for the "Big Five" currencies, including gold, you can get those here.)
Gold (which China, a country that thinks generationally, is buying huge amounts of) keeps bouncing around, but it remains the only way for investors to save themselves from the incompetence and delusions of central bankers. Gold-related investments are long-term picks that can easily take more than one year to work out because gold is a generational play. However, we've been seeing consistent shorter-term gains in our gold stocks over the first six months of the year – particularly in our miners.
Here's How Our Gold Plays Are Looking Right Now
TICKER           
PRICE 12/29/2015
PRICE 6/6/2016
TOTAL RETURN
*before dividends*
GLDX
$16.79
$34.90
+107.86%
GDXJ
$19.64
$38.63
+96.69%
CEF
$10.04
$12.75
+26.9%
PHYS
$8.76
$10.43
+19.1%
Our first gold double is Global X Gold Explorers ETF (NYSE Arca: GLDX), an ETF that holds a basket of about 20 mining companies, mostly based in Canada and Australia. GLDX has gained 107.86% in less than six months. It has paid a year-end dividend in four of the past five years and seems likely to do so again for 2016, given its performance. It charges a 0.65% management fee, which is reasonable. VanEck Vectors Junior Gold Miners ETF (NYSE Arca: GDXJ) is almost in double territory. GDXJ is much the same story but has more holdings (49 miners currently) and a more global focus. It charges a 0.56% fee and pays no dividend.
In the past I haven't typically recommended owning mining companies to bet on gold (if you want to own gold, own gold), but I reasoned that these gold miners are a very leveraged bet on a recovery in gold and are so out of favor that they are worth a shot. Further, I recommended exchange-traded funds (ETFs) rather than individual stocks to mitigate the individual operating issues associated with individual companies. So far these picks have worked out well and I continue to recommend them.
The other two gold recommendations I made are the Central Fund of Canada Ltd. (NYSEMKT: CEF) and the Sprott Physical Gold Trust ETV (NYSE Arca: PHYS). Both funds own both gold and silver and give you an opportunity to buy these precious metals at a discount to their spot price. Both are up by double digits.
What to Do with Your Profits
Often a good strategy when you've doubled your money is to sell half of the position. The idea is to virtually eliminate your risk, because all the capital you had at risk has been returned to you, and what's left at risk is pure profit. However, in this case, gold and gold securities are one of the only good places to put your money. I expect gold to shoot up to $4,000 or $5,000 an ounce over the next decade or two – so we still have a long way to go.
Of course, it's your call whether to sell now or keep holding, but the future looks bright.
Congratulations to all of you who are making money. Leave a comment here to let me know how you're playing gold.
Follow Money Morning on Facebook and Twitter.
Editor's Note: As you navigate 2016's volatile market situation, your most valuable asset may be Michael Lewitt's free Sure Money service. In Sure Money, Michael helps you see what's going up, what's going down, and how to profit. Sign up now by clicking here, and you'll get instant access to all of Michael's investing tips, recommendations, and specific instructions, including his exclusive "Super Crash Report."
Join the conversation. Click here to jump to comments…
About the Author
Prominent money manager. Has built  top-ranked credit and hedge funds, managed billions for institutional and high-net-worth clients. 29-year career.