As I told you in Money Morning earlier this week, the God-complex-afflicted Federal Reserve dark angels have no idea how they're going to "normalize" interest rates and not tank markets.
While they'd like to start nudging rates higher, they're painfully aware that their zero-interest-rate policies, their quantitative easing programs, and their "wealth effect" equity market-inflating plans all have a dark side.
The dark side is: What the Fed does moves markets; and now what the Fed says moves markets, too.
While it worked hard to elevate markets, it never thought that it would have to talk them down from the ledge.
But that's where markets are, all of them – equity markets, bond markets, derivatives markets, and commodities markets – they're all out on a ledge, hanging on every word coming out of the Fed.
Here's a codex to explain what they're saying, specifically what Janet Yellen really said in her latest speech, and a roadmap how to play the markets when what's going to happen actually happens.
Let's get to it…
Rates Aren't Going Up… Yet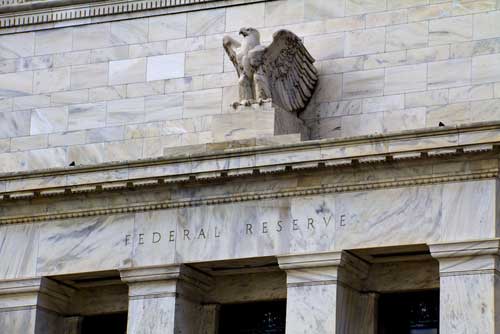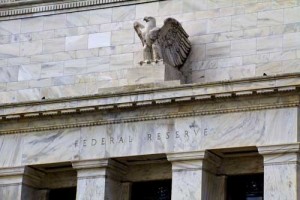 Based on Janet Yellen's speech at the World Affairs Council of Philadelphia on Monday, the Fed isn't in a hurry to raise rates.
In her speech, Yellen emphasized rate hiking policy is "not on a preset course," because she admitted, "all economic projections are certain to turn out to be inaccurate in some respects, and possibly significantly so."
She ought to know. After all, the Fed has the worst record of calling the direction of markets and the direction of the economy, which supposedly they're supposed to know something about.
In her speech, which is full of Fedspeak, she said of the quit rate, the share of employees voluntarily leaving their jobs, "The increase in the quits rate is a sign that workers are feeling more confident about the job market and are likely receiving more job offers."
I'm not sure how she knows that people are quitting because they're getting more job offers. I'm guessing, but people don't quit jobs when they get an offer, they quit when they're hired.
Or, maybe they're quitting entry-level, poor-paying jobs to go on unemployment and exit the work force because of all the free benefits the Obama administration's layered on voters, for their votes of course.
Yellen went on to say, "While the unemployment rate was reported to have fallen further in May, that decline occurred not because more people had jobs but because fewer people reported that they were actively seeking work."
Which sort of makes my point and refutes her contention that people are quitting to look for better offers.
Then there was this insight, "More generally, in the current environment of sluggish growth, low inflation, and already very accommodative monetary policy in many advanced economies, investor perceptions of and appetite for risk can change abruptly."
Thanks for that heads up, Janet.
What she meant to say, she actually did say moments later: "This point is well illustrated by events so far this year. For a time in January and early February, financial markets here and abroad became turbulent and financial conditions tightened, reflecting and reinforcing concerns about downside risks to the global economy."
And, as we know now, "Because the implications of these developments for the economic outlook were unclear, the FOMC decided at its January, March, and April meetings that it would be prudent to maintain the existing target range for the federal funds rate."
The Federal Reserve Has No Clue… but the Markets Do
Wrapping up the speech that had markets holding their breath, Yellen said, "Is the markedly reduced pace of hiring in April and May a harbinger of a persistent slowdown in the broader economy? Or will monthly payroll gains move up toward the solid pace they maintained earlier this year and in 2015? Does the latest reading on the unemployment rate indicate that we are essentially back to full employment, or does relatively subdued wage growth signal that more slack remains? My colleagues and I will be wrestling with these and other related questions going forward."
In other words, the Gods of the Federal Reserve System haven't a clue.
Fortunately the markets do.
There won't be any rate hike in June for one reason. The Fed wouldn't hike before the Brits vote on a Brexit on June 23.
There probably will be a rate hike in July, barring a global freak-out if Great Britain exits the European Union.
But, one way or another, sooner or later, there's going to be a rate hike.
Just because markets got a reprieve and rallied on the heels of Yellen's "dovish" speech doesn't mean they not increasingly nervous about any upcoming hike.
One of the things that I watch to determine the market's nervousness is volatility.
Specifically, I look at "rates of change" of several volatility measures. When they start becoming elevated, usually when VIX futures and options have been trading in a tight range, as they have lately, and start to break out on volume, then it's time to start getting defensive.
When that happens and a rate hike is a possibility, which can be viewed from a mile away if you know how the Fed thinks (and I do after following them closely since 1973), it's time to hunker down and prepare for markets falling off ledges.
Stay tuned here. Next, I'll give you more specifics about what to look for in the run-up to any Fed announcements and how you can predict what's coming.
Follow Money Morning on Facebook and Twitter.
Opportunity Alert: Reckless Fed interest rate tinkering has cranked up the volume on market uncertainty, making this "contrarian" stock picker's method even more critical. You can grow incredibly wealthy using his "secret" – even when markets are going down. He's had a nearly unstoppable record of success, scoring 217 double- and triple-digit peak-gain winners in less than five years. Find out how you can get a chance to pocket these kinds of gains for yourself. Read more here…
Join the conversation. Click here to jump to comments…
About the Author
Shah Gilani boasts a financial pedigree unlike any other. He ran his first hedge fund in 1982 from his seat on the floor of the Chicago Board of Options Exchange. When options on the Standard & Poor's 100 began trading on March 11, 1983, Shah worked in "the pit" as a market maker.
The work he did laid the foundation for what would later become the VIX - to this day one of the most widely used indicators worldwide. After leaving Chicago to run the futures and options division of the British banking giant Lloyd's TSB, Shah moved up to Roosevelt & Cross Inc., an old-line New York boutique firm. There he originated and ran a packaged fixed-income trading desk, and established that company's "listed" and OTC trading desks.
Shah founded a second hedge fund in 1999, which he ran until 2003.
Shah's vast network of contacts includes the biggest players on Wall Street and in international finance. These contacts give him the real story - when others only get what the investment banks want them to see.
Today, as editor of Hyperdrive Portfolio, Shah presents his legion of subscribers with massive profit opportunities that result from paradigm shifts in the way we work, play, and live.
Shah is a frequent guest on CNBC, Forbes, and MarketWatch, and you can catch him every week on Fox Business's Varney & Co.