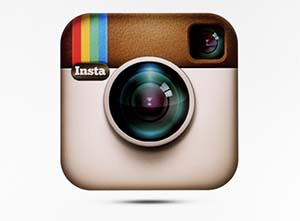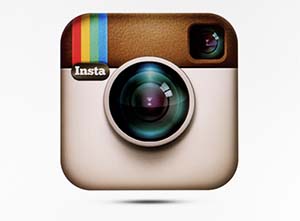 The Facebook stock price today (Tuesday) is up 1.45% in intraday trading after TechCrunch reported Instagram now has 500 million monthly active users (MAUs).
Facebook Inc. (Nasdaq: FB) now has two of the most-used social networks in the world. The flagship site has 1.65 billion MAUs. In comparison, Twitter Inc. (NYSE: TWTR) has 310 million MAUs, and analysts estimate Snapchat has around 200 million users.
This massive user growth in Facebook's platforms like Instagram is part of the reason why Money Morning Director of Tech & Venture Capital Research Michael A. Robinson projects the FB stock price will hit $250 per share by 2020.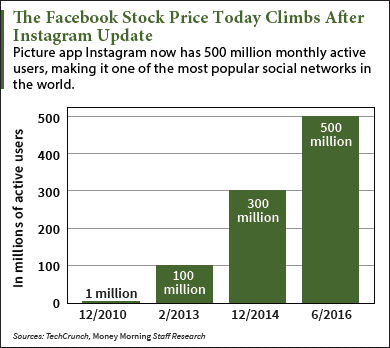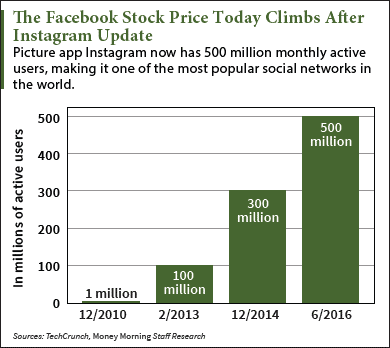 That's a 119% profit from today's opening price of $114.12.
Before we dive deeper into our Facebook stock prediction, here's more about why the Facebook stock price today is climbing on the Instagram news…
Instagram launched on the iPhone in October 2010 and slowly grew to 5 million users by June 2011.
When Mark Zuckerberg paid $1 billion for the app in 2012, the picture app did not generate revenue, according to Forbes. It also only had 30 million users.
Wall Street couldn't figure out why Zuckerberg would pay so much money just to add a picture app to Facebook.
But this is just one example of Zuckerberg proving himself as a visionary…
You see, Instagram pictures can be shared on Facebook. But the 32-year-old CEO turned the picture app into its own unique platform. Instagram now has 95 million pictures shared per day.
And in a 2015 fall study by Piper Jaffray, teenagers stated Instagram was the most important social network to them.
Zuckerberg has increased Instagram's user base by 1,566%. But more importantly, he's turning Instagram into a moneymaking machine…
Facebook won't share revenue totals for Instagram, but analysts believe it brought in as much as $750 million in revenue in 2015.
Instagram reaching 500 million people monthly is very impressive. But there is another, bigger reason why the FB stock price today will climb by 119% in just four years…
The Facebook Stock Price Today Will Just Keep Climbing to $250
Instagram is an important case study for the future profitability of Facebook: Anything Mark Zuckerberg touches makes money…
Instagram went from no revenue to potentially accounting for as much as 10% of Facebook's global ad revenue by 2017, according to eMarketer.
Outside of Instagram, WhatsApp, Messenger, and Oculus VR will generate billions of dollars for Facebook over the next several years…
Similarly to Instagram, Wall Street questioned why Zuckerberg would pay $2 billion for virtual reality (VR) company Oculus VR in 2014. After all, VR is heavily associated with gaming right now. It seemingly doesn't add much value to a social network.
But it's the future applications of VR that will turn Oculus into a billion-dollar business…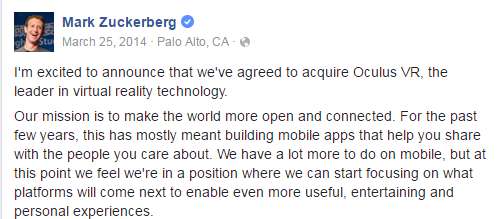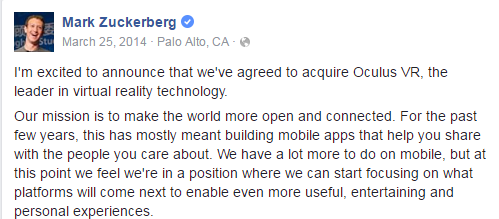 Zuckerberg wants to provide you with courtside seats through VR to watch Steph Curry and LeBron James from the comfort of your own home. He also plans to limit barriers in education, allowing more students and teachers to connect no matter where they are in the world.
It's true that collecting advertising revenue from VR is a new frontier. But Facebook could charge advertisers to sponsor events and interactions its users have on its headset, Oculus Rift.
Tractica, a market intelligence firm, believes that sales from VR content, VR accessories, and head-mounted displays will reach $21.8 billion worldwide by 2020.
And while Facebook's messaging services WhatsApp and Messenger aren't monetized right now, they will be the next sources of billions in revenue for Facebook.
Messenger allows you to make calls and send texts, pictures, audio recordings, gifs, and even money to your Facebook friends. You can also use Messenger to make hotel reservations, book flights, and even order food and drinks in some restaurants.
Messenger had 900 million MAUs as of April, and WhatsApp had 990 million users as of January. Analysts at Deutsche Bank believe these messaging services will generate as much as $10 billion annually in revenue by 2020.
The Bottom Line: Instagram now has 500 million MAUs, which is helping the Facebook stock price today climb. Because of new revenue sources from Instagram, Oculus VR, WhatsApp, and Messenger, our guru projects FB will trade for $250 dollars by 2020. That's an increase of 119% in just four years.
Jack Delaney is an associate editor for Money Morning. You can follow him on Twitter and follow Money Morning on Facebook. 
Uber Still Has a $4.1 Billion Problem: Investors can't wait to get their hands on Uber stock when it inevitably offers an IPO. But despite a recent $3.5 billion investment by Saudi Arabia, Uber still has a massive $4.1 billion problem. Here's what it is…