Presumptive Democratic nominee Hillary Clinton's integrity is yet again under fire…
A hacker known as "Guccifer 2.0" leaked a massive cache of top-secret data yesterday to The Smoking Gun.
"Guccifer 2.0" is an online handle based on another infamous whistleblower's name, Guccifer, who last month claimed to have broken into Clinton's private email server with "astounding ease."
The second Guccifer's trove of leaked documents contained 250 files — totaling thousands of pages of records — that appear to have been prepared by the Democratic National Convention (DNC) research staff.
Among them were copies of Clinton contract dossiers related to the presidential candidate's paid speeches…
Sneaky George Soros: Allegations have surfaced that the massive "Panama Papers" dump was funded by Hungarian-born mega-billionaire George Soros. And all because of a beef he has with Russian President Vladimir Putin. Read more…
They revealed Clinton demanded a "standard" $225,000 speaking fee. That's important because it's totally contrary to what the former New York senator told CNN's Anderson Cooper during a Feb. 3 town hall.
Anderson Cooper: "But did you have to be paid $675,000 [for three speeches to Goldman Sachs]?"
Hillary Clinton: "Well, I don't know. That's what they offered."
Clinton's demands didn't stop there…
The leaked dossiers also revealed that she required a "chartered roundtrip private jet" that needed to be a Gulfstream 450 or a larger aircraft. This jet, which The Smoking Gun noted costs upwards of $40 million, should seat at least 19 passengers and "sleep up to six."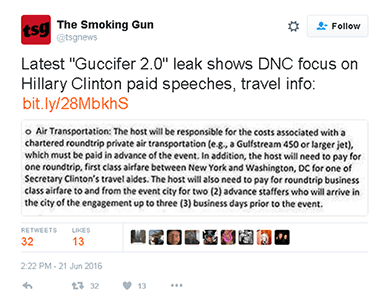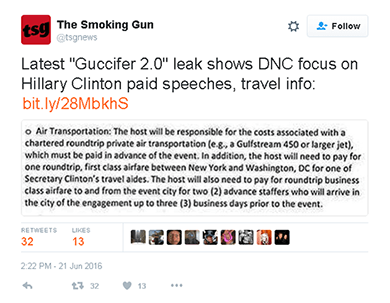 Clinton's leaked contracts also stipulate that speech hosts had to pay for separate first class or business airfare for three of her aides.
And for lodging, Clinton demanded her host pay for "a presidential suite" and up to "three (3) adjoining or contiguous rooms for her travel aides," as well as her travel party's ground transportation, meals, and "phone charges/cell phones."
Finally, Guccifer 2.0's leaked cache revealed Clinton demanded the host pay "a flat fee of $1,000" for a stenographer to create "an immediate transcript of Secretary Clinton's remarks."
We're still waiting to read those transcripts…
Follow us on Twitter @moneymorning or like us on Facebook.
The IRS Didn't "Lern" from Their Mistakes: The House Judiciary Committee is holding an impeachment hearing for IRS Commissioner John Koskinen in relation to the IRS scandal involving the targeting of conservative groups. But given what happened to Lois Lerner, the IRS official at the heart of the scandal, Koskinen has nothing to worry about…
Related Articles: