Gold prices have taken a breather in the last week after steadily climbing over the previous five weeks.
The aftermath of Brexit, instability in Turkey, ongoing terrorist attacks, and the approaching fall U.S. election all drove gold prices higher throughout June and early July.
Urgent: A Backdoor Way to Profit Now on a New $240 Billion Market
But gold prices never stay steady for long. And this week, we're seeing a pullback.
As a whole, I expect those factors to continue pushing the price of gold higher in 2016.
So this week I'll go into what forces are acting on gold prices right now, both pushing and pulling, to get a better sense of what lies ahead in 2016...
Why Gold Prices Pulled Back This Week
If we look at gold's behavior in the past month, it hit a high around July 8, about two weeks after the Brexit.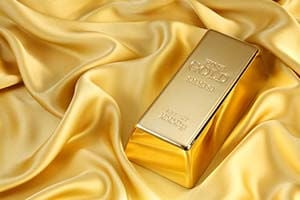 Since then gold prices have trended slowly downward and could have a bit further to fall.
On Monday, July 18, it looked like gold prices might be starting a rally, after ending the day up slightly at $1,329.
On Tuesday, the precious yellow metal gained a bit more. It opened at $1,332 but closed that trading day flat.
The fact that gold prices had strength early in the week is not terribly surprising. Here's how the U.S. Dollar Index (DXY) has performed over the last five days.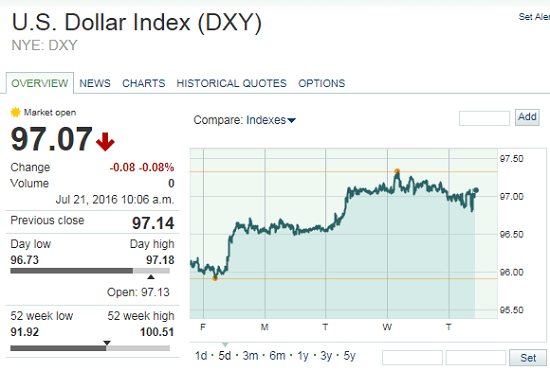 The strength of the dollar bled into the gold market, pushing gold prices down over the next couple of days.
That became especially obvious on Wednesday. That's when gold sold off in early morning trading to open way down at $1,318. Most of the damage had been done, and it appears the strength in the DXY started to sink in. By the time of the close, gold prices had weakened a bit further to $1,315.
Gold prices regained a bit of strength on Thursday as the DXY pulled back slightly. It opened higher at $1,319 and by mid-day was trading at $1,324.
Trending Now: Five Moves to Calm Your Nerves (and Keep Your Money) in Choppy Markets
Right now, there are some short-term factors that should continue to weigh on gold prices in the near term.
However, I still expect gold prices to outperform in the months and years ahead.
So let's look at what's pushing and pulling on this metal right now, and what it could be signaling going forward...
What's Next for Gold Prices in 2016
Here's a chart of the U.S. Dollar Index over the past six months.
We can clearly see that it bottomed in early May around 92.5. That had a hand in pushing gold prices lower. But we can clearly see when Brexit hit in late June. And yet what happened then was both gold and the dollar soared together.
Since then, the DXY has moved sideways with its 200-day moving average acting as overhead resistance. But just this past week, the index has popped above that level, and that breakout points to possible further strength in the near term. The DXY also has both the RSI and MACD indications confirming the uptrend.
That of course could act as a headwind for gold, and its weakness of the last few days bears that out. There is a caveat, and that is that the dollar and gold can move together, even for extended periods. If that were the case it wouldn't completely surprise me, especially given that's what has transpired over the past three months.
Another factor we need to consider is what's happening in gold futures.
Commitment of Traders (COT) weekly reports tell us what commercial hedgers are doing. They are considered the "smart money." And right now they are in an extreme net short position. In fact, it's the biggest we've seen since 1993.
Now that in itself is not a reason to get bearish on gold prices, but it's certainly a big factor that investors should consider for near-term gold prices.
Meanwhile, speculators as a group are wildly bullish, with long contracts exposure around total longs near 440,000, setting a record 17.5-year high. This level is a decidedly bearish contrarian signal, as previous bouts of rapid run-ups in speculative longs have coincided with interim peaks in the gold price. That suggests investors should be near-term cautious on the gold price.
If we look out over the next few months and years, there's plenty of reason to be bullish on the price of gold.
India loves gold, and investors from the nation are notorious bargain hunters. As gold has risen over the past several months, they've been staying away from gold. Put simply, they think it's expensive. In other words, buying from India, which is typically a huge contributor to gold demand, has likely not been a factor in the recent rise in gold prices.
Gold dealers in the country have reportedly been offering up to $100 per ounce discounts on gold, the highest ever witnessed in that country. But here's the "silver lining."
All those buyers who've stayed away are still interested; they're only waiting for better prices. So if gold prices fall somewhat, they are likely to come in and start buying. And if gold prices don't decline, those patient buyers will eventually capitulate to gold's higher prices and start to buy once again. One way or the other, they will likely be very supportive of gold in the mid to long term.
Looking forward, I think we still could see gold retreat to the $1,300 level, which has acted as resistance twice since late April. Its 200-day moving average is only a little lower at $1,287 right now.
Beyond that, I believe we'll see gold prices end higher than their current levels before the year is out. From my vantage point, the bullish forces clearly outweigh the bearish ones.
I suggest you take advantage of any weakness to get long, or get longer still than you may already be.
Continue following Money Morning for frequent gold price per ounce updates and gold price predictions.
Up Next
The marijuana industry has been an afterthought for investors for years.
But that's about to change. In fact, it has already grown into a $7.1 billion industry. And that's just the start.
Click here to read our free marijuana penny stocks report...
Follow Money Morning on Facebook and Twitter.
Join the conversation. Click here to jump to comments…
About the Author
Peter Krauth is the Resource Specialist for Money Map Press and has contributed some of the most popular and highly regarded investing articles on Money Morning. Peter is headquartered in resource-rich Canada, but he travels around the world to dig up the very best profit opportunity, whether it's in gold, silver, oil, coal, or even potash.