The Twitter stock price tanked more than 13% today (Wednesday, July 27) to $15.97 after the firm released disappointing Q2 earnings.
Shares of TWTR stock are down more than 31% this year, and our Money Morning experts don't expect them to recover any time soon.
And there's one big reason why the company will continue to suffer.
Editor's Note: Facebook stock is up 16.8% so far this year. And our new report proves why the stock will surge another 105% in just the next few years.
Before we get into why we're bearish on Twitter stock, here's a look at its rough second-quarter earnings...
Why the Twitter Stock Price Crashed After Q2 Earnings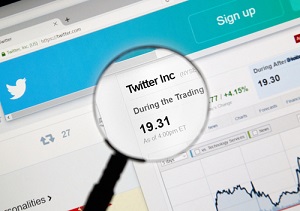 At first glance, Twitter Inc.'s (NYSE: TWTR) Q2 performance doesn't look that bad.
Yesterday, the company reported $0.13 per share on revenue of $602 million. That beat consensus EPS estimates of $0.10, but revenue fell short of the expected $610 million. The EPS nearly doubled from $0.07 in Q2 2015.
Average monthly active users (MAUs) - one of the most important metrics for social media companies - also beat estimates. It came in at 313 million, which was slightly higher than the 312.1 million expected, according to StreetAccount.
But here's where the disappointment comes in...
The company's revenue growth last quarter was the slowest since the Twitter IPO in November 2013.
Furthermore, Twitter projected Q3 2016 revenue of $590 million to $610 million. That's far below analyst expectations of $678 million, according to Thomson Reuters.
Twitter said both Q2 performance and Q3 outlook reflect a lack of overall advertising demand, which has been an ongoing trend this year. And the company told Twitter stock investors that some new challenges lie ahead.
One of the biggest challenges Twitter faces is getting advertisers to see the increased benefits of video ads on mobile platforms. The company said it needs to test more features and functionality over the long term to "unlock" more advertising budgets.
In other words, Twitter is shifting toward video ads yet still not seeing increases in clients' budgets for the ads. It's shelling out tons of cash to adjust its platform for video and hasn't seen any revenue results.
Forget the Twitter Stock Price... Investing in this top tech trend is the best way to get rich now. Find out more here.
This lackluster revenue growth and gloomy outlook came even as Twitter signed several video streaming deals...
On Monday, July 25, Twitter inked a deal with Major League Baseball and the National Hockey League to host live streams of some games. Last week, the National Basketball Association said it will live broadcast original programming (not games) exclusively on Twitter. In April, Twitter won the rights to stream 10 National Football League games this upcoming season.
The company maintains it will be able to earn revenue from the deals via ads sold against the content.
But analysts still think the Twitter stock price will keep declining. That's because the company's biggest challenge remains growing its audience.
And there's one reason why Twitter hasn't been able to do that ...
One Reason Why the Twitter Stock Price Won't Recover in 2016
The biggest factor that will drag the Twitter stock price lower is increasing competition from other social media companies. These primarily include Facebook Inc. (Nasdaq: FB), Instagram, and Snapchat.
Roughly 1.65 billion people sign into Facebook each month. Instagram, which is owned by Facebook and is the world's most popular photo-sharing app, recently eclipsed 500 million users. Snapchat, the youngest of the group which was founded in 2011, boasts about 150 million daily active users.
Fierce competition is just one of many reasons Money Morning has avoided Twitter stock for years. The company's Q2 earnings report yesterday only bolsters our stance.
And we're not alone in our negative outlook...
After the report came out, Axiom Capital, Canaccord Genuity, and Cantor Fitzgerald all downgraded TWTR to "Hold." That's Wall Street lingo indicating the stock is a soft sell.
The only thing that seems to be keeping Twitter stock from a harsher "Sell" rating is possible takeover discussions.
Many analysts argue Twitter could improve its financial performance under a bigger umbrella. Takeover talks picked up after Microsoft Corp. (Nasdaq: MSFT) bought LinkedIn Corp. (NYSE: LKND) on June 13 for $26 billion.
Speculation over who the buyer would be has hovered for years. Alphabet Inc. (Nasdaq: GOOGL), Apple Inc. (Nasdaq: AAPL), and Comcast Corp. (Nasdaq: CMCSA) have all been cited as possible buyers.
A buyer may surface down the road. But investors shouldn't buy Twitter stock purely on hopes of a takeover, especially when a deal doesn't look likely any time soon.
Up Next: Record Stock Market Highs Don't Mean Smooth Sailing - Make These Protective Moves Now
Follow us on Twitter @moneymorning and like us on Facebook.
Related Articles: