The 2016 Rio Summer Olympic Games start in just three days, on Aug. 5. That means there's not much time to put on this beautiful trade that's shaping up.
This trade has it all: a short window with little uncertainty, the potential of windfall gains in the near future, and for folks who are buying in this market, the chance to grab an outperforming long-term investment, too.
The time is quite literally right to make this move. Here's what I mean...
Some of us will remember the 2008 Beijing Summer Games. They were spectacular, of course, but they were also 12 whole hours out of sync with the U.S. East Coast. The 2012 London Games were even better, but they were five hours ahead of schedule. Peoples' favorite events were live at really inconvenient times, and "spoilers" were practically unavoidable, letting down some of the most rabid sports fans and putting a damper on consumption.
But the 2016 Rio de Janeiro Games will be just an hour ahead of one of the world's biggest, richest media markets.
And one of America's biggest media companies is taking some remarkable, high-tech steps to make a killing on Americans' insatiable taste for real-time Olympic entertainment.
In doing that, it's setting itself up for even bigger gains long after the Olympics are over.
The Olympics Are a Massive Profit Catalyst for This Stock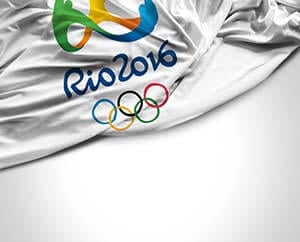 Comcast Corp. (NYSE: CMCSA) made a cool $41.3 billion from the 2012 Sochi Winter Games, making 80% of its profits from ad sales.
This company is already trading at all-time highs, delivering a market-crushing 22% in gains annually over the past five years and riding the wave of an earnings beat last week.
But there are some encouraging signs that these shares could go even higher before the Closing Ceremony on Aug. 21.
This company was laying the groundwork for bigger profits even before the games were announced.
Sign up for SMS so you never miss special events, exclusive offers, and weekly bonus trades.
You see, it's not enough nowadays for a media company like Comcast to simply offer the best television programming. To keep far away from the ever-growing graveyard of basic cable providers, video stores, and movie rental kiosks, these companies need to find new ways to compete.
And Comcast has been doing just that...
Aside from acquiring a 51% majority ownership slice of NBCUniversal on Jan. 29, 2011, Comcast has been steadily increasing its high-speed Internet subscriptions, boosting its sales and revenue even further.
And its latest technology, the X1 Entertainment Operating System, now provides subscribers with a unique interactive TV experience complete with a voice-controlled remote. And its strategy of keeping you tuned in for everything you could possibly want instead of switching to alternative sources, like Netflix and Hulu, looks like it could be a winner.
Now according to research provided by TheStreet, Comcast is already installing roughly 40,000 of these X1 boxes a day and has its eyes set on increasing that number just in time for the summer games. I'd even go so far as to say that Apple and Amazon now have a worthy competitor that they should keep a close eye on.
But its Internet and X1 subscriptions aren't the only areas in which it's doing extremely well...
Keep One Eye on the Games, and One on CMCSA
CMCSA stock has been trading at all-time highs for the past 52 weeks, having recently broken out above its high of $65 in July 2015. And after beating its expected earnings this morning, the stock jumped to over $68 during pre-market trading.
What we'll want to continue watching for is if the stock's old resistance becomes new resistance. Here's a look at where Comcast was trading two days prior to earnings: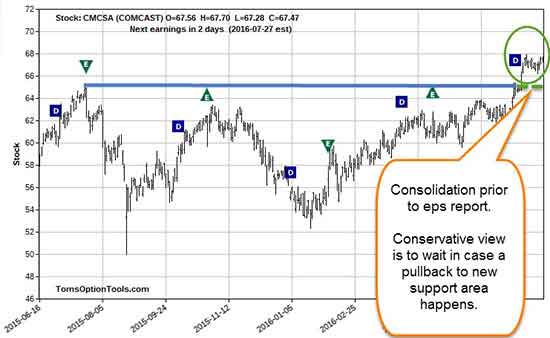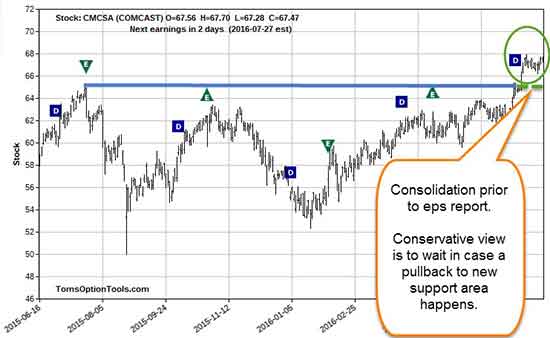 Since favorable earnings and revenue numbers came out, the stock popped up in price past $65.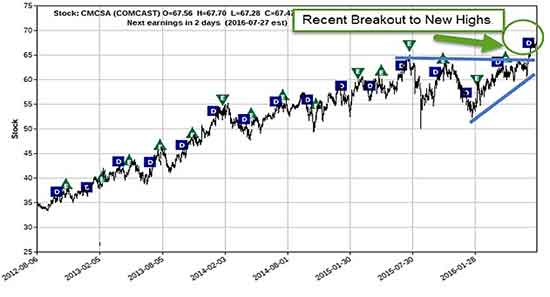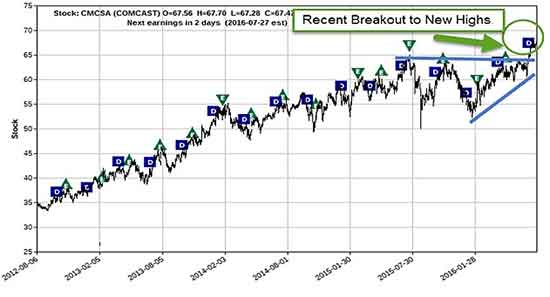 And depending on the profits Comcast takes in from its ad space sales, viewership numbers, and X1 installations during the Olympics, which all look "Green," these shares may leave $65 in the dust permanently.
Even if it weren't highly likely that this stock was set to continue a massive rocket ride, we'd have a beautiful trade setup here.
Go Long on Comcast for Your Own Olympic Payday
Whether you're familiar with or a fan of Investor's Business Daily founder William J O'Neill, now may be the best time to time to explore his philosophy of buying stocks that are making new highs in anticipation of them continuing higher.
Now I'm not saying that CMCSA will continue to trade higher and higher from the start of the Olympics to the finish. But the future does look promising right now. And if its new X1 technology proves to be successful during the Olympics, we can anticipate an even bigger presence by Comcast in huge sporting events in the future.
So as an options trader, you'll want to keep a close eye on the stock and consider shorter-term options trades (within a 20-30 day time frame). If you see the price continuing higher, you can look to buy calls to lock in some nice gains. And if the stock does happen to pull back in price, you can still look at buying puts to turn a decent profit.
Either way, you've got a great opportunity to make some cash on Comcast stock while you enjoy the Olympics.
Members: Mark Your Calendar for 20 100% "Payout Appointments"
Tom's expecting the profits from his Rio trade to start soon and increase fast. And you could potentially be making profits on the stock alone for years to come. Even better, right now Tom is working with his proprietary Money Calendar to bring his readers 19 more opportunities to double their money by Dec. 31. And he's putting down a million dollars to back it up. Click here to learn more...
Follow Money Morning on Facebook and Twitter.
Join the conversation. Click here to jump to comments…
About the Author
Tom Gentile, options trading specialist for Money Map Press, is widely known as America's No. 1 Pattern Trader thanks to his nearly 30 years of experience spotting lucrative patterns in options trading. Tom has taught over 300,000 traders his option trading secrets in a variety of settings, including seminars and workshops. He's also a bestselling author of eight books and training courses.