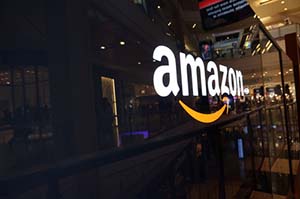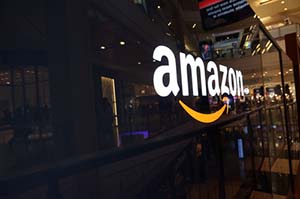 The Amazon stock price hit an all-time high of $766 today (Friday) after the company posted another strong quarterly earnings report.
While most investors are focusing on EPS and revenue numbers, there's a different figure from the report leading to today's Amazon.com Inc. (Nasdaq: AMZN) stock price rally.
Don't Miss: The Internet of Things revolution will create a $6 trillion market – and these five stocks are the best way to grab a piece of those gains for yourself.
Before we get into that key figure, here's a look at Amazon's Q2 2016 results…
The online retail giant posted adjusted earnings per share of $1.78. That trounced estimates for $1.11.
Sales rose to $30.4 billion from $23.19 billion a year ago. Analysts were looking for $28 billion to $30.5 billion.
Sales from Amazon Web Services (AWS), its industry-leading cloud business, were $2.89 billion. That was up sharply from $1.82 billion a year earlier. The Street was expecting $2.83 billion. The unit is on track to exceed CEO Jeff Bezos's goal of $10 billion in sales this year.
AMZN's operating income was $1.3 billion in Q2 2016, compared with $464 million in Q2 2015. Analysts had been expecting operating income of $903.1 million, according to StreetAccount
For Q3, Amazon forecasts sales between $31 billion and $33.5 billion. That compares with Wall Street's forecast of $31.63 billion. In Q3, the company should expect a boost from Prime Day sales, as well as sales from the company's new fulfillment centers ahead of the holidays.
The Amazon stock price rally pushed AMZN's market cap to $366.07 billion. That allowed AMZN CEO Jeff Bezos to unseat Berkshire Hathaway Inc. (NYSE: BRK.A) CEO Warren Buffett as the third-richest person in the world. According to Forbes, Microsoft Inc. (Nasdaq: MSFT) founder Bill Gates holds the No. 1 spot. Amancio Oretgo, CEO of Spanish retailer Zara, maintains the No. 2 spot.
While Amazon's second quarter was impressive all around, one number sticks out more than any of the others. And it's the biggest reason why the Amazon stock price is soaring today…
The Biggest Key from Amazon Earnings Today
The biggest number that sent Amazon stock rallying today to an all-time high is the company's net income figure.
Amazon enjoyed a significant increase in sales and profit in Q2 2016 from the same quarter a year ago.
Net sales jumped 31%, with net income coming in at $857 million. That was a substantial jump from $92 million last year. Before that, the company had posted a number of unprofitable years.
Amazon's month-by-month subscription offerings for both Prime and its video service were the company's biggest contributors this quarter.
Amazon said it is excited about its Prime launch this month in India, where it has pledged $5 billion in investment since 2014. In the coming months, Amazon will also debut a monthly unlimited streaming music service.
A number of analysts weighed in on the quarter. Here's what they had to say about the AMZN stock price.
Why Today's Stock Price Rally Will Continue
Maxim Group reiterated its "Buy" rating on AMZN with an $825 price target. The firm believes Amazon's apparel, grocery, and physical stores are growing the company's influence across the entire retail industry. AMZN's plans to open 18 fulfillment centers in Q3 2016 will be a strain on operating income, but the company will be better positioned for the holidays in Q4.
Axiom Capital maintains its "Buy" rating and increased its AMZN price target to $877 from $853. The firm says Amazon delivered an exceptionally strong quarter driven by faster North American and international sales, and continued strong AWS growth.
Needham Research says Amazon continued its strong performance with revenue and operating income above expectations. The firm expects gross margin to expand, but heavy investment in content and infrastructure in the second half of 2016 will lead to only moderate growth. Still, Needham is encouraged by AMZN's accelerating revenue growth and higher levels of operating income.
Mizuho raised its AMZN stock price to $855 from $810.
At $763.11, AMZN is up $13.08 year to date. One-, three-, and five-year returns are 44.45%, 151.19%, and 243.29%, respectively.
Don't Miss: Voters unhappy with both Donald Trump and Hillary Clinton are clamoring for a third option. They may not know it, but they already have one…
Follow us on Twitter @moneymorning and like us on Facebook.
Related Articles: