My inbox has been flooded by Apple Inc. (Nasdaq: AAPL) headlines ever since the iPhone 7 was released on Sept. 7 - yours probably has been, too.
After all, the stock rallied higher for 11.6% gains... in just one week.
That left investors who already own the stock craving more. And those who don't are wishing they got in when they had the chance.
But the stock has fallen a bit from last week's highs, leaving investors wondering if it's too late to cash in on Apple stock.
Don't worry... it's not.
And here are three very different ways you can profit...
How AAPL Stock Gained 11.6% in One Week - and Three Ways You Can Profit
When you look at the short-term price chart below for AAPL stock, you can see that only two Fridays ago it closed just a hair over $103.
That's nearly a 12% gain in one single week!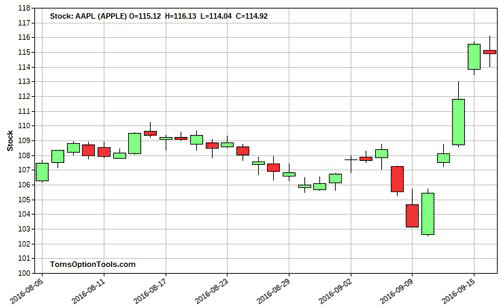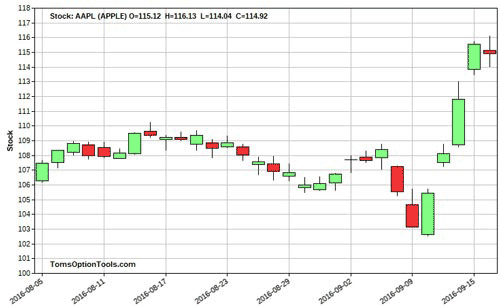 There are many reasons for the surge in the stock, but one of the largest contributors is the sale of its latest release, the iPhone 7.
Don't Miss: America's Favorite Soup Is in Trouble - and This Is the Best Time to Profit
Apple has said that the volume of pre-order sales was so high that stores it sold out of all colors of the iPhone 7 Plus handsets and the jet-black iPhone 7 phones.  For example, on Sept. 13, T-Mobile reported a record number of pre-order sales... to the tune of four times the pre-order sales of the iPhone 6, which was released in September 2014. And Sprint has also reported seeing four times the volume of pre-order sales for the iPhone 7 versus the iPhone 6. In a three-day span alone, pre-orders were up by over 375%.
And with the success of the iPhone release making headlines almost every day since coming out, more and more investors are jumping on the opportunity to cash in on the stock - driving it higher and higher.
New Coverage Plans
To accommodate high demand for the iPhone 7, Apple is now offering the iPhone Upgrade Program, which allows consumers to upgrade to a new device after just six months of payments (instead of 12) on the 24-month installment plan.
Apple is also now providing consumers with the flexibility to select and switch their carriers so that they're no longer married to the same multi-year contract after activating their iPhones. For example, there's the AT&T Next plan that comes with the purchase of an iPhone 7 or 7 Plus and allows two installment plans - with three different ways to upgrade. Sprint is also on board, with its iPhone Forever program, which allows consumers to upgrade their phones every time a new iPhone is released. And T-Mobile already offers a low-cost feature called Jump! On Demand, which enables consumers to upgrade their phones three times within a rolling 12-month period.
And with no more contracts and a variety of upgrade options across carriers, it's not surprising that more and more people are switching to Apple - especially when looking at its number one competitor...
Samsung's Faux Pas
As I'm sure you've seen by now, Samsung Electronics Co. Ltd. (OTCMKTS: SSNLF) was forced to recall the Samsung Galaxy Note 7 because of fires and explosions caused by the overheating of the smartphone's lithium-ion battery. Now Samsung, naturally, has been heavily marketing its "Galaxy S7 with free virtual reality headset," and some service providers, like Verizon, have started processing orders again for the Galaxy Note 7.
But the world's largest manufacturer of cell phones isn't in the clear by any means, and is currently facing at least one lawsuit (and likely more to follow) over burns and other injuries caused by the device exploding in consumers' hands. And unfortunately, consumer loyalty to Samsung is taking a pretty big hit over its response to the crisis.
Get Our Best Wealth-Building Ideas: Money Morning's top 5 investment reports to grow your money like never before are right here - and they're absolutely free. Read more...
Now, whether or not you own a Samsung phone, the fact of the matter is... this major blunder decimated the negative attention Apple was getting for the removal of the headphone jack in the iPhone 7.
And that's exactly what Apple needed to boost its sales and drive the stock higher.
But it may not last...
Why AAPL May Pull Back from Last Week's Highs
My contention is that the stock may have shot up too far too fast - and a pullback in profit-taking may soon ensue.
Join the conversation. Click here to jump to comments…
About the Author
Tom Gentile, options trading specialist for Money Map Press, is widely known as America's No. 1 Pattern Trader thanks to his nearly 30 years of experience spotting lucrative patterns in options trading. Tom has taught over 300,000 traders his option trading secrets in a variety of settings, including seminars and workshops. He's also a bestselling author of eight books and training courses.