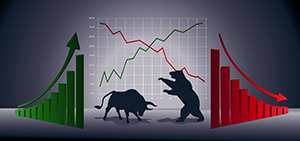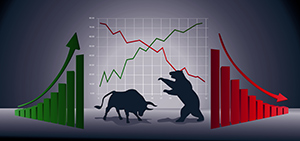 There's a slate of three upcoming stock splits, and we have them all here on Money Morning's upcoming stock split calendar.
While stock splits are fairly common, many investors still don't know exactly what they are. In fact, many wake up the morning of a stock split thinking their shares have crashed in value.
Always remember this: The price of your shares can drastically change the day of a stock split, but the value of your shares remains the same.
You either receive more shares at a lower price in a traditional stock split, or you receive fewer shares at a higher price in a reverse stock split.
But your shares still have the same value as they did before the split.
And there's already a stock split in October we can look at as an example...
RR Donnelley & Sons Co. (NYSE: RRD) is based in Chicago and was founded in 1864. It works with organizations to create, manage, produce, distribute, and process content. Its offerings primarily consist of catalogs, magazines, books, direct mail, manuals, and other related products.
On Oct. 3, RR Donnelley completed an eight-for-one stock split, even though RR Donnelley & Sons was split into three different companies.
Trending: Here's What the Facebook Stock Split Will Look Like
CEO Thomas Quinlan, III, wanted one company to solely focus on financial communications, one on publishing and retail print services, and the third to focus on multi-channel communication management.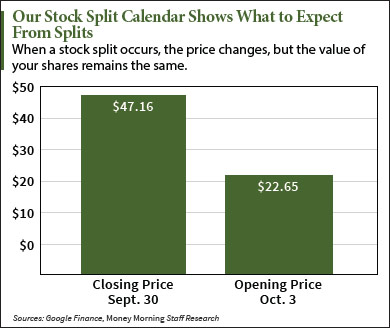 RRD shareholders received one share of Donnelley Financial Solutions (NYSE: DFN) and one share of LSC Communications Inc. (NYSE: LKSD) for every eight shares of RR Donnelly they owned, according to Business Wire.
But some RRD shareholders may have been shocked this week when the RRD stock price closed at $47.16 on Sept. 30 but opened at $22.65 on Oct. 3.
The price changed, but the value remained the same.
And we want to make sure you aren't taken by surprise.
Here are the rest of the companies on our upcoming stock split calendar...
Stay Informed with Our Upcoming Stock Split Calendar
Upcoming Stock Split Calendar No. 1: A.O. Smith Corp. (NYSE: AOS) manufactures boilers, water heaters, and other products for residential and commercial markets. A.O. Smith distributes its products through wholesale plumbing distributors and retail/hardware channels.
[mmpazkzone name="in-story" network="9794" site="307044" id="137008" type="4"]
On Sept. 7, the company announced its board approved a two-for-one stock split. The stock split will include a 100% stock dividend for shareholders of common stock and Class A common stock.
Shareholders will receive one identical share of stock for each type of common stock or Class A stock they own.
The payment for the stock dividend is Oct. 5, according to the company.
While this isn't a traditional stock split, we still wanted to include it on our stock split calendar to make sure our readers were informed.
Upcoming Stok Split Calendar No. 2: Cincinnati Bell Inc. (NYSE: CBB) provides technology and telecommunication services to residential and business customers in the United States and United Kingdom. Its entertainment and communications sector provides data services like high-speed Internet access, while its IT services and hardware sector provides consulting, staffing, and development of application solutions.
CBB stock has been trading between $2 and $4 for years, and Cincinnati Bell CEO Ted Torbeck believes investors won't invest in a stock that's under $5, according to Cincinnati.com.
One way to make the stock price higher is to offer a reverse stock split. In CBB's reverse stock split plan, investors will receive one share of CBB stock for every five they own. Although the value of the stock is still the same, the prices will appear higher.
For example, if you owned five shares of CBB, each share would be worth $4.12 as of today's opening price. That means your five CBB shares would be worth $20.60.
But if those five shares were combined into just one share, that one share would be worth $20.60, and the stock would trade above $20.
The value is still the same, but a five-for-one stock split could improve the perception of value of CBB stock. There is not a set date for CBB stock to split on our stock split calendar.
Upcoming Stock Split Calendar No. 3: Reliv International Inc. (Nasdaq: RELV) develops, manufactures, and markets nutritional supplements. It was founded in 1984 and has 17 nutritional supplements it markets and sells through a network of independent distributors.
A reverse seven-for-one stock split was approved by the company's board in May 2016.
According to Marketwired, CEO Robert Montgomery stated the stock split was to satisfy the Nasdaq minimum share-price requirement for continued listing on the Nasdaq Capital Market. In a statement released on Sept. 15, though, the company warned there was no guarantee the stock split would allow RELV to maintain compliance with Nasdaq.
The stock split just happened today, so we wanted to make sure our readers were aware.
Don't Miss: This is your ticket to bigger and better returns... and it won't cost you a penny. What are you waiting for? Read more... 
Follow us on Twitter @moneymorning and like us on Facebook.