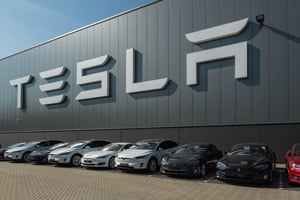 The Tesla Motors stock price is surging today (Thursday) after the company released a strong earnings report. TSLA shares soared more than 5% to $213.70 in early trading.
After Wednesday's close, Tesla Motors Inc. (Nasdaq: TSLA) reported its first quarterly net profit in more than three years. The company also said it could book a profit again in Q4 2016.
Trending Now: New Snapchat Stock Details Revealed Ahead of IPO
Here are some of the other key highlights of the Q3 Tesla earnings report...
Why Is Tesla Stock Higher? Earnings in Focus
Tesla earned $0.71 a share on an adjusted basis in Q3. Total revenue more than doubled to $2.3 billion. That handily beat analysts' projected loss of $0.54 per share on $1.98 billion in revenue.
Final Q3 delivery count was 24,821. That was 300 more than the estimated delivery count the company shared on Oct. 2.
Deliveries increased 114% from Q3 2015. In the quarter, 16,047 Model S and 8,774 Model X vehicles were delivered. In addition, 5,065 vehicles were in transit to customers at the end of the quarter. Those vehicles will be delivered in Q4.
The Tesla Gigafactory construction in Nevada and Model 3 development both remain on pace to support Model 3 production and delivery volumes in the second half of 2017.
Tesla said efforts to transform the solar industry will be demonstrated at a joint product introduction with SolarCity Corp. (Nasdaq: SCTY) on Oct. 28. Shareholders will vote on Tesla's acquisition of SolarCity on Nov. 17. Tesla's planned purchase of SolarCity will be neutral, or a small cash contributor, to Q4 Tesla results.
Tesla reaffirmed its guidance of 50,000 new vehicle deliveries for the second half of 2016, with a Q4 plan of just over 25,000 deliveries.
Tesla said it plans for capital spending of $1.8 billion in 2016. Just over $1 billion of that will come in Q4. That new total 2016 capital spending forecast is about 20% lower than Tesla's previous forecast of $2.25 billion.
As of Sept. 30, Tesla had $3.08 billion in cash and cash equivalents on hand. That compares with $3.25 billion at the end of the Q2 2016.
The strong Tesla earnings report for Q3 shows strong company-wide execution in many areas. The company set new records for vehicle production, deliveries, and revenue. Company officials say that has lead them to profitability and positive free cash flow. They also show that Tesla has a good grip on the Model 3, Gigafactory, and SolarCity acquisition.
We've been bullish on Tesla stock for years. The company's strong Q3 results and upbeat outlook only reinforce our stance.
Still, we recognize the Tesla stock price can be notoriously volatile day to day. That's why we recommend shares for investors with some risk tolerance and a long-term view in exchange for some lucrative investment rewards.
Editor's Note: We've found a special profit opportunity for investors, but there are only a few days left to get all the details...
Follow us on Twitter @moneymorning and like us on Facebook.
Related Articles: