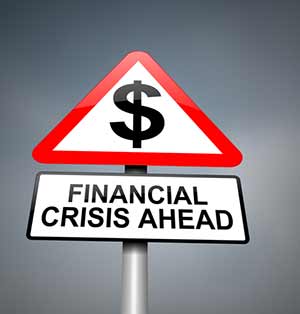 These stock market crash warnings show there might not just be a market crash, but a historic one.
This may come as a surprise. Investors have been riding a seven-year bull market. The Dow Jones Industrial Average, the S&P 500, and the Nasdaq Composite each hit all-time highs in August. Even though stocks have pulled back some since, the Dow is just 4% off its all-time high. And all indexes are still up on the year.
While no one can predict a crash, smart investors can see these stock market crash warnings and protect their investments in time.
The stock market crash warnings we've identified emerged in 2016. But these warnings were seen in major stock crashes through history.
We'll start by showing you how these warnings appeared in other major stock market crashes.
Then, we'll look in depth at the stock market crash warnings this year and show you how to protect your money from a stock market crash…
Stock Market Crash Warnings Through History
The biggest stock market crash in the United States started on Oct. 29, 1929, infamously known as Black Tuesday.
The market crash came at the tail-end of the roaring 1920s. The Dow skyrocketed during the 1920s, soaring nearly 500% between its low in 1920 and its peak right before the crash.
As the stock market grew higher, speculators poured in more and more money as their profits climbed. Everyone was making money.
But the good times came to a crashing halt in 1929.
Over the next several years, the stock market lost 90% of its total value. Roughly 50% of the banks in the country failed. It took the country two decades to recover from the resulting Great Depression.
What happened? The market was unsustainably high. Speculators had chased the historic market gains and overinflated the value of stocks, creating a stock market bubble. When the bubble burst, the results were catastrophic.
Speculation also triggered the stock market crash of 2008.
Don't Miss: How to Prepare for the Market's Super Crash
This time, speculation fueled the real estate market. Subprime loans made buying houses easy and the market boomed. But it didn't stop there. Banks refashioned subprime debt into tradable assets and profits soared.
The same belief was at work. Asset prices will continue to go up. But once again, an artificially inflated market came back to reality.
On Sept. 29, 2008, the Dow suffered its largest ever single-day loss. The resulting financial crisis was devastating. More than $16 trillion in household wealth vanished. So did over $2 trillion in retirement savings. The unemployment rate hit 10%.
Two of the biggest stock market crashes in history were caused by speculation driving up the price of stocks. In both cases, stock market crash warnings went ignored and economic collapse followed.
Now we are seeing these stock market crash warnings again…
This Year's Stock Market Crash Warnings
Money Morning analysts are looking at three factors that could cause the next stock market crash.
The first is the overvaluation of the stock market.
Stock market crashes are often preceded by a period in which assets are priced far above their true value. That's what meant by the term "stock market bubble." When the bubble pops, stocks crash.
Right now, the stock market may be in a bubble. One reason is because corporate earnings are not strong enough to support current stock valuations.
In its September report, FactSet estimated that third-quarter earnings dropped by more than 2% for companies in the S&P 500. That marked the sixth straight quarter of declining corporate earnings.
Not only do the levels not reflect healthy corporate earnings, but the markets are enjoying a very long bull market. What is fueling this bull market if it isn't business growth?
The next of our stock market crash warnings is low interest rates from central banks.
We are in the midst of a period of historically low interest rates. The U.S. interest rate is currently 0.50%. In many European countries, it's in the negative.
When interest rates are so low, it is virtually impossible to make money on sovereign debt bonds.
As a result, investors flock to the stock market to get better returns. That inflates stock market prices even further, as they are being bid up by speculation rather than economic fundamentals.
When the Fed does begin to hike interest rates, which may happen this year, it could cause a sudden pullback in stocks.
Read to Own Gold? Here Are Three of the Best Gold Stocks to Buy
The third and final factor is that economic growth is still weak. The U.S. GDP quarterly growth rate has been trending down since 2014 and still hasn't reached pre-crisis levels.
And that's just here. Globally, economies are being impacted by Brexit and weakened growth in Asia.
Until economic growth picks up, the stock market will remain overinflated.
Our stock market crash warnings are looking very similar to those we identified in 1929 and 2008. Investors need to be prepared.
Below, we outline a plan to protect your money from a stock market crash…
How to Protect Your Money During a Stock Market Crash