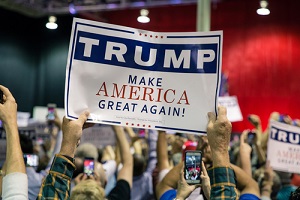 The Dow Jones Industrial Average surged Wednesday after Donald Trump defied the polls and became the 45th President of the United States.
Markets were extremely volatile in pre-market hours, but the Dow Jones, S&P 500, and Nasdaq all finished up more than 1%.
The CBOE Volatility Index (VIX) - commonly referred to as the markets' "fear gauge" -cratered more than 21% to below 15. Markets reacted positively to Trump's policy goals, which include the repeal of the Affordable Care Act, corporate tax reform, reduced Wall Street regulations, and a boost in U.S. infrastructure spending.
Let's look at the final numbers Tuesday for the Dow, S&P 500, and Nasdaq:
Dow Jones: 18,589.69; 256.95; 1.40%
S&P 500: 2,163.26; 23.70; 1.11%
Nasdaq: 5,251.07; 57.58; 1.11%
Now, here's a look at today's most important market events and stocks, plus a preview of Thursday's economic calendar.
DJIA Today: The Dow Surges 256 Points After Trump Claims Victory
The Dow Jones surged 256 points after Donald Trump won the 2016 presidential election. It was a wild ride as markets stormed back from an 800-point deficit in the futures market last night when Trump pulled ahead in electoral votes. Today's trading session was a story of winners and losers from the 2016 election. Sectors like biotechnology, healthcare, and finance saw big upward swings. Alternative energy, firearms, and government healthcare providers saw sharp declines. The financial sector rallied more than 4%, pushing the Dow within 50 points of an all-time closing high and 75 points shy of an all-time intraday high.
Special Report: Cannabis Is the Gold Rush of the 21st Century - 30 Stocks to Invest in Now. Read More...
The market swing is reminiscent of the sharp downturn and strong rebound of the global markets after Britain voted in June to leave the European Union.
The price of crude oil climbed higher after Trump's surprise victory. The uptick came despite news that the Energy Information Administration reported that U.S. crude inventories increased by 2.5 million barrels last week. That figure is about a million barrels higher than analysts had forecast.
The U.S. energy sector is expected to be a big beneficiary of the Trump presidency. With domestic crude production in focus, investors are eyeing the progress of OPEC's deal and the state of the nuclear deal between Iran and the United States. This morning, Iranian officials said that Trump should remain committed to the nuclear deal.
Don't Miss: Get the Best Investing Research Today to Grow Your Money
The WTI crude oil price today gained 0.6%, while the Brent crude oil price added 0.9%.
Of course the big story today is the result of the 2016 presidential election. Following Trump's stunning victory, investors are wondering what they should do next. According to a poll conducted today by Reuters, economists anticipate that the Federal Reserve will hike interest rates in December. Such speculation helped push financial stocks higher on the day. Still, uncertainty is expected in the months ahead, which means that investors need a plan in order to profit from a Trump presidency. That's why we've put together a list of the best stocks to buy right now for 2016.
Top Stock Market News Today, Nov. 9, 2016
Shares of Caterpillar Inc. (NYSE: CAT) surged more than 7.6% Wednesday thanks to a Trump victory. It's not just the prospect of a several thousand miles of wall between Mexico and the United States that has people thinking construction. While both Clinton and Trump are beneficial to industrial stocks, the latter has a greater chance of pushing through infrastructure spending bills with Republicans running both chambers of Congress.
Meanwhile, the biotech sector was the largest winner of the day. Following the defeat of Hillary Clinton, shares of Pfizer Inc. (NYSE: PFE) rallied more than 8%. The iShares Nasdaq Biotechnology ETF (Nasdaq: IBB) rallied more than 8%. Today's gain was the largest for the IBB ETF in eight years.
On the losers side, it was a tough day for shares of Molina Healthcare Inc. (NYSE: MOH) and Centene Corp. (NYSE: CNC). Both companies are engaged in healthcare services for government-run programs. Shares of MOH and CNC fell by 15.7% and 19.1%, respectively.
Gun stocks Sturm Ruger & Co. Inc. (NYSE: RGR) and Smith & Wesson Holding Corp. (Nasdaq: SWHC) fell by 14.5% and 15.6%, respectively. With Republicans firmly in control of the executive, legislative, and soon judicial branches, it is very unlikely that any gun-control reforms or threats to the Second Amendment will come soon.
The rally in stocks couldn't take away all of the attention from earnings season.
Thursday's U.S. Economic Calendar (all times EST)
Jobless Claims at 8:30 a.m.
Louis Federal Reserve President James Bullard speaks at 9:15 a.m.
Bloomberg Consumer Comfort Index at 9:45 a.m.
EIA Natural Gas Report at 10:30 a.m.
3-Month Bill Announcement at 11 a.m.
6-Month Bill Announcement at 11 a.m.
10-Year TIPS Announcement at 11 a.m.
30-Year Bond Auction at 1 p.m.
Treasury Budget at 2 p.m.
Fed Balance Sheet at 4:30 p.m.
Money Supply at 4:30 p.m.
Up Next: How to Make a Killing... When Everyone Else Is Panicking
Follow Money Morning on Facebook and Twitter
About the Author
Garrett Baldwin is a globally recognized research economist, financial writer, consultant, and political risk analyst with decades of trading experience and degrees in economics, cybersecurity, and business from Johns Hopkins, Purdue, Indiana University, and Northwestern.