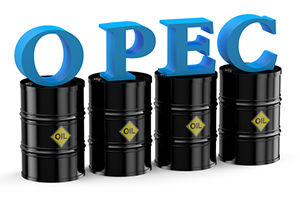 The next OPEC meeting is just a week away, on Nov. 30, and investors are anxiously waiting to see if a deal to cap oil production can get made.
When OPEC met in Algiers on Sept. 28, observers weren't expecting a deal. Instead, the cartel informally agreed to cap production in a bid to raise oil prices. WTI crude oil prices shot up over 10% in the week after the announcement.
However, the specifics of the agreement still had to be ironed out, including how much production each country would be responsible for cutting.
Reaching an agreement on those specifics has led to infighting between cartel members and increasing pessimism from observers.
Now a new OPEC agreement would boost oil prices, but there are three obstacles in the way...
3 Roadblocks to an OPEC Agreement
Since OPEC agreed to cut production, there have been three major hurdles to finalizing the deal.
First, some cartel members have demanded exemptions from any production limit.
Libya, Nigeria, and Iran were the first countries to be exempt from the deal. These countries have cited war and economic sanctions as the reason they should be allowed to produce as much as they can.
Their exemption puts more pressure on the other countries to cut more production to compensate, but instead it's led to more exemption demands.
At the end of October, Iraq claimed it deserved an exemption due to its war with the Islamic State. But Iraq's demand should also be viewed through the geopolitics of oil, as the ongoing rivalry between Iraq and Iran could lead to a game of one-upmanship that sinks the deal.
Second, the cartel needs the support of Russia, the world's largest oil producer, for the deal to positively impact oil prices. Russia has appeared both supportive and reluctant to go along with the deal ahead of the Nov. 30 OPEC meeting.
Russia was part of the initial agreement in Algiers, but had since wavered on its commitment. Igor Sechin, who heads Rosneft, Russia's largest oil company, dismissed the idea, asking "why should we do it?"
As Dr. Kent Moors, Money Morning's Global Energy Strategist, notes, "that puts President Vladimir Putin in an uncomfortable (and public) disagreement with his erstwhile ally."
Don't Miss: Dr. Kent Moors' Bold 2017 Oil Price Forecast
The Wall Street Journal later reported Russia, Mexico, and Oman were taking a wait-and-see approach before committing to the cartel's agreement, further weakening prospects for an agreement.
The third obstacle is the recent American election. The election of Donald Trump affects oil prices by potentially introducing more oil into the market. The U.S. president-elect has promised American energy independence by loosening regulations on oil and gas production.
President-elect Trump has also said the deal to end sanctions against Iran in exchange for the scaling down of its nuclear program is "the worst deal ever negotiated." If Trump were to end the deal, Iran would likely scale up its oil production to offset American sanctions.
Even though there are three major obstacles standing in the way of a new OPEC agreement, there are some strong signs for optimism.
Here's our prediction for what's going to happen at the next OPEC meeting in Vienna and what is next for the price of oil...
Will the Next OPEC Meeting End in a Deal?