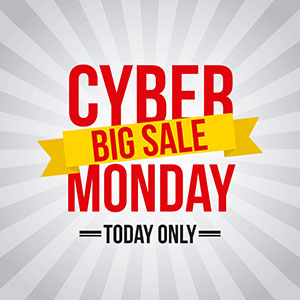 More than 122 million Americans plan to shop online today, Cyber Monday, with retailers delivering their best online discounts of the year. That's why we're detailing the five Cyber Monday stocks to watch today.
But first, here's a look at America's biggest online shopping day of the year…
Roughly 28 million people, or 23% of Cyber Monday shoppers, plan to shop for Cyber Monday deals on their mobile devices, according to the National Retail Federation. More than eight in 10, or 98.8 million people, will shop from their home computers today. Another 11.2 million will hunt for deals from their work computers.
Don't Miss: Get the Best Investing Research Today to Grow Your Money
Last year, Adobe data showed U.S. online orders totaled a record $3.07 billion on Cyber Monday. That was a 16% year-over-year increase. Thanks to a burst of deals and promotions, this year's Cyber Monday tally is expected to surpass last year's milestone.
Here are the five biggest stocks to watch today…
5 Cyber Monday Stocks to Watch
FedEx Corp. (NYSE: FDX) has been gearing up for a busy Cyber Monday and holiday season with more sorting hubs and technology. The delivery giant opened four new hubs and dozens of small satellite facilities to receive, sort, and ship the expected surge in packages between Thanksgiving and Christmas. FedEx also invested in automation that allows the company to process more packages over the holidays while keeping staffing levels relatively steady. At $190.74, FDX shares are up 28.02% so far this year. FedEx stock opened down today and is down 0.8% in morning trading.
Target Corp. (NYSE: TGT) is enticing shoppers this Cyber Monday with an extra 15% off almost everything online and in stores. This year's storewide sale is expected to reap big rewards for shoppers and Target. The company has already reported strong sales this week. Since Thanksgiving, millions have already shopped at Target stores across the country and on Target.com, which had its biggest day ever and experienced double-digit growth on Black Friday. At $77.97, TGT shares are up 7.40% year to date. Target stock is down 1% in morning trading today.
Wal-Mart Stores Inc. (NYSE: WMT) is the world's largest brick-and-mortar retailer. The company made a big push into ecommerce in August when it bought Jet.com for $3.3 billion. The move is Wal-Mart's biggest attempt to date to battle Amazon. Investors balked at the hefty price WMT paid for the 1-year-old company. The 54-year-old company is pulling out all the stops this Cyber Monday. The retailer started its Cyber Monday sales at midnight on Black Friday. The company has deals throughout its online site, as well as in stores. Wal-Mart is also hosting a live online streaming show today to hype its deals. At $71.45, WMT shares are up 16.58% year to date. Wal-Mart stock is flat in morning trading.
While investors will have an eye on those previous three Cyber Monday stocks, there are two more stocks that are expected to have huge days on Cyber Monday. And we recommend both of these Cyber Monday stocks as strong buys heading into 2017…