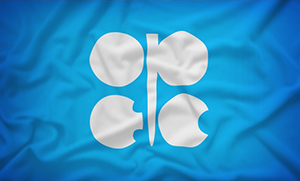 One of the most anticipated gatherings of 2016 took place in Vienna today (Wednesday): a crucial OPEC meeting. It is still in progress and investors are already asking "when is the Next OPEC Meeting?"
You see, OPEC meetings are only scheduled twice a year, and they can be extremely important to the entire energy market. The next OPEC meeting is scheduled for March 2017.
The OPEC meeting calendar is on many investors' minds today because crude oil prices are soaring due to the current meeting in Vienna.
Oil prices surged more than 8% today following news that some of the world's largest oil producers agreed to constrain oil output for the first time in eight years.
Shortly after 10:00 a.m., Brent crude oil prices were up $3.35, or 7.2%, at $49.82 a barrel. That followed a nearly 4% drop on Tuesday.
Trending: Get the Best Investing Research Today to Grow Your Money
Meanwhile, WTI crude oil prices were higher by $3.01, or 6.7%, at $48.25 a barrel. That level marked a one-week high.
An OPEC source shared with Reuters that negotiations continue regarding the exact size of each member's cut. But key oil exporter Saudi Arabia is accepting the bulk of the production cuts, with rival Iran freezing output at pre-sanctions levels.
Sign up for SMS so you never miss special events, exclusive offers, and weekly bonus trades.
Saudi Arabia has agreed to reduce its oil output to 10.06 million barrels per day under a new OPEC production-limiting deal, according to Reuters. The oil-rich kingdom's output stood at 10.54 million barrels per day (bpd) in October.
Also, the oil cartel has reportedly agreed to suspend Indonesia from OPEC and to allow Iran to set new production levels at 3.797 million bpd.
Details are still unfolding, but today's production cut is a massive step forward for OPEC...
Why Today's OPEC Meeting Is So Crucial
A preliminary production agreement was struck in Algiers in September. That agreement set an output cap at around 32.5 million to 33 million barrels per day. That's compared to the current 33.64 million bpd output.
Prior to today's meeting, Saudi Energy Minister Khalid al-Falih said OPEC was focused on reducing output to a ceiling of 32.5 million bpd. It was also counting on Russia and other non-OPEC producers to contribute a cut of another 0.6 million bpd.
In the weeks leading up to today's meeting, oil prices were volatile, surging on hopes of a production cut and tanking when those hopes faded.
Crude oil prices are now up 25% year to date, but remain down more than 60% from highs hit in June 2014.
Today's 171st OPEC meeting has been deemed critical for propping up oil prices and addressing the global glut. Absent a deal, oil markets would have had to wait several months for the cartel's next gathering in March 2017.
Now that we have some answers from today's OPEC meeting, Money Morning Global Energy Strategist Dr. Kent Moors has a new and bold crude oil prediction for 2017...
Follow us on Twitter @moneymorning and like us on Facebook.
Related Articles: