These kinds of encounters really make my day.
We've seen how trading is perfect for setting up extra regular income, but I want to share this one with you because it really drives home how folks can use trading to pocket a timely windfall... at a time when we could all use some extra money.
I was getting some work done on my house, and one of the construction guys asked me what I do for a living. Naturally, I told him that I'd been trading for nearly 30 years as a trading coach for everyday investors, and that my specialty was turning people on to low-cost, low-risk, high-profit trades.
He mentioned that the stock market was going ballistic, of course, and asked me how a guy like him might cash in on these all-time highs and pull in a little more cash for the holidays.
In less than 10 minutes, I'd taught him exactly what I'm going to teach you...
Picking Trades Is Much Easier Than Picking Stocks
You could spend hours upon hours researching the historic post-Black Friday performance of every single "holiday stock" out there, like Amazon.com Inc. (Nasdaq: AMZN), or Wal-Mart Stores Inc. (NYSE: WMT), or even Build-a-Bear Workshop Inc. (NYSE: BBW) or Tiffany & Co. (NYSE: TIF)...
Or you could save your (extremely) precious time - and simply trade the whole sector.
And here's how...
Black Friday 2016 is in the history books. There are fresh, updated reports of how well each toy, clothing, electronics, and car company retailer did.
Don't worry; I've already read them for you. This kind of data is all you need to set up your trades.
The reports I've seen and heard recently are to the effect that the post-Thanksgiving sales for automobiles have been okay, but not great. The pundits are also reporting that while people are shopping more this year, they're spending less per purchase by 3.5%. So it looks like traffic is up, but sales are about the same (or a bit less) for now.
Personally, I think the "Trump effect" is in play. We'll see how it plays out and trade accordingly, but right now people seem to be a bit more optimistic about the incoming administration, a bit more willing to spend more this holiday season, albeit a tad less per purchase.
So, as I told my friend the inquisitive construction guy, this is where options come into play.
And the best way to do it is to trade options on an extremely liquid exchange-traded fund (ETF) that tracks the Consumer Discretionary Select Sector Index...
[mmpazkzone name="in-story" network="9794" site="307044" id="137008" type="4"]
The Consumer Discretionary Select Sector SPDR (NYSE Arca: XLY) is exactly the way to go.
XLY's top five holdings, accounting for 34% of the ETF, are Amazon.com, Home Depot Inc. (NYSE: HD), Walt Disney Co. (NYSE: DIS), Comcast Corp. (Nasdaq: CMCSA) and McDonald's Corp. (NYSE: MCD). Since April 26, 2016, XLY has risen 3.24% and is in an uptrend.
In fact, as of the time I'm writing, XLY continues to trade at its 52-week highs. Take a look at the upward movement it's made since the beginning of the month - even before Election Day: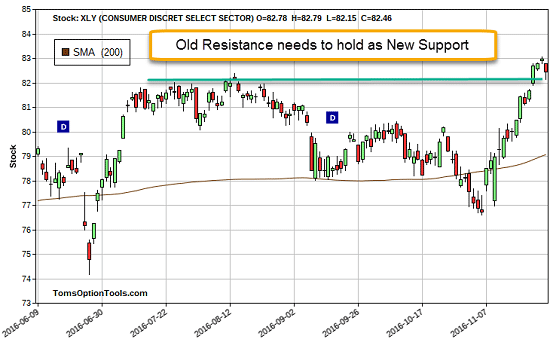 XLY has broken out to over five-month highs. In the chart above, I've drawn in a technical line to show you where resistance used to be. Any kind of retracement and hold of that $82 price would indicate buyers' conviction at that level, meaning it should become new support. If the retracement in pricing falls back below that $82 price area, look to the Fibonacci retracement levels to find a support area.
In the chart below, you can see the 38.2%, 50%, and 61.8% retracement prices.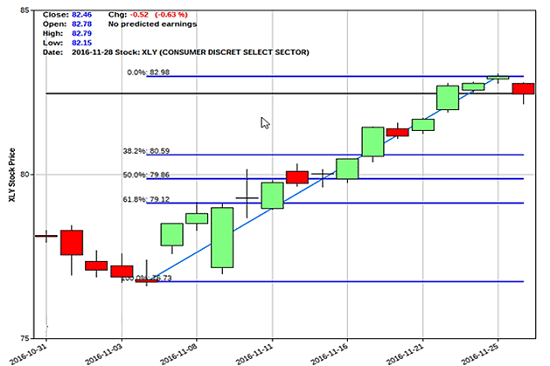 If XLY retraces and then starts to bounce from one of these levels, then you've got some bullish profit opportunities to consider, like this one...
The LEAPs Loophole Trade
We've talked about Long-Term Anticipation Securities (LEAPs) before. And as you'll recall, these are options with expiration dates of up to three years. Other than that longer-term expiration date, they're no different from shorter-term options.
LEAPs offer traders the ability to "hold" their options positions for longer terms (up to three years) without having to combine several different shorter-term options contracts. But remember - the more time you've got until the option's expiration, the more expensive it is due to the time value component of the option's price.
So creating a LEAPs "loophole" (or bull spread) trade is how you fix that problem.
A LEAPs loophole trade is no different from other vertical call spreads (which my Money Calendar Alert members frequently trade), where you sell a higher-strike call and buy a lower-strike call simultaneously on the same order ticket. So when creating a LEAPs loophole trade, you'd simply sell a higher-strike LEAP option and buy a lower-strike LEAP option simultaneously on the same order ticket.
This "spreads" your risk and cost even further while boosting your profits regardless of market volatility.
Right now, the most active LEAPs call on XLY has an expiration date of Jan. 19, 2018. So a great consideration for a LEAPs loophole trade is selling-to-open a higher-trike LEAPs call with a Jan. 19, 2018, expiration date and buying-to-open a lower-strike LEAPs call with the same expiration date. Remember, you'll need to buy and sell both LEAPs at the same time on the same order ticket to create the spread.
One thing to keep in mind with LEAPs and LEAPs loophole trades is that you're trading limited risk for limited rewards. With a LEAPs loophole trade, your profits lie in the difference between the two strike prices.
But... this also means that you've got the opportunity for more profitable trades than losing trades. And when you compare that to lower-probability trades with much higher risk and much higher cost, this is a compromise you can feel pretty darn good about.
Follow Tom on Facebook and Twitter.
About the Author
Tom Gentile, options trading specialist for Money Map Press, is widely known as America's No. 1 Pattern Trader thanks to his nearly 30 years of experience spotting lucrative patterns in options trading. Tom has taught over 300,000 traders his option trading secrets in a variety of settings, including seminars and workshops. He's also a bestselling author of eight books and training courses.