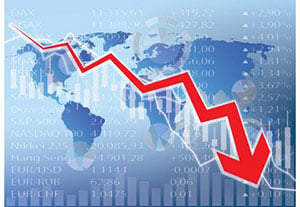 Stock markets might have shattered record highs this month, but these overheated markets could signal a 2017 market crash...
Many stock investors see record-breaking markets as a good sign because the value of their investments continue to rise. On Monday (Dec. 5), the Dow posted new record highs for both intraday trading and closing price, as it continues its run above the 19,000 level.
But the market can turn at any moment. And when the market surges independent of economic growth like it has been, a 2017 market crash could be next...
We're seeing several stock market crash warning signs ahead, and we want our readers to be prepared. These warning signs might mean a stock market crash in 2017 is on the horizon, but we have a proven strategy to help investors protect their money...
What Causes a Stock Market Crash?
We know all bull markets come to an end. But history shows us overvalued markets can end in a crash. Just look at the stock market crash of 1929...
This infamous crash was brought on by speculation during the "Roaring '20s." Investors from all walks of life sought to reap the benefits of the booming market. Many people purchased stocks with borrowed money, expecting to be able to easily pay back the loans as stocks rose. As we now know, that wasn't what happened.
On Black Tuesday - Oct. 29, 1929 - the market tumbled 12%. The Dow bottomed out in the middle of 1932 after it had fallen by 86%. It took the country more than two decades to fully recover.
Editor's Note: An incredibly rare gold market anomaly is shaping up in the markets as we speak -- one that has occurred ONLY twice in the past 20 years. And it's about to happen again. Details here...
More recently, speculation was at the heart of the 2008 stock market crash.
In the years prior to this market crash, the country was in the midst of a major housing boom. House prices were steadily climbing, which allowed many people to speculate on real estate. Banks were lending to unqualified borrowers because as long as housing prices rose, these borrowers could refinance. Banks were also repackaging these mortgages into tradable securities, and Wall Street traders were buying them up.
As soon as the housing bubble burst and prices fell, the stock market crashed.
On Sept. 29, 2008, the Dow experienced its largest single-day drop in history, plunging 777.68 points. The crash would wipe out $16.4 trillion in net worth and $2 trillion worth of retirement savings.
As 2016 comes to an end, we are seeing the same signs of speculative investing fueling a stock market bubble today. Here's how these signs point toward a 2017 stock market crash...
Is a 2017 Market Crash Coming?
We have identified three major warning signs a stock market crash could happen in 2017.
The first warning sign is historically low interest rates across the globe.
Central banks have been trying to stimulate economic growth ever since the 2008 financial crisis, and their main tool is to lower interest rates to encourage lending. But this has encouraged speculation on the stock market, as well.
Investors who traditionally invest in bonds can no longer make worthwhile returns. Bond investors in countries that have tried negative interest rates actually lose money on bonds. These investors have now turned to stocks as a way of getting returns, which drives stock prices up beyond their true values, creating an overvalued market.
The Fed is meeting in mid-December, and there is now a 92.7% chance, per CME's FedWatch Tool, rates will go up. Once rates begin to rise and bonds become more attractive, money could leave stocks and cause a pullback.
The stock market could normally endure investors pulling money out for bonds, but the market is not supported by the performance of the underlying companies.
Make Money Today: Get the Best Investing Research Today to Grow Your Money
The second warning sign is weak corporate growth. FactSet reports S&P 500 corporate earnings in Q3 were down more than 2% and mark the sixth straight quarter of earnings declines. Despite weak corporate growth, the stocks are at record highs.
This shows investor speculation is driving these record gains in the market, which means once prices begin to fall, the drop could be massive.
The third warning sign of a market crash in 2017 is weak economic growth.
The U.S. GDP growth rate in Q3 was a meager 2.9%. Between July 2014 and July 2016, our country's GDP growth rate tumbled by 76%.
Often, when a market is booming, it is being driven by a strong economy. Since corporate earnings are flat and overall economic growth is weak, it appears the stock market is being fueled by speculation.
Even though there are signs of a 2017 stock market crash, investors can prepare in advance and protect their money. That's why we've put together a stock market crash protection plan to help you protect your money in 2017...
Our Stock Market Crash Protection Plan
Here Are 10 "One-Click" Ways to Earn 10% or Better on Your Money Every Quarter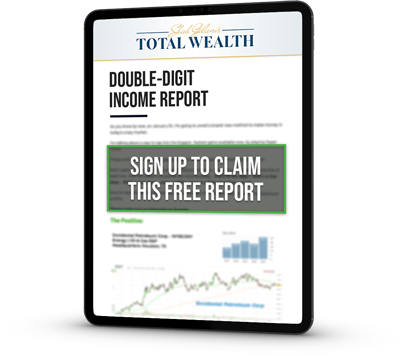 Appreciation is great, but it's possible to get even more out of the shares you own. A lot more: you can easily beat inflation and collect regular income to spare. There are no complicated trades to put on, no high-level options clearances necessary. In fact, you can do this with a couple of mouse clicks – passive income redefined. Click here for the report…