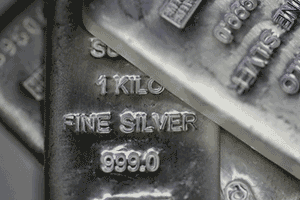 Our new silver price forecast for 2017 shows prices moving higher, despite headwinds in the short term. In fact, we see silver prices climbing by double digits in the next six months...
Some of these headwinds include a rallying dollar and an inflated stock market, according to Money Morning Resource Specialist Peter Krauth.
"The investing herd has been flocking to these asset classes," he said, "discarding silver along the way."
But silver is also largely undervalued right now, Krauth says. The gold-silver ratio is currently at 70, which means that it takes nearly 70 ounces of silver to buy one gold ounce. According to Kitco, this ratio is up from 55 nearly five years ago. That suggests silver's value has been depressed for some time.
But that's about to change.
Despite the short-term headwinds, there are several reasons why the precious metal has such high growth potential in 2017. And silver has even more growth potential than gold right now.
Here's a closer look at our silver price forecast for 2017...
Silver Price Forecast for 2017: Here's How High Prices Will Climb
Silver's "safe haven" appeal as an alternative to the dollar will increase in 2017, according to Krauth.
And there are several reasons why...
For one, President-elect Donald Trump is promising massive tax cuts - both for corporations and individuals. He is also promising a trillion-dollar infrastructure spending plan. Both of these promises have helped send the markets to new highs.
But over time, Trump's spending plan, along with rising bond yields, signal higher inflation.
"When that reality begins to sink in, investors will quickly flock to silver and bid it up to new heights," Krauth said.
You see, silver acts as an alternative investment to most other asset classes, like stocks. And right now, stocks are occupying investors' attention. But over time, higher inflation will increase silver's appeal, especially compared to the U.S. dollar.
The dollar has been appreciating heavily ever since Donald Trump's election victory. Since Nov. 8, the U.S. Dollar Index (DXY) has risen over 4%.
And with an expected rate hike coming at the Federal Reserve's Dec. 13-14 meeting, the dollar could keep appreciating slightly. While this will likely put downward pressure on silver prices in the short term, Krauth still says he expects higher inflation "to come back with a vengeance."
And when it does, silver prices could run up to the $19 range by the first quarter of next year, he says.
Looking even farther ahead, Krauth said silver could climb to the mid-$20 level within six to nine months.
Silver is currently trading at $17.29 per ounce as of Wednesday intraday.
Up Next: We've just spotted a gold anomaly that could create cash windfalls of up to $13 billion. This phenomenon is so rare, it has only occurred three times in the past 20 years. Act now, and you could get a piece of this historic profit opportunity. Details here...
Follow Money Morning on Facebook and Twitter.