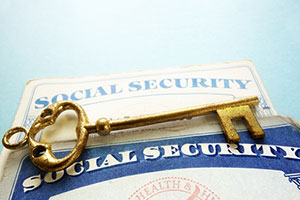 With over 2,700 rules in the Social Security Administration's handbook, the average American is blind to many Social Security "secrets," or features - and that's just what Uncle Sam wants.
You see, these secrets can get you money that you are entitled to receive - if you know how to find them.
We've compiled a few of the most little-known tricks that the government doesn't want you to know about so you don't miss out on your well-deserved Social Security.
Let's take a closer look...
Social Security Secret No. 3: Timing Isn't Always Everything
Knowing when to start claiming Social Security benefits is a critical decision for anyone to make.
If you start taking benefits too early, you'll lose out on money you could've earned. If you start taking them too late, you'll risk not being able to enjoy the benefits should you get sick. So you have to get it right the first time.
At least, that's what the Social Security Administration wants you to think...
There's a hush-hush clause that allows you to change your mind about when you want to receive Social Security benefits. Few people know that you can often withdraw your original claim and reapply at a later date.
Of course, it does come with some obstacles to tackle if you change your mind:
You can only withdraw your claim if less than 12 months have gone by since you started receiving benefits.
You must repay all benefits received.
You must also repay any amounts withheld from your checks for Medicare premiums, income-tax withholding, or garnishment collections.
It is also important to note that you can only withdraw a claim once in your lifetime - so don't make this decision lightly.
Social Security Secret No. 2: You're Being Cheated - More Than You Think
The gap between what you pay into Social Security and what you'll receive once you apply for benefits is growing exponentially each year - and not in your favor. It's a scary trend we warned readers about earlier this year.
Trending Now: Protect Your Money with These 10 Tips for Tax Season
"Lifetime payroll tax contributions will exceed the amount of Social Security benefits many of today's workers will receive in retirement - despite the fact that today's retirees tend to live longer," Investment News cautioned in May of last year.
In fact, former Chairman of the Social Security Advisory Board, and author of several retirement books, Sylvester Schieber reported to Investment News in May 2015, "Many folks would be dumbfounded if they realized that the net cost of participating in Social Security for an average worker today is roughly five years of their lifetime earnings."
In his report to Investment News, Schieber explained how much a single, male, medium-wage worker would be losing throughout the course of his career in 2014.
The results were shocking...
He would get $85,011 less than what he paid out in taxes, plus a mediocre amount of interest.
If he was married, and both partners earned medium wages, they would receive $107,051 less.
You're being cheated, but you no longer have to be.
In this next "secret," we show you exactly how you can beat the system...
[mmpazkzone name="in-story" network="9794" site="307044" id="137008" type="4"]
Social Security Secret No. 1: The $68,870 You Could Be Missing
A major change is coming to retirement in 2017.
The federal government is using an obscure clause buried in the U.S. Labor Code to rob Americans of justified profits - causing a retirement blackout.
But certain little-known investment havens are caught in the middle: 26(f) programs.
These programs have been the well-kept "secret" of many powerful government officials and have been used by politicians for quite some time. Ironically, they were developed by President Roosevelt's team, which also created Social Security.
They give investors the opportunity to earn impressive monthly income on top of lump-sum payouts.
Even better, 26(f) programs allow people to "enroll" with one small investment stake...
Money Morning Chief Investment Strategist Keith Fitz-Gerald has been following this government scheme for years. Fitz-Gerald is a seasoned market analyst and professional trader with over 34 years of global experience - and he hates to see investors miss out on an opportunity. Even more, he hates to see the government profit at your expense.
Fitz-Gerald has developed a short presentation that will show you how to take advantage of these 26(f) programs right now - exclusively for Money Morning readers. Click here to learn how to receive your free report.
Don't wait, because time is running out to prepare for the aftermath...
Follow Money Morning on Twitter @moneymorning or Facebook.