Let's be clear: Investors should not sell Apple stock based on worries about slumping iPhone 7 sales.
The Nikkei Asian Review triggered this latest episode of hand-wringing over Apple Inc. (Nasdaq: AAPL) stock. In a Dec. 31 report, Nikkei said the Cupertino, Calif.-based tech giant would trim its iPhone 7 production by 10%. The estimate is "based on data from suppliers."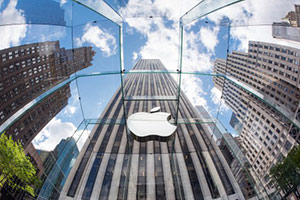 Other news outlets were quick to repeat the story. Most also pointed out that Apple cut production of the iPhone 6s by 20% a year ago due to excessive inventory.
Some of the headlines were downright glum. "The iPhone 7 may not be selling as well as Apple hoped," warned Engadget.
That's the sort of headline that gets investors wondering whether they should sell AAPL stock.
Such media chatter immediately raises questions about the health of Apple's overall business. The iPhone, after all, accounts for about two-thirds of the company's profits.
But it doesn't mean that selling Apple stock now is a good idea…
Why Investors Shouldn't Sell Apple Stock on iPhone News
Even assuming the Nikkei report is true (it has a solid reputation), a 10% cut in iPhone 7 production doesn't necessarily mean it's selling more slowly than the iPhone 6s.
According to current FactSet estimates, the iPhone 7 is expected to outsell last year's iPhone 6s in both the December quarter (Apple's fiscal Q1) and the next two quarters.
Don't Miss: How to Profit from the Same Trend That Drove Stocks Up 1,262% in the 80s and 90s
Last year Apple sold 74.8 million iPhones models in its Q1. FactSet is forecasting sales of 78 million units of the iPhone in the just-ended December quarter.
In Q2 2016, Apple sold 51.2 million iPhones. The FactSet estimate for Q2 2017 is for sales of 54 million iPhones. In Q3 2016, Apple sold 40.4 million iPhones. The FactSet consensus predicts 43 million iPhones will be sold in Q3 2017.
So things aren't as dire as the headlines suggest.
It's also useful to remember that Apple continues to vacuum up virtually all of the profits in the global smartphone market despite its modest 13.2% share of unit sales.
According to BMO Capital Markets, Apple collected 103.6% of the world's smartphone profits in the third quarter of 2016. (Apple can exceed 100% because of perennial money losers like manufacturers HTC and LG.) Samsung was a very distant second with 0.9% of the profits.
That alone is a strong argument for investors not to sell Apple stock. But while Apple stock may trade sideways in the near term, there's a good reason to expect AAPL to pop later in 2017…
Why AAPL Stock Will Have a Profitable 2017