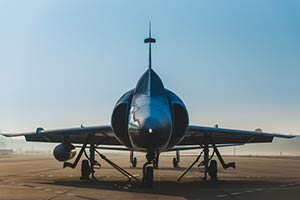 Three global defense industry leaders are on our list of the top defense stocks in 2017. These stocks all posted double-digit gains in 2016 and have even more room to grow in 2017.
What's more, these stocks tie directly into what Money Morning Chief Investment Strategist Keith Fitz-Gerald describes as "Unstoppable Trends."
These are trends that will drive the markets no matter what happens, whether it be global political unrest or another recession.
One of the most powerful trends Fitz-Gerald has identified is what he calls "War, Terrorism, and Ugliness." And while this is a negative trend, it's also highly profitable. Many parts of the world are affected by this trend, and our exploding population numbers could make matters worse.
If investing in war gives you pause, there are several things you should know about these defense stocks. The first is that these are U.S. companies, so you'll be investing in domestic growth and supporting U.S. jobs. The second is that most of what these companies do is develop products, systems, and technologies that are supposed to prevent the loss of life.
Defense is a massive global industry that will only continue to grow. Right now, the U.S. is the largest defense spender at $567 billion annually. Some expect that this figure could skyrocket to $1 trillion under President-elect Donald Trump.
With this in mind, now is the best time to invest in the three best defense stocks…
Top Defense Stocks in 2017, No. 3: Northrop Grumman Corp.
Northrop Grumman Corp. (NYSE: NOC) is a Virginia-based defense company that was founded in 1994 when Northrop Aircraft and Grumman Aerospace merged. The company now ranks number five among the world's largest defense contractors, with more than 68,000 employees worldwide.
Northrop operates three divisions: Technology Services, Mission Systems, and Aerospace Systems. One of Northrop's largest projects in recent years has been a partnership with Lockheed Martin to work on the F-35 program. Northrop has been responsible for such things as the navigation system, radar system, tracking computers, and the jet fuselage. In fact, this program contributed $10 billion of Northrop's $23.5 billion 2015 revenue figure.
The company is also involved in building stealth fighters and drones. In October 2015, the company signed a contract with the U.S. Air Force for the new B-21 long-range bomber. This program could have a price tag of $80 billion, with planes to be delivered by 2025.
Don't Miss: The Best Stocks to Buy for January 2017
Northrop has been building Global Hawk drones for the U.S. military for 15 years, and these have been vital tools for military surveillance. This $10 billion program is also a stepping stone for the next generation of military drones, which Northrop is currently testing. Called the TERN, this prototype drone was built at the request of the
Defense Advanced Research Projects Agency (DARPA) and the U.S. Navy. The drone can carry more than 500 lbs. of ordnance. This advanced drone could rival manned fighter jets, which will keep our pilots safe.
NOC stock is trading at $236, with gains of 24% as of Jan. 6 year over year (YOY). The company also has a generous dividend yield of 2.9%.
Top Defense Stocks in 2017, No. 2: Raytheon Co.
Raytheon Co. (NYSE: RTN) is a major U.S. defense contractor that is based out of Waltham, Mass. Founded in 1922, the company now has more than 63,000 employees around the world and is the world's top producer of guided missiles.
In 2015, Raytheon reported revenue of $23.24 billion, with nearly two-thirds of sales coming from the U.S. government. As of Q3, the company reports bookings of $6.9 billion, which are contracts that still need to be fulfilled. The company has more than 15,000 outstanding contracts with the Department of Defense but also does a lot of business with foreign governments.
In mid-December, Raytheon signed a $459 million deal for Secure Voice Transmission Services, which will benefit both U.S. and allied military services. Talks are underway with Poland to ink a $5 billion missile defense systems contract.
For the third quarter, RTN reported EPS of $1.79, which was $0.15 better than consensus estimates. RTN stock is trading at $148, with gains of 17% as of Jan. 6 YOY.
The next defense stock we're about to show you is our No. 1 pick. And for good reason…
Top Defense Stocks in 2017, No. 1: Lockheed Martin Corp.
Lockheed Martin Corp. (NYSE: LMT) was founded in 1995 with the merger of Lockheed Corp. and Martin Marietta, effectively creating the world's largest U.S. defense contractor.
As defense stocks go, this is one to have on your list for 2017. The company employs more than 126,000 people around the world and is probably best known today for its stake in the F-35 fighter jet program.
Lockheed won the government contract for the F-35 in 2001, with an order for 2,400 aircraft. These planes are earmarked to deliver the majority of the manned tactical airpower of the U.S. Navy, Air Force, and Marine Corp for several decades.
There has been criticism of the F-35 program due to cost overruns. In fact, President-elect Trump sent out a negative "tweet" about the program in December that caused LMT stock to drop. Most experts believe that Lockheed's F-35 program is safe. Bloomberg even wrote about the program three years ago, where they described how it is entrenched with 1,300 suppliers in 45 states that support as many as 133,000 jobs.
Fighter jets aside, Lockheed is making money in other areas, too. Last year the company made the wise decision to acquire Sikorsky Aircraft. Lockheed now has 22 of 37 major production helicopters in the world.
LMT stock is up 18% as of Jan. 6 YOY, and the company has an impressive 2.75% dividend yield. They surpassed analyst expectations in Q3 by 14%, and the stock is given a "Buy" rating from 10 analysts.
Up Next
When it comes to making money in the market, "getting in" early – before a stock begins to make its decisive move – is the single biggest factor to your success as an investor.
Quickly buying Apple after the June 2013 sell-off, for instance, could have doubled your money. Moving on Valeant the same day we recommended our big "negative bet" against it would've booked you a remarkably fast 700% return.
That's why we've introduced Money Morning Profit Alerts. This new, free service lets you choose what investing areas you want to follow – and makes sure you get alerted to news from that sector as soon as we publish it. It means no more waiting. No more searching. No more missing out. It's easy to get started – just go here.
Follow Money Morning on Facebook and Twitter.