In silver investing news today (Friday, Jan. 20), the price of silver continues to trade at a five-week high despite extreme volatility on Wednesday and Thursday.
As of 12:45 p.m., the silver price today is up 0.1% and trading at $17.02 per ounce. Silver prices this week have traded above the $17 level for the first time since Dec. 14.
Here's why silver prices are climbing this week…
The Big Silver Investing News Today: Donald Trump Inauguration
The huge swings in silver prices since Wednesday have mostly come from market uncertainty surrounding Donald Trump's comments four days before his inauguration.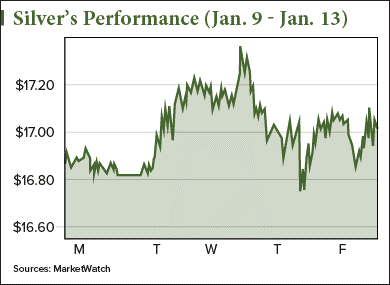 In an interview with The Wall Street Journal on Monday, Jan. 16, Donald Trump said the strengthening dollar hurts the United States because the dollar grows weaker compared to the Chinese yuan. This effectively hurts U.S. companies competing with Chinese companies. On Wednesday, Jan. 18, the silver price spiked roughly 1.3% to about $17.38 in midday trading as markets reacted to Trump's statements.
Don't Miss: The Must-Have Guide to Profiting from Gold and Silver in 2017
These comments were controversial. Presidents typically don't make public comments on the U.S. dollar. Instead, they're supposed to defer any currency matters to the Treasury Department. However, the prospect of Trump weakening the dollar helped the silver price log a 0.7% gain on Wednesday.
But silver prices retreated Thursday after U.S. Federal Reserve Chair Janet Yellen announced she would raise interest rates "a few times a year" at least through 2019. They dropped 1.6% to close the session at $17 per ounce.
Despite this silver investing news causing price volatility, Money Morning Resource Specialist Peter Krauth sees the Trump presidency pushing prices higher in 2017. Trump's plans to stimulate the economy through massive spending will make it a strong year for both gold and silver prices.
But there's a growing economic problem that points to higher silver prices in 2017. In fact, this is one of the reasons why silver will gain 41% to $24 by Q2 2017…
This Economic Problem Will Make Silver Investing News This Year
Inflation will also help the price of silver rally in 2017. And the inflation rate is poised to keep rising as the Dow Jones Industrial Average stays near all-time highs.
On Jan. 6, the Dow Jones marked a new record high when it came within a hair of 20,000 points. Investors have been anxiously waiting for the market to hit that milestone ever since the Dow crossed 19,000 on Nov. 22. As of Jan. 20, the Dow is up 9% over the last three months.
Inflation naturally rises alongside the stock market. That's because the U.S. dollar also rises when stock prices rise. But too much of this dollar growth can backfire because it reduces its purchasing power.
For example, let's say a soda costs $1 right now. The latest data from December 2016 places the annual inflation rate at 2.1%. That means the $1 soda will theoretically cost $1.021 (or $1.02 rounded to the nearest cent) by December 2017.
Because inflation increases prices, it fundamentally reduces spending since goods and services become more expensive. This harms the economy and can induce a stock market sell-off if investors panic over a looming economic slowdown.
As a safe haven whose demand spikes during market volatility, silver stands to benefit from rising inflation in 2017. According to Krauth, investors often react to high inflation thinking it will only go higher. This public mindset will urge people to buy silver.
That's why we see the price of silver surging 40% to $24 by the second quarter of 2017 at the earliest.
Urgent: A door has opened for an ultra-rare but powerful anomaly in the stock market… It involves a precious metal, one that's considered exceedingly more rare than gold. Get all the details.
Follow us on Twitter and like us on Facebook.