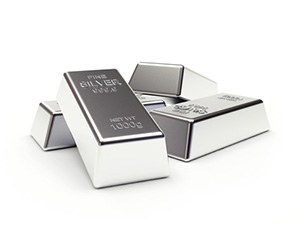 Precious metals have been beaten down over the last two months, and the silver price has seen the worst of it. Silver is down 11.3% since Nov. 4. That's slightly worse than gold's 11.2% decline over the same period.
But that's only a short-term pullback.
We're still bullish on silver prices in 2017, and our new silver price prediction shows the white metal rising 15.8% by the end of Q1 and 46.2% by the end of Q2.
You see, the falling price of silver since last quarter comes from a short-term surge in the U.S. dollar. Data from FactSet shows the dollar currently trades near a 14-year high of 103 basis points. The greenback's 5.8% gain since November started with the presidential election and continued with last month's interest rate hike. A strong dollar makes dollar-priced metals like silver and gold more expensive in other currencies, which lowers demand.
Don't Miss: The 5 Best Stocks to Buy for January 2017
Despite the strong dollar, Money Morning Resource Specialist Peter Krauth – who has 20 years of experience in the metals sector – expects the silver price to rebound this year for three reasons…
2017 Silver Price Prediction Factor No. 1: Inflation
Thanks to the record-high stock market and increasing bond yields, inflation is poised to keep rising in 2017.
Inflation is a natural result of stock market highs. When the U.S. dollar rises, prices of stocks and other goods typically rise alongside it. But while this growth seems like a good thing, it ultimately reduces the dollar's purchasing power.
One way the Federal Reserve controls this balance is by hiking its key interest rate. The Fed raised it by 0.25% last month in response to strong economic growth and dizzying market highs. Before the Fed's decision on Dec. 14, the Dow Jones Industrial Average and S&P 500 closed near all-time highs of 19,792.53 and 2253.28, respectively.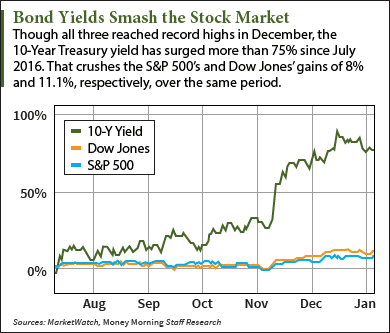 While the Dow Jones has soared 11.1% in the last six months, bond yields have skyrocketed more than 75%. As of Jan. 4, the 10-year Treasury yield sits near a 16-month high of 2.45%. Rising bond yields often indicate high inflation, and the latest data shows that the inflation rate outpaces short-term interest rates by 1.2%.
Since precious metals are alternative investments to the dollar, the silver price will soar as investors protect themselves from the negative effects of inflation.
"As we see inflation ramp up higher, then that mindset settles in and people start thinking we're in an upward inflation cycle," Krauth said. "When that spreads, people look for hedges for that."
Here's the second reason why the silver price will surge 46.2% by the second quarter. It has to do with the biggest silver-consuming country in the world and a controversial new policy it is instituting…
2017 Silver Price Prediction Factor No. 2: Rising Demand in India
India will have a major impact on the silver price rally in 2017.
India is already the biggest silver-consuming country in the world. According to data from Coin World, India took that title in 2015 when it brought in 340 million ounces. That crushes the United States, which is the world's second-largest silver importer with 193 million.
But India's silver imports could increase even more if the country follows through with a controversial new policy…
On Nov. 8, Indian Prime Minister Narendra Modi decided to pull the country's two most common currency denominations – the 500- and 1,000-rupee notes – out of circulation. In other words, 86% of all cash circulating in India became invalid overnight, according to BBC.
The controversy sent local gold prices in India up to $2,800 per ounce as citizens frantically converted their money into gold. This quick conversion has sparked speculation that Modi will also impose restrictions on gold.
If that happens, the only other alternative metal to buy will be silver. According to Krauth, this turn of events could push the silver price 46.2% higher to $24 by the second quarter.
"There's been a rumor that people will flock to silver because the government might limit how much gold people can own," Krauth told Money Morning readers in December. "If you get one of these wild-card factors, we could see silver reach maybe $24 as of Q2 onward."
This is an emerging trend that shows how big-time players in the silver market are starting to revive silver prices from their recent lows.
Here's more on this trend – plus our specific targets for silver prices in Q1 and Q2…
2017 Silver Price Prediction Factor No. 3: Decreasing Short Bets
Lastly, the falling volume of "smart money" short bets on silver will lead to positive sentiment in the silver market. In time, that will translate into higher silver prices.
"Smart money" refers to silver producers who short the price of silver to cover any losses. Because these producers have so much cash on hand, they can afford to make small bets against their own product in case silver prices decline.
Luckily for silver prices, the number of these short bets is rapidly declining. It peaked at 109,000 on Aug. 2 when the silver price hit its 2016 high of $20.92. As of Dec. 6, the number of shorts has dropped 31.2% to 75,000.
All three of these factors will pull the silver price out of its recent rut. Here are Krauth's silver price targets for the first half of 2017…
$19 by the end of Q1 – a gain of 15.8% from the Jan. 3 close of $16.41
$22 by the end of Q2 – a gain of 34.1% from the Jan. 3 close.
$24 by the end of Q2 if India limits gold imports – a gain of 46.2% from the Jan. 3 close.
Urgent: A completely unique gold play is forming in the markets. And it's so rare that it's only the third time in 20 years that it's happened. If you get in now, you could see a share of upwards of $13 billion in cash windfalls. Read more.
Follow us on Twitter and like us on Facebook.
Related Articles: