The technology sector has outperformed the market so far this year, and we expect Apple stock in 2017 to be one of the best performers in the sector.
So far this year, the technology sector is almost 4% higher, while the S&P 500 is trading about 1% higher. Leading the tech sector growth are the FANG companies: Facebook Inc. (Nasdaq: FB) is up 12.13%; Amazon.com Inc. (Nasdaq: AMZN) is up 8.94%; Netflix Inc. (Nasdaq: NFLX) is up 11.21%; and Alphabet Inc. (Nasdaq: GOOGL) is up 6.82%.
With year-to-date (YTD) share-price growth of 3.58%, Apple Inc. (Nasdaq: AAPL) is on pace with the technology sector as a whole. But Apple stock has a higher growth potential in 2017 than any of the FANG companies.
Here's why…
4 Factors Will Drive Apple Stock in 2017
While the FANG stocks may have bigger gains right now, Apple is breaking out of its current trading pattern, according to Money Morning Options Trading Specialist and Power Profit Trades Editor Tom Gentile.
Don't Miss: This is one of the best buying opportunities of 2017.
The green lines on the chart below show the support and resistance for the Apple stock price. Support lines are the lower lines on the chart. This is the price where buyers are ready to purchase the stock, which keeps it from dipping lower.
The resistance lines are the top ones on the chart below. Resistance is the price where investors are willing to sell the stock to capture gains and keep the stock from climbing higher.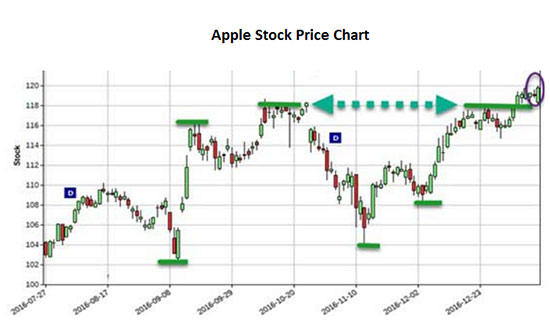 Apple stock is currently trading above resistance. According to Gentile, this is very important for two reasons:
When a stock breaks above the resistance line, it is likely to keep rising until it reaches a new equilibrium.
Apple is set to report earnings on Jan. 31. The Apple stock price generally trades within 1% of the previous close when it announces earnings, and has a tendency to pull back the day before earnings, according to Gentile.
With Apple breaking out of resistance, it's likely Apple stock will settle near this line in its pre-earnings pullback. However, once earnings are announced, Apple stock should rise.
Besides trading patterns, another reason we're bullish on Apple stock is the iPhone 8 information that has been leaked. The leak of iPhone 8 specs and options will likely increase anticipation around the release of the new phone.
Gentile says another factor that is likely to keep Apple stock rising in 2017 is the anticipation of tax reform. If the reforms go through as President Trump plans, Apple's profit margins should improve due to a lower tax burden. There are no specific details about the tax breaks the new president is proposing, but he is pushing for a cap of 15% on corporate taxes, which is down from the current cap of 35%.
With this bullish outlook for the AAPL stock price in 2017, Gentile just provided his subscribers with a new profit strategy…
Profit Strategy for Apple Stock in 2017