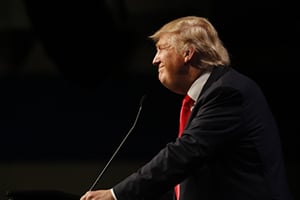 The President Donald Trump DAPL-Keystone XL actions today (Tuesday) give new life to two oil pipeline projects the Obama administration opposed.
President Trump doesn't have the power to simply approve the Dakota Access pipeline (DAPL) and the Keystone XL pipeline. But his executive actions re-open doors that President Barack Obama had closed.
Both the DAPL and the Keystone XL pipeline have become political flashpoints – which is why this is such big news.
Liberals trying to stop the pipelines see them as a front line in their fight against climate change. But conservatives want to see the projects completed, both to create jobs and as part of a strategy to make the United States energy independent.
The President Trump DAPL executive action is more likely to deliver results first. Rep. Kevin Cramer (R-ND) told The Hill that President Trump's DAPL action instructs the federal agencies responsible to expedite approval of the pipeline.
But it's all part of a long-running political game…
Why the Trump DAPL Action Is Old-Style Washington Politics
Trump's executive order today reverses the actions of the Obama administration, which halted construction on DAPL Sept. 9. Three months later the Army Corps of Engineers, the agency charged with granting approval of such projects, stopped the project dead in its tracks.
The Corps told the pipeline company, Energy Transfer Partners LP (NYSE: ETP), that it would deny ETP the final easement it needed to complete the pipeline – a section that runs under the Missouri River.
The move by the Obama administration played well with his liberal base, which has enthusiastically supported the opposition of the Standing Rock Sioux tribe to the pipeline. The tribe says DAPL threatens its water supply and desecrates sacred sites.
But ETP had obtained all the required permits. The DAPL project was more than 60% complete with $1.6 billion already spent when the Obama administration pulled the plug – a move chilling to any company considering an energy infrastructure project.
Of course, President Trump's DAPL revival is no less political. He mentioned both pipelines often in his campaign speeches. Such projects play to his themes of job creation and "America First" (energy independence).
The long struggle of the Keystone XL pipeline (it started in 2011) has been even more about politics. Both sides used "alternative facts" to score political points.
President Obama seemingly put a stake through the heart of the Keystone pipeline when he rejected it in 2015. TransCanada Corp. (NYSE: TRP), the company behind Keystone, withdrew its application. His Democratic allies cheered.
Now President Trump is seeking to satisfy his followers by bringing Keystone back from the dead.
While the political battles are real enough, there's a crucial fact that almost always gets ignored in the media coverage over these pipeline projects.
Here's what they "forget" to tell you…
The DAPL and Keystone XL Pipelines Are a Drop in the Barrel