The Trump Rally continues to break records as the Dow topped another all-time high yesterday (Feb. 21), hitting 20,754.88. But these record highs won't last.
In fact, Money Morning Global Credit Strategist Michael Lewitt just pointed out some major signs that a stock market crash could be on the horizon...
The explosive stock market growth since the election has been a windfall for investors. Just look at how fast the Dow jumped from 19,000 to 20,000 in the chart below.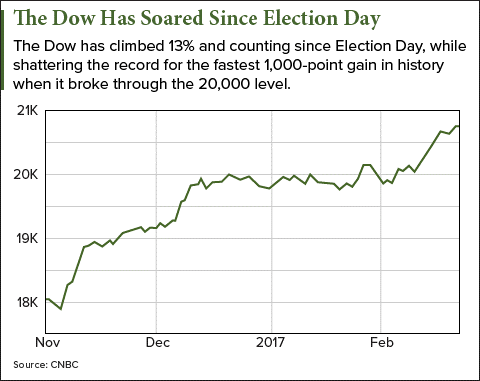 But Lewitt says this rapid growth is pushing stocks to unsustainable levels. He even says these soaring highs are a sign of a stock market bubble.
"Markets are in the midst of an epic bubble that is being ignored by investors at their peril," Lewitt tells us.
And a bubble like this means investors need to be prepared for a 2017 stock market crash.
But investors don't need to panic. They can be prepared.
That's why we're going to show you how to protect your money during a financial crisis. First, here are the warning signs Lewitt says are a sign of a stock market crash coming this year...
Are We in for Another Stock Market Crash?
With stocks trading well above their economic fundamentals, a market correction could lead to a massive sell-off and a stock market crash in 2017.
Trending Now: How a 26F Program Can Save Your Retirement
As Lewitt explains, the S&P 500 climbed 10% last year even though corporate profits remained flat. Plus, the S&P 500 hasn't seen a drop of at least 1% in 84 trading days. The last time the S&P 500 went that long without a 1% decline was over 10 years ago in 2006.
"If investing were really this easy, everyone would be rich," says Lewitt.
You see, the S&P 500 is trading nearly 21 times above GAAP earnings. Its current Shiller P/E ratio, a measure of overall stock market value, is 29.29, the highest level it's reached since the dot-com bubble. That's even higher than before the 2008 stock market crash.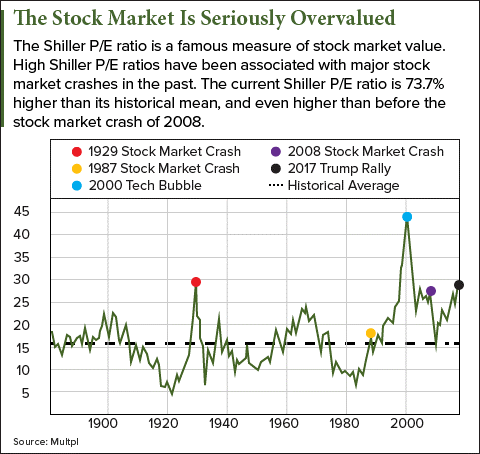 This is why Lewitt is warning us "every market signal I see tells me that we are deep in bubble territory."
But you can protect your investments before it's too late. And Money Morning is here to help.
Here's how you can "go against the crowd" and protect your money from a stock market crash in 2017...
Where to Put Your Money Before a Stock Market Crash