The Dow has soared past 20,000 points, but that could be a sign of the next stock market crash.
The market has been surging since Donald Trump was elected president on Nov. 8. The Dow is up nearly 10% since Election Day, and all the major indexes have been breaking records. On Jan. 6, the Dow, S&P 500, and the Nasdaq hit all-time highs.
The highs have been great for investors, but an overheated market could lead to a stock market crash in 2017.
We want investors to be prepared. We're going to show you why the next stock market crash could be on the way and how you can protect your money...
How a 2017 Stock Market Crash Could Happen
No one can predict the timing of a market crash with certainty. But we are seeing signs of a stock market bubble.
While the Dow has exploded for 25% gains over the last 12 months, the growth hasn't been driven by economic expansion.
U.S. GDP has only grown 2.4% since last year.
And corporate profits grew even slower. Between Q3 2015 and Q3 2017, corporate profits grew only 2.1%.
Instead, stock markets have been soaring due to an extended period of historically low interest rates.
During the Great Recession of 2008, the U.S. Federal Reserve slashed rates to stimulate the economy. Rates were cut from over 5% in 2007 to 0.25% by the end of 2008.
Low interest rates mean borrowing money is cheap and easy. The idea was that lower interest rates would encourage businesses to borrow money to expand their companies, growing the economy.
What actually happened was companies took advantage of the cheap money, but they used it to buy back their stock. U.S. companies have borrowed $1.9 trillion since 2008. During that time, they repurchased $2.1 trillion of shares of their own stock.
The trillions of dollars flowing into the stock market ratcheted up demand for stocks, and that's led prices to soar.
At the same time, other investors have also flooded into the stock market, further driving up demand and, ultimately, prices.
Trending Now: A Gold Price Prediction for the Coming Bull Run: $5,236 an Ounce
When interest rates fall, bond yields also decline. As a result, investors who typically own bonds had to move to the stock market to get returns on their investment.
That means record stock growth has been fueled by the Fed and its low interest rates instead of economic growth. And that means stocks are overvalued.
The famed Case-Schiller price/earnings ratio says stocks on the S&P 500 are overvalued by 73%.
With stocks at such overinflated levels, a trigger event could mean a stock market crash is coming. And low interest rates are ending in 2017...
Higher Interest Rates Could Cause the Next Stock Market Crash
The Fed has only raised rates twice since 2008, and rates remain below 1%. But at the last FOMC meeting in December, Fed members predicted there will be at least three interest rate hikes in 2017.
That means interest rates will rise above 1% for the first time since 2008 and the era of low interest rates is coming to a close.
And higher interest rates could lead to a market correction.
Don't Miss: This Is a 2017 Stock Market Outlook You Won't Get Anywhere Else
When the Fed raised rates in December 2015, the stock market saw a month-long decline in January.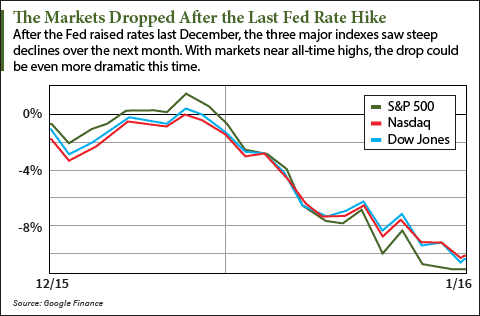 With stocks at even higher levels now, a correction could be even more severe and lead to the next stock market crash.
Higher interest rates will mean buybacks fueled by easy money might come to a halt. Investors might leave stocks as bond yields climb.
In fact, we are already seeing signs of investors moving toward bonds. The Wall Street Journal reported on Jan. 27 that bond market volatility is rising above normal levels because investors are expecting interest rates to rise quickly.
"If investors are right that rates will rise quickly, that could come back to haunt stocks," reports the Journal. "As borrowing costs rise for companies, it could start to hammer corporate profitability, raising the risk of a reversal in stocks."
Again, while no one can forecast the timing of the next stock market crash, rising interest rates might trigger a pullback, if not a sharper correction.
But prepared investors shouldn't fear a 2017 stock market crash. We'll show you how to protect your money during a stock market crash, and how to profit from it, too...
Our Guide to Protecting Your Money in a Stock Market Crash
First, investors should look for well-run companies in the "Unstoppable Trends."
[mmpazkzone name="in-story" network="9794" site="307044" id="137008" type="4"]
Money Morning Chief Investment Strategist Keith Fitz-Gerald says the "Unstoppable Trends" are industries like health, energy, technology, scarcity, demographics, and war.
These are industries that will always be in demand, whether the market falls or not.
A great example of an "Unstoppable Trend" stock is the defense giant Raytheon Co. (NYSE: RTN).
Securing the United States will never go out of demand, and Raytheon has billions of dollars in contracts with the American government. That's why RTN is a great stock to own during a downturn.
RTN currently trades at $146.02 and has advanced about 24% over the past 12 months. It also offers investors a 2% dividend yield.
Another great "Unstoppable Trend" stock is Microsoft Corp. (Nasdaq: MSFT).
Technology is a global necessity and computers everywhere run MSFT software. Millions of people and businesses rely on Microsoft devices to meet their daily needs. If the markets tank tomorrow, software and web browsing will continue. And Microsoft will stay at the top of the tech pack. That protects you from the potential next stock market crash.
MSFT currently trades at $65.62 and is up 28% in the last year. It also offers investors a very nice dividend yield of 2.38%.
Medical supplier Becton Dickinson and Co. (NYSE: BDX) is another well-run company in the "Unstoppable Trends."
Patients, especially those with chronic illnesses, won't stop needing a car if the market dives. And as populations age, demand for these services will continue to grow.
BDX currently trades at $175.26. BDX stock is already up 6% in 2017.
Second, investors need to add some stability to their portfolio by buying gold.
Money Morning Global Credit Strategist Michael Lewitt says investors should keep between 10% and 20% of their portfolios in gold.
That's because when turmoil or uncertainty hits, investors go to gold.
While it's possible to buy physical gold, buying ETFs is a lot easier and boasts the same benefits.
We recommend the SPDR Gold Trust (NYSE Arca: GLD). GLD is designed to track the price of gold, so as gold prices rise, so will GLD.
GLD currently trades at $113.35, and it's already up 3.41% this year.
Third, investors can profit from a stock market crash by shorting the overall market.
Shorting stocks can be risky, but there are reverse ETFs that trade inversely to broader indexes. This allows you to profit as the market falls without any of the risk of a traditional short option.
Money Morning Capital Wave Strategist Shah Gilani recommends ProShares Short S&P 500 (NYSE Arca: SH).
SH is designed to trade inversely with the S&P 500. If the next stock market crash occurs in 2017, SH will go up.
However, SH is not recommended as a long-term holding. It will lose value when the market begins to climb again. Investors need to be strategic about when to buy into SH. But if the market is about to fall, this is how to profit.
Up Next: Turbocharge your investing returns with our top 5 money-making investment reports. Get them now - they're absolutely free. Click here...