It will be 21 years exactly tomorrow since Yahoo, the first-ever Internet tech IPO, made its debut. Since, we've seen four other Internet tech IPOs reach a billion-dollar market cap.
That includes Yahoo! Inc. (Nasdaq: YHOO), Amazon.com Inc. (Nasdaq: AMZN), eBay Inc. (Nasdaq: EBAY), Alphabet Inc. (Nasdaq: GOOGL), and Facebook Inc. (Nasdaq: FB) - their combined market caps are worth $1.5 trillion.
Of course, they've had more than a few rough patches...
Yahoo will soon become a part of Internet history; it was recently bought by Verizon. And Facebook crashed and burned the first year after its public debut.
Regardless, each of these five has returned an impressive amount to investors over time since their respective IPOs...
How Much a $1,000 Investment in YHOO, AMZN, EBAY, GOOG, and FB Is Worth Today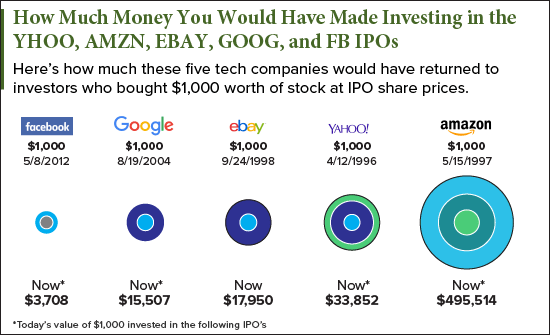 You'll notice that Amazon stock sweeps the board with a staggering 52,210% return on investment, turning a mere $1,000 into almost half a million.
Must Read: Former Google Exec Quits Dream Job to Launch Marijuana Empire
But be careful.
While these huge returns are liable to put dollar signs in the eyes of anyone looking to make windfall gains from stocks, there's actually a darker truth to IPO investing that every investor needs to know...
A truth that Facebook IPO investors learned the hard way -- and one that recent Snap Inc. (Nasdaq: SNAP) investors are learning right now...
Not All Tech IPOs That Glitter Are Gold
"The IPO process is now a rigged game - one in which the founders, the early angel investors, venture capitalists, and the investment bankers all make out like bandits," Money Morning Chief Investment Strategist Keith Fitz-Gerald has long told readers.
Look back to May 18, 2012, at the highly anticipated Facebook IPO -- at the time, the largest IPO in U.S. history. Allegations loomed that lead underwriter Morgan Stanley and others provided insider information to clients that Facebook's earnings weren't what they seemed. Meanwhile, they still sold shares to eager retail investors who clamored for a piece of the hyped offering.
When Facebook stock went live, it briefly traded upward of $42 a share during its first day - before slipping -- and fast. The slide continued for close to 14 months, from its May 18, 2012, IPO through July 19, 2013, returning a negative 32.31% to investors. Anyone who'd purchased $1,000 worth of stock was out $315 within the first year.
Fitz-Gerald explains that this rigged system is exactly why retail investors should never trust investment banks during the IPO process...
You see, IPOs only benefit institutional investors willing to buy large quantities of the stock before its debut. These Wall Street "VIPs" usually see instant profits, while average investors are forced to purchase shares at a higher price after they start trading.
Just take a look at Snapchat's recent March 2, 2017, IPO. The biggest winner has been Wall Street...
Seven investment banks, led by Morgan Stanley and Goldman Sachs, were compensated for their efforts in taking Snapchat public. These seven Wall Street "VIPs" garnered $98 million in "discounts and commissions;" meanwhile, individuals who bought into the euphoria of another tech IPO and invested $1,000 into the company have since lost $154, or 15.73%.
"Temptation is the most powerful of all emotions, which is why Wall Street hypes IPOs the way they do," says Fitz-Gerald.
But despite the unfair IPO investing process, there are still a few ways to profitably play a stock debut...
Here are three IPO investing rules to follow for any new stock so investors can score big gains.
Editor's Note: One of the fastest-growing tech investment segments is... cannabis? Yes, you read that right. A high-tech approach to cultivating this ancient plant - that's already legal to use in more than half of 50 states - is generating a multibillion-dollar investment opportunity for early investors. Click here to find out more, including how you can get your copy of Michael Robinson's Roadmap to Marijuana Millions. Packed with more than 30 great companies to buy, it's fast becoming "the weed investor's bible." Check it out...
For constant updated tech investments, follow Money Morning on Twitter @moneymorning, Facebook, and LinkedIn.
[mmpazkzone name="end-story-hostage" network="9794" site="307044" id="138536" type="4"]