The top stocks to watch today (Monday) are Boeing Co. (NYSE: BA), Hasbro Inc. (NYSE: HAS), and Akari Therapeutics Plc. (Nasdaq ADR: AKTX).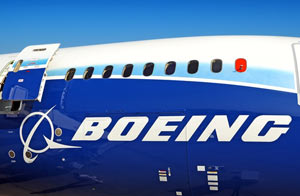 Emmanuel Macron (23.9%) and Marine Le Pen (21.4%) are moving on to the French runoff elections on May 7. Macron is expected to win, easing fears over a French exit of the EU.
Gold is down 1% this morning, while Dow futures are up over 200 points (1%) on the French election news. With only one candidate wanting to leave the EU (Le Pen), investors are more optimistic about the stability of Europe and the euro.
Now that we know what's moving markets, here are the three top stocks to watch today...
Top Stocks to Watch Today: Boeing Co. (NYSE: BA)
Boeing stock is up 1.9% in early morning trading.
The boost in share price is likely due to Gabelli Equity Trust Inc. (NYSE: GAB) reissuing their "Buy" rating of the company.
In recent months, two companies downgraded Boeing's rating. Morgan Stanley (NYSE: MS) downgraded the company from "Overweight" to "Equal Weight" (the equivalent of buy to hold) in March. Buckingham Research downgraded Boeing's rating from "Neutral" (hold) to "Underperform" (sell) in February.
Currently, the one-year price target for Boeing is $181.90, just above where it is currently trading.
Must See: This Great Depression-Era "Secret" Helped Transform Two Teachers into Millionaires. Read more...
BA stock is currently trading at $180.38 for a gain of 15.9% so far this year.
Top Stocks to Watch Today: Hasbro Inc. (Nasdaq: HAS)
Hasbro stock is up 6.2% in early morning trading after announcing its earnings report.
The toy maker reported earnings per share (EPS) of $0.54, which is up from $0.38 for the same quarter a year ago. Analysts had expected EPS of $0.38.
Revenue came in at $849.7 million, which is up from the $831.2 million reported last year.  Expectations called for $818.3 million in revenue.
HAS stock is trading at $96.03 for a gain of 23.5% year to date (YTD).
Top Stocks to Watch Today: Akari Therapeutics Plc. (Nasdaq ADR: AKTX)
Akari stock is extremely volatile this morning, trading in a range of down 12% to up 10%, after announcing positive results for its mid-stage trial.
The clinical-stage biopharmaceutical company announced its treatment for paroxysmal nocturnal hemoglobinuria, a rare blood disorder, showed positive results. The company is expecting to take Coversin to phase 3 clinical trials by the end of the year in order to target early 2019 for bringing the drug to market.
While the trial is good news for the company, it has not made a profit. This quarter, it is expected that the company will lose $0.54 per share.
AKTX is currently trading at $25.21 for a loss of 8.5% YTD.
Marijuana Investing: What You Need to Know... The legal marijuana market is going ballistic. Last year, sales skyrocketed to $6.7 billion... and several analysts estimate sales could eventually reach $150 to $200 billion each and every year. Even better, right now marijuana stocks are on fire, with peak gains quadrupling in value. And these are mostly small companies trading for under $10. Click here to find out how you can be the next "Marijuana Millionaire"...
Follow Money Morning on Twitter @moneymorning, Facebook, and LinkedIn.