The platinum price per ounce in 2017 has been beaten down recently, which some investors may see as a great buying opportunity for the rare metal.
Over the last two months, platinum prices have tumbled 8.3% from $1,038.90 to $952.40. That starkly contrasts with gold prices, which have gained a slight 0.5% over the same period.
However, Money Morning Resource Specialist Peter Krauth is still bullish on the platinum price in 2017. In fact, he expects it to sharply rebound 36.5% from its current $952.40 price all the way to $1,300 by the end of the year. In other words, buying platinum today could hand you a 36.5% return in just over eight months.
And we've found a platinum stock that could offer you an even bigger return. The company we're talking about has a stake in one of the biggest platinum mines in the world, and shares of this stock could soar as much as 56.5% by next April.
First, here's why we're bullish on the platinum market this year...
Why the Platinum Price per Ounce in 2017 Will Rise 36.5%
The first reason we see platinum heading higher is simple: Platinum is extremely scarce. It's significantly rarer than gold and silver, which boosts platinum's value considerably.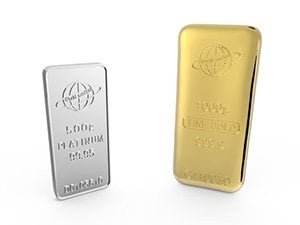 Roughly 75% of the world's platinum is produced in Africa, and the top five platinum mining nations are South Africa, Zimbabwe, Russia, Canada, and the United States. In 2016, these countries produced just 168.9 metric tons of platinum. That was dwarfed by global gold production, which reached 3,100 metric tons last year.
Platinum is in short supply because it's both difficult to find and to extract from the ground. As proof of its scarcity, the World Platinum Investment Council (WPIC) reported that the precious metal enjoyed its fifth consecutive deficit year in 2016. This year will likely be the sixth as the council forecasts a supply deficit of 120,000 ounces.
But the five-year deficit has also been caused by growing demand. What many don't realize is that platinum is a key component for emissions reduction in catalytic converters. These devices are installed in cars and trucks to reduce harmful environmental emissions. In fact, catalytic converters have been required by law in the United States since 1975.
When we look at platinum consumption in the United States alone, 43% is used in catalytic converters. Auto sales in the United States are expected to steadily rise 1.1% to 18.7 million by 2020, which will boost demand even further.
The other reason the platinum price per ounce will push higher is the metal's use as a safe-haven investment.
When there is economic and geopolitical uncertainty in the world, safe havens like platinum and gold will move higher. That's because potential conflicts like the current ones with Syria and North Korea could scare investors into selling their stocks and moving into precious metals.
Want to Buy Gold? Here's Our Free Guide to Buying Gold in 2017
Even without military conflict, investors have been moving cash into safe havens all year to prepare for a possible stock market correction. That's why platinum prices are still up 4.8% in 2017.
As the markets continue higher, investors will pour more money into platinum as a hedge against upcoming volatility. This supports Krauth's bullish platinum price prediction, which sees the metal rallying 36.5% to $1,300 this year.
Instead of buying physical platinum, we recommend investing in platinum mining stocks to make more profits from the price rally. After all, platinum miners will see bigger profit margins on each ounce they produce while prices move higher.
And we've found the best platinum company to invest in this year...
The Best Platinum Stock to Buy for a 56.5% Return in 2017
[mmpazkzone name="end-story-hostage" network="9794" site="307044" id="138536" type="4"]
If you're looking for platinum stocks to watch, the best profit play in this sector right now is Ivanhoe Mines Ltd. (TSE: IVN).
Ivanhoe is a Canada-based mining company that has several platinum mines in South Africa. Shares of the company have returned 90.2% so far this year to investors.
If you think IVN stock's run this year is finished, you may miss out on another 56.5% gain over the next year. That's because the company just made a big announcement regarding a huge mining project...
You see, Ivanhoe just announced a 64% ownership stake in the Platreef mining project. The Platreef project is one of South Africa's largest deposits of platinum group metals like palladium, rhodium, and platinum.
As Ivanhoe gets moving on this project, its output is expected to reach 12 metric tons annually. At that rate, this mine will be the world's highest-producing platinum mine. According to an April 12 Reuters report, Ivanhoe just approved the start of early works construction of Shaft 2 at the Platreef mine, which will begin in Q2 and take up to one year to complete.
As Ivanhoe produces more of the metal, profit margins will increase as platinum prices approach $1,300 an ounce. That will lead to a strong gain for the IVN stock price.
Shares of IVN currently trade at $4.83 Canadian dollars, which is equivalent to about $3.56. With analysts projecting a CA$7.55 stock price by April 2018, investors who buy in now would see a 56.5% return.
With those types of gains on the table, investing in this platinum miner is one of the best platinum plays of 2017.
Up Next: A door has opened for an ultra-rare but powerful anomaly in the stock market... It involves a precious metal, one that's considered exceedingly more rare than gold. Get all the details.