Since May 23, 1997, Amazon stock has returned whopping gains of 55,354%. And according to FactSet, there are even more gains on the way.
Analysts who cover Amazon.com Inc. (Nasdaq: AMZN) have an average one-year price target of $1,089.37. From today's opening price of $961, that's another potential profit of 13.35% in the next 12 months.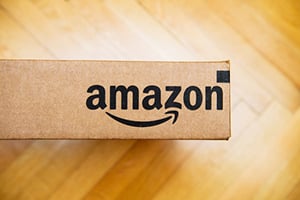 While Amazon stock has provided truly stunning gains over the past 20 years, there is one problem right now for retail investors...
One share of AMZN stock could soon cost $1,000. That's why some of our readers are hoping an Amazon stock split will happen in 2017.
Unfortunately, Amazon's management hasn't offered any indication there will be an AMZN stock split.
But the e-commerce giant has split its stock three times before, once in 1998 and twice in 1999. That's not a guarantee it will happen again, but it is an indication Amazon is willing to split its stock.
And if there is an Amazon stock split in 2017, here's what to expect...
How an Amazon Stock Split Would Work
Amazon has several options for splitting its stock. In the table below, this is what the Amazon stock price would be if it split from today's opening price.
| | | |
| --- | --- | --- |
| Amazon Stock Price 5/16/17 | Stock Split Options | Price After Split |
| $961 | 7-for-1 split | $137.28 |
| $961 | 8-for-1 split | $120.12 |
| $961 | 9-for-1 split | $106.77 |
| $961 | 10-for-1 split | $96.10 |
These split options are hypothetical to show how Amazon could try and attract more retail investors.
You see, companies often hold stock splits to make their shares look less expensive. However, after a stock split, the value of the shares remains the same. For AMZN shareholders, a stock split would be like exchanging one $100 bill for five $20 bills.
Again, there's no indication Amazon will split its stock in 2017. So it will still require a lot of up-front capital to own one share of AMZN.
However, Money Morning Technical Trading Specialist D.R. Barton, Jr., has a different investment that offers double-digit profit potential, and you won't have to shell out $1,000 for one share, either.
Trending: Why Facebook Stock Is Headed to $250 a Share
In fact, this investing strategy could net you even more gains than AMZN stock could provide over the next 12 months...
If you don't want to spend $1,000 per share for Amazon stock, here's another profit play.
Forget an Amazon Stock Split; Invest in This One Company Now