Thanks to the unemployment rate reaching a 10-year low in April, it's likely that interest rates are going up in June 2017.
According to CME Group's FedWatch Tool, a gauge of the market's expectations, there's now a 78.5% chance the Fed will raise interest rates at the June 13-14 FOMC meeting.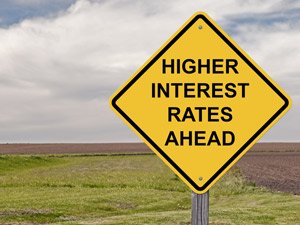 The Fed wants to raise rates at the June FOMC meeting so it can stay on track with the goal it set in December 2016. At the time, officials said they wanted a total of three interest rate hikes in 2017. Interest rates were raised in March, which means we need two more rate hikes before the end of the year.
There are only four FOMC meetings after June, so the Fed is running out of opportunities...
| | | |
| --- | --- | --- |
| Meeting | Month | Dates |
| FOMC | June | 13-14 |
| FOMC | July | 25-26 |
| FOMC | September | 19-20 |
| FOMC | October/November | 31-1 |
| FOMC | December | 12-13 |
While a rate hike looks likely, there's no certainty a June rate hike will happen...
Why a Fed Rate Hike in June Is in Doubt
On May 19, St. Louis Federal Reserve Chief James Bullard raised doubts about a rate hike in June.
According to USA Today, he said two more rate hikes may be "overly aggressive."
This was an unexpected announcement, because Bullard is a notable "hawk," pressing the Fed to raise rates all the way back in September 2015.
Why the change?
Bullard believes the economy is growing too slow. In Q1 2017, GDP growth was 0.7%, the slowest growth pace in three years.
Trending Story: Here's Who Killed the American Middle Class - and Why
And while the unemployment rate is low, Bullard says job growth isn't as robust as it should be.
According to USA Today, average monthly job growth in 2015 was 226,000. So far in 2017, it's 185,000.
Bullard makes compelling points, but it's up to the entire FOMC committee to decide on a rate hike. And because the Fed still appears on track to raise rates, we wanted to make sure Money Morning readers are prepared.
From auto loans to investments, here's how a potential June 2017 interest rate hike will impact your money and your investments...
How Interest Rates Will Affect Your Money in 2017